Download Cat Snack Bar Mod APK Latest version and interact with cute animals. It combines cooking, tycoon, and pet-themed gameplay for a relaxing experience.
Information of Cat Snack Bar
| | |
| --- | --- |
| Name | Cat Snack Bar |
| Updated | |
| Compatible with | Android 5.1+ |
| Last version | 1.0.50 |
| Size | 177.40 Mb |
| Category | Simulation |
| Developer | TREEPLLA |
| Price | Free |
| Google Play Link | |
| MOD | Unlimited money |
Cat Snack Bar APK is a simulation game where you run a pet café. You start by stocking up your store with different treats and decorating the place with knick-knacks.
When customers enter your shop, you must serve them efficiently, or they might leave without buying anything. And if you do a good job, they'll come back for more.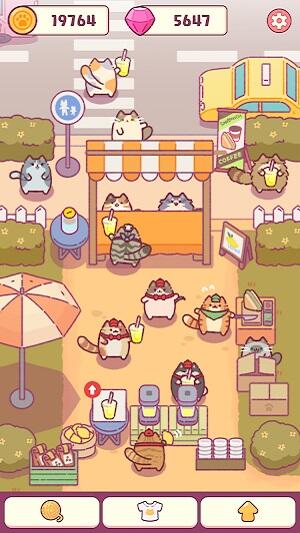 You also must take care of the cats in your store – pet them, feed them, and play with them. Ensure you consistently deliver exceptional results to earn treasures and upgrade your café to make it bigger and better.
Overall, Cat Snack Bar MOD APK 2023 is a super entertaining game with high replayability and excellent graphics. With simple but strategic gameplay, it allows you to run your own pet café and become the ultimate tycoon. Download it and have fun interacting with lovely animals while making money.
Cat Snack Bar APK - What You Need to Know
TREEPLLA uniquely designed this game to offer a three-in-one gameplay experience that is hard to come by. It incorporates the following well-thought-out elements:
Cooking Simulation. This game puts your cat squarely in the middle of cooking escapades. It is up to you to provide the freshest ingredients and prepare the best-tasting meals that your customers can't resist.
Tycoon Elements. As with any tycoon game, there are specific tasks and goals you need to complete to move forward. Upgrade your store, manage your finances efficiently, and serve your customers with the utmost care.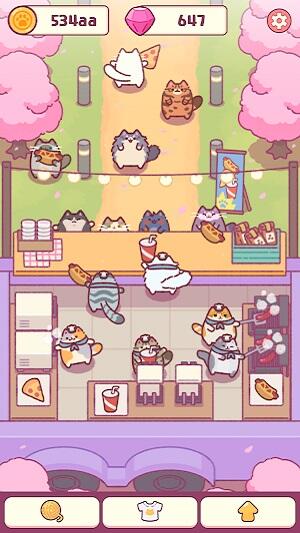 Pet Themed. Spend time taking care of cats in your café, as they bring joy to everyone around them. You'll be mesmerized by how they interact with each other and your customers. This further increases the happiness and satisfaction level of your store.
Even better, these elements are interdependent, creating a fast-paced, entertaining gaming experience. Whether you're a fan of cats or simulator games, you'll have a blast playing Cat Snack Bar MOD APK for Android.
Gameplay Description - How to Become a Tycoon Fast!
The gameplay is relatively straightforward. Each level requires you to complete specific tasks, such as cooking and feeding cats. While this sounds simple, it can be quite challenging to keep up with your customers' demands.
To make things easier for yourself, you can upgrade certain parts of your store. This improves the quality and quantity of items available in your café, enhancing overall operational efficiency.
If you invest wisely and manage to reach milestones regularly, you can easily become a top-notch tycoon. The secret lies in devising a unique strategy and staying consistent with your efforts.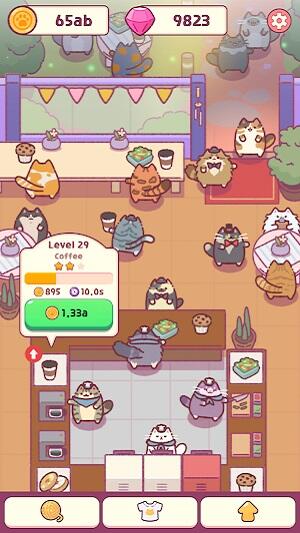 Overall, the gameplay mechanics are easy enough to understand, and you'll soon find yourself immersed in this pet-themed simulation. Here are the main activities to undertake:
Take Order. Immediately when your guests walk into your premises, you must take their orders.
Cooking. Once you've taken the orders, head to the kitchen and prepare them fast. They may include pizzas, hotdogs, coffee, soup, hamburgers, and lemonade.
Serve. When you're done with the food, serve it to your customers and get tips.
You must use your profits to upgrade your store, buy new items, and pamper cats by buying them toys and treats. This way, you'll be guaranteed consistent growth that'll make your café more attractive to visitors.
Outstanding Cat Snack Bar APK
Idle Gameplay. You can leave your store running even when you're away, meaning you can stay ahead in the competition without constantly babysitting your café. This gives incredible freedom to pursue other tasks in the game.
Lots of Animal Guests. Unlike other games, Cat Snack Bar MOD APK download introduces you to adorable animal guests. This means you can interact with different types of cats and get to know each one's personality better.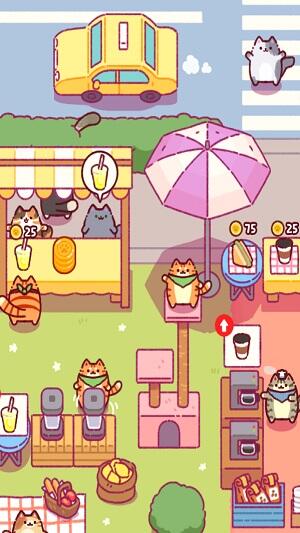 Beautiful Graphics. The game features high-definition graphics, making it a pleasure to play. Everything is incredibly detailed, from the café interiors to the cats themselves! It's so fun you won't even feel like you're playing a game.
Unleash Your Management Skills. Your success in this game relies heavily on how well you manage your café. If you can plan and complete tasks efficiently, you'll become a tycoon fast. Ensure you expand from a small café to a big restaurant with all the amenities.
Hire Chefs. As your café grows, you'll need to hire extra staff, such as chefs and waiters. This way, you can increase the efficiency of your operations and keep up with customer demand. Ensure you hunt for talents and hire the best since they will run your business even when you're offline or asleep.
Beautiful Sound Effects. The game's effects are top-notch, further enriching your gaming experience. The sound of cats mewing and purring will make you feel peaceful even during the most difficult levels!
Simple Controls. The game's AFK mechanics are easy to understand & use. You can manage your café and take care of cats with the touch of a finger. However, you must regularly check in to ensure you don't miss critical tasks or upgrades.
What You Need to Download and Install Cat Snack Bar APK
To install Cat Snack Bar MOD APK, you need an Android device with at least a 5.1 version and a minimum of 1GB RAM. You will also require a stable internet connection to download the game from Google Play Store or any third-party app store.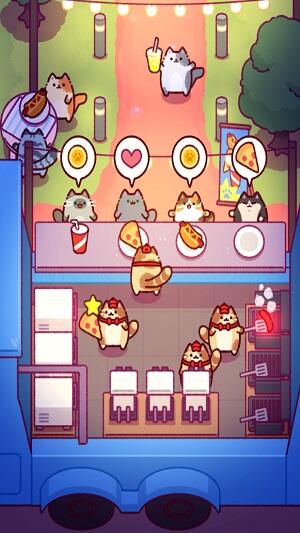 Once downloaded, follow the instructions on your screen to install and enjoy! The game weighs approximately 84MB & won't burden your device.
While it is free to install, the game provides many in-app purchases ($0.99 - $99.99 per item) to enhance your experience. Fortunately, you can disable this feature through your device's settings.
Tested & Proven Tips to Play Cat Snack Bar APK
If you want to fully enjoy Cat Snack Bar MOD APK, here are some tips that'll come in handy:
Take Advantage of the AFK Mechanics. Since the game runs even when not around, use it as an opportunity to complete tasks quickly and make more money.
Maintain Your Image. Ensure your restaurant looks neat and appealing at all times since this will attract more customers. Clean up regularly & put out aesthetically pleasing decorations like flowers or posters.
Stick to a Strategy. Have a plan of action before playing the game and stay consistent with your efforts.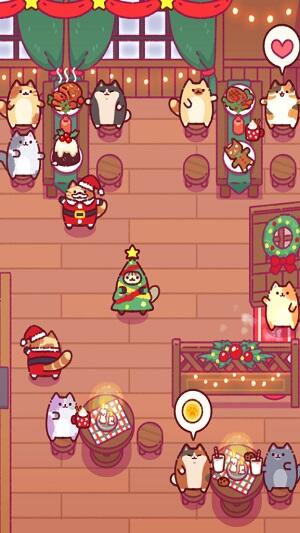 Don't Forget Cats. Since this game focuses on cats, ensure you don't neglect them! Pay attention to their needs & take care of them regularly.
Conclusion
Now that you know what Cat Snack Bar MOD APK is all about, why not get it and establish your own café? It will test your management skills and provide a fun, interactive experience.
Though it might initially seem daunting, you'll quickly get the hang of things and create a flourishing business. When things get thick, you can use in-app purchases to ease the burden. Take up this challenge & become the top Cat Snack Bar tycoon!