Download Lamar Idle Vlogger Mod APK Unlimited money Latest version and make a fortune out of vlogging. You must be strategic to earn enough money and pay off your debts!
Information of Lamar Idle Vlogger
| | |
| --- | --- |
| Name | Lamar Idle Vlogger |
| Updated | |
| Compatible with | Android 7.0+ |
| Last version | 172_09-12_ab16store |
| Size | 108.94 Mb |
| Category | Simulation |
| Developer | Advant Limited |
| Price | Free |
| Google Play Link | |
| MOD | Unlimited money |
Lamar Idle Vlogger APK is a business-simulation game that tests your managerial and entrepreneurial skills. The objective is to make as much money as possible through vlogging while paying off your debts.
It starts after Lamar, a rust bucket driver, fails to pay a debt owed to his friend. He is desperately looking for a way to make some quick cash.
He is denied a loan to buy a cell phone. Fortunately, his friend gives him his phone to start vlogging. You must help him to make enough money from vlogging to pay off his debts!
A Super Transformational Game.
Lamar is doing poorly. He can barely afford a meal, and his evenings are spent in a local bar.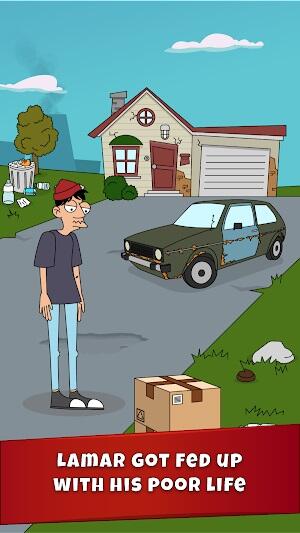 But with your help, Lamar can turn his life around and become a successful vlogger. This is an idle game that allows you to transform Lamar's life as he progresses through different levels.
You will start from humble beginnings, but with your help, Lamar can achieve great things!
Authentic Vlogging Experience
The game offers an authentic vlogging experience with several tasks to complete. You can film various videos, such as how-to guides, product reviews, and vlogs about your life.
You will interact with your viewers and build a rapport with them. The better your relationship with your viewers, the more money you will make.
There are also other tasks that you need to complete, such as managing your finances and upgrading your equipment. The game is quite demanding, but also gratifying.
Upgrade Your Life!
When this game begins, you have nothing but a phone and a few dollars in your pocket. As you progress, you will upgrade your life by buying new clothes, furniture, and other items.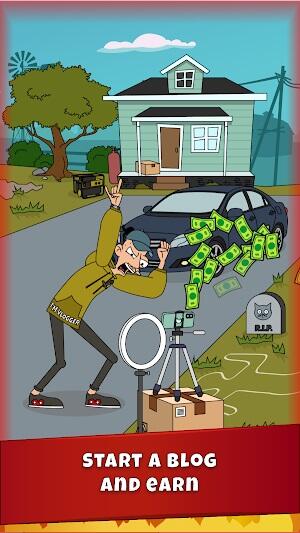 You can also buy new equipment to improve the quality of your videos. The better the quality of your videos, the more income you will generate.
This is your only chance to come out of the slums! It is time to start vlogging and make some serious money!
Outstanding Features of Lamar Idle Vlogger
Your Earnings Equal Your Work! This game is not a get-rich-quick scheme. The more work you put in, the more money you will make. This is a worthwhile experience because you will feel like you are making progress in your life.
Pleasure & Productivity. Making videos can be fun, but it can also be quite challenging. The game strikes a perfect balance between pleasure and productivity. You will feel a sense of achievement after completing each video.
Fame & Fortune. The game's goal is to make as much money as possible, but you will also gain fame along the way. Your fans will follow your every move, and you will become a celebrity!
Transform Your Life. The game allows you to transform Lamar's life. You can make him into a successful vlogger, living in a luxurious apartment. It is up to you to make his dreams come true!
Regularly Upload Your Videos. You need to regularly upload your videos to keep your fans happy. If you do not upload new videos, your fans will become bored and may even unsubscribe from your channel.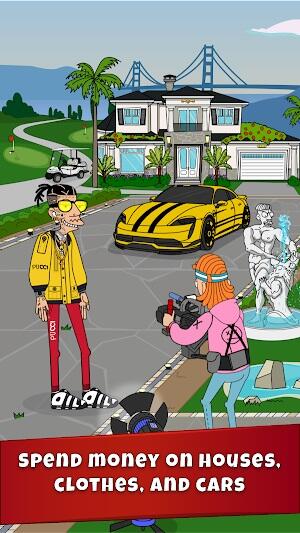 Manage Your Finances. The game offers a realistic portrayal of the financial challenges that vloggers face. You need to be strategic in your spending to make a profit.
Start Your Corporation!
As you grow, you can start DigDog Inc, a vlogging corporation. This is a great way to earn even more money.
You must hire employees, manage your finances, and produce high-quality videos. If you are successful, you will be able to take over the vlogging world.
Ensure that even video from this corporation is of high quality! This will make the videos trend, guaranteeing more money for the company.
Be Strategic!
You need to be very judicious in this game. You cannot just Vlog about anything and expect to make money. You should carefully select your topics and produce videos that your viewers will enjoy.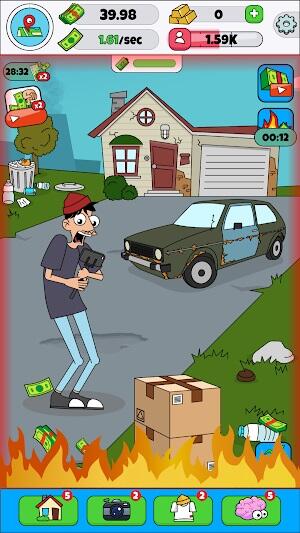 You also need to be mindful of your finances. Do not overspend on equipment or other items. You need to ensure you are generating enough income to cover your expenses.
Super Cool Graphics & Sound Systems
Any simulation game is incomplete without top-notch graphics and sound systems. The developers of this game have paid close attention to these aspects and have done an excellent job.
The graphics are realistic, and they simulate a real studio with all the cameras and other equipment. The sound system is also top-notch, making it feel like you are in a real studio.
Lamar Idle Vlogger MOD APK Download
If you want to experience the life of a successful vlogger without restrictions, download Lamar Idle Vlogger MOD APK for Android. It has these features: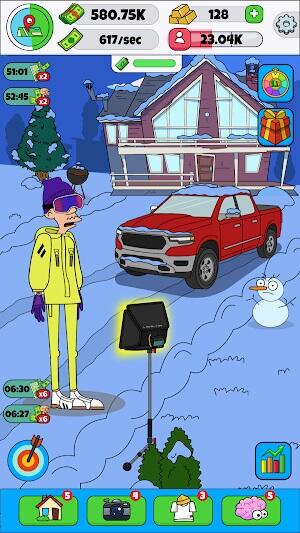 Lamar Idle Vlogger MOD APK Unlimited Money. This modded game offers all the resources to make a successful production company. It will revolutionize the way you play the game!
No Ads. The Lamar Vlogger MOD APK 2023 comes with no ads. This means that you can play the game without any interruptions. You can focus on making videos and earning money!
All Levels Unlocked. In the modded version, you will have access to all the levels from the start. You can choose any level you want and start vlogging!
Conclusion
Lamar Idle Vlogger MOD APK is a great game for anyone who wants to experience the life of a successful vlogger. It is an excellent simulation game that offers all the features you need to become a celebrity. Download it today and start your journey to fame and fortune!