If you want to infect the whole world today, you can release a plague! With Plague Inc Premium APK, you'll be the one responsible for eliminating humans.
Information of Plague Inc
| | |
| --- | --- |
| Name | Plague Inc |
| Updated | |
| Compatible with | Android 4.3+ |
| Last version | 1.19.10 |
| Size | 77.13 Mb |
| Category | Simulation |
| Developer | Miniclip.com |
| Price | Free |
| Google Play Link | |
| MOD | Unlocked, unlimited DNA |
The world is constantly at a risk of becoming extinct especially since there are countless plagues today. The current pandemic is just a reminder for us that we shouldn't mess with mother nature. But if you're curious to see and play how a plague spreads, you should download Plague Inc Premium today. This is a realistic simulation game that allows you to infect the world with various diseases. If you thought it would be easy, then think again!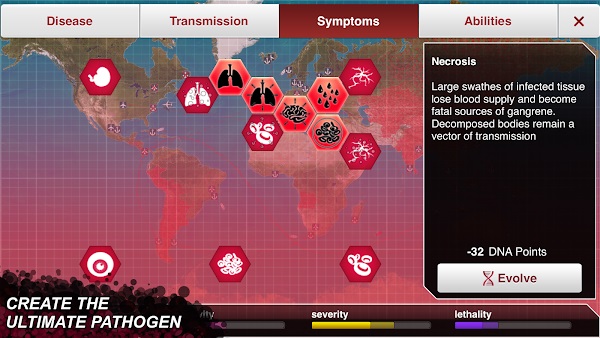 In this game, you will cause the plague yourself as you select which area it will originate from. Then, you'll see in real time the number of people infected and dead as well as the routes of airplanes and ships today. You can then evolve your virus so that it will spread more quickly and infect more people today. The goal is to bring about the end of humanity today as you infect a lot of people with a plague. Can you do it today without taking too long?
Bring a Plague
There have been plenty of plagues and pandemics that have occurred globally ever since humanity existed. Now, we're currently facing one and we've already seen how devastating this can be to many parts of the world. But what if you switch things around and be the one who causes the pandemic instead? In Plague Inc Premium, you can infect the whole world with a plague today and eliminate all humans. Simply put, it's an interesting game that lets you enjoy controlling the world!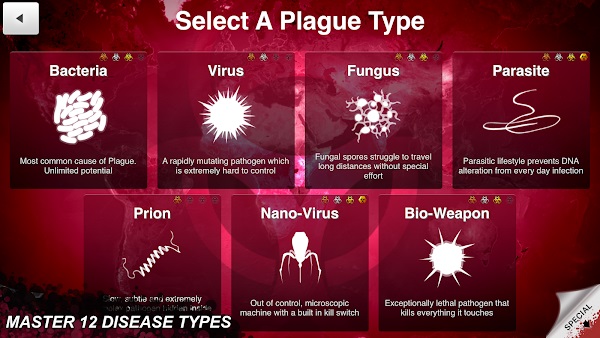 In this game, you can infect the world with 12 different disease types today. There are different strategies to master in each one and each one has unique characteristics! You can then enjoy infecting more than 50 countries worldwide today and you can also evolve plenty of traits. This game is a realistic representation of how a virus spreads around the world through humans. You'll see that many ships and airplanes are travelling all around the world.
You will also be able to see the infectivity meter, severity and lethality of your virus. There's also an expansion that lets you save the world from a plague!
Plague Inc Premium Features
If you want to enjoy a different type of game, download Plague Inc Premium today! In this game, you can create a pandemic.
Create a Pandemic – There are many fun things you can play enjoy right now. There are plenty of games that you can enjoy these days but there are also a lot of things you can enjoy that are different. If you want to enjoy something different, then there are also plenty of games today to play. Plague Inc Premium is one of the most terrifyingly realistic simulations about starting a pandemic today. In this game, your goal is to eliminate humanity by spreading a virus.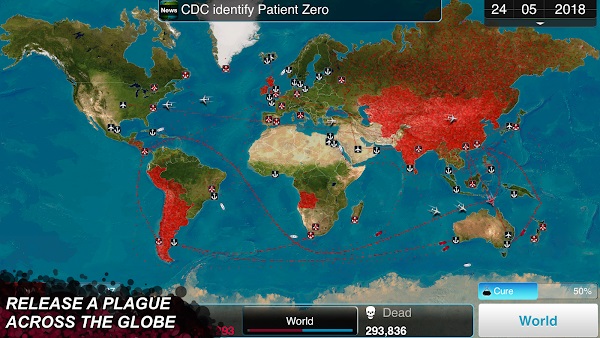 In this game from Miniclip.com, you can execute a disease and infect your first victim in any area you want around the world. Here, you're free to enjoy the realistic simulation that allows you to enjoy 12 different diseases today. In this game, you're able to infect many people around the world specifically more than 50 countries today. There are also an expansion pack that allows you to save the world from a pandemic much like today.
12 Disease Types – In this game, you're free to deploy 12 different types of diseases today. Each disease has its own level of infectivity and difficulty to master which makes this an incredible game. Here, each disease can be mutated and evolved even further to reach more people. You can also see the number of people infected and dead due to the virus in real time! Plus, you can monitor the countries that currently have the virus as well as its infectivity, severity and lethality.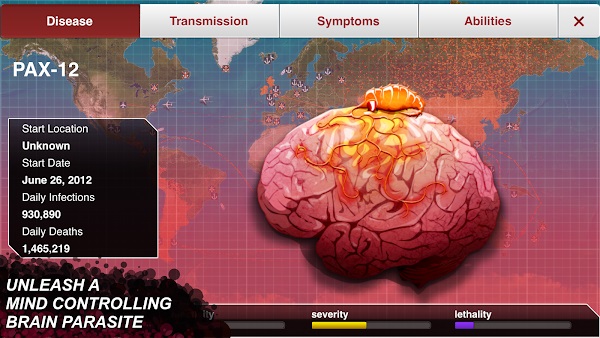 Here, you can select a unique plague type such as bacteria, virus, fungus, parasite, prion, nano-virus and bio-weapon. Each of these are unique and they can be hard to control.
50 Countries to Infect – There are more than 50 countries that you can infect today in this game. Infect countries like Libya, Canada, Australia, Greenland, Iceland, Brazil, South Sudan, United States, Mexico, and many more today. The more country you can infiltrate, the faster the virus can spread today! You can see the spread of the virus in real time as you can also speed it up.
Evolve – After releasing the plague to the world, it's now your job to make sure that it infects all of the people in the world!
Save the World – You can also enjoy an expansion pack that lets you save the world instead. Contain a deadly plague and initiate lockdowns today to save the world.
Download Plague Inc Premium Mod APK – Unlocked and unlimited DNA
If you want to experience a different simulation. Download Plague Inc Premium now and exterminate all humans.