Want to feel relaxed as you play a mobile game? Enjoy Jelly Dye today as it's a game where you can inject different objects with different color dyes today!
| | |
| --- | --- |
| Name | Jelly Dye |
| Updated | |
| Compatible with | Android 5.0+ |
| Last version | 200204 |
| Size | 179.10 Mb |
| Category | Simulation |
| Developer | Good Job Games |
| Price | Free |
| Google Play Link | |
| MOD | No ads |
If you have a job today, you may be working hard all day just to get home stressed. A lot of people take their stress off by eating, watching movies and shows, and playing games. But if you're playing games, you need to select the right type so that it will not add to your stress levels. Select Jelly Dye right now and get a relaxing simulation game. You just need to color the objects by injecting dyes into them.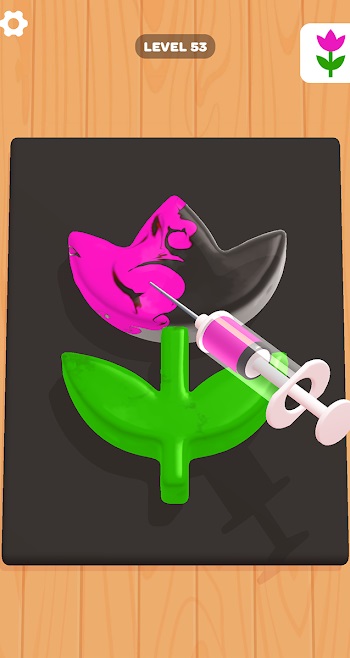 A fun game from Good Job Games, you will play in different levels here each with unique objects. There may be a flower, a girl's face, a hotdog bun, an eggplant and many more. You'll be given a reference picture so you can correctly color the jelly object. Then, you can also access a wide range of dyes that you can use!
Color Objects
When we were kids, we used to draw and color a lot during school and at home. Today, kids usually just play with their smartphones and tablets. But if you want to experience coloring again, why not play Jelly Dye? This is a modern coloring simulation game that lets you inject dyes with objects. But you need to be careful as you'll be facing different types of objects here in each level. To completely recreate the picture, you'll gain access to many types of dye colors as well.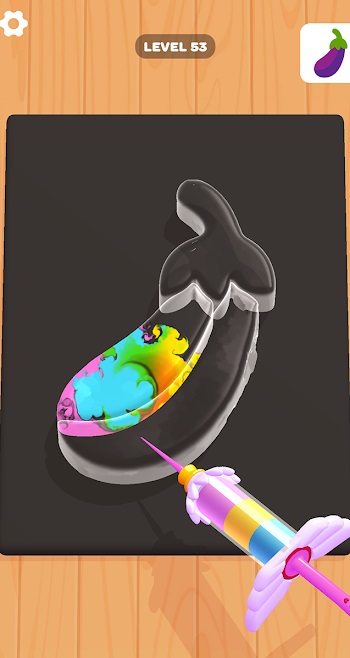 Enjoy the satisfying feeling of injecting a color to an object in the game. Here, you'll be doing a lot of injecting which can make you feel like a nurse or a doctor. Feel free to select the right color to inject at the right part. Don't worry as you'll get a reference photo so you can select the colors and the parts correctly every time. But you need to remember that your rewards will be based on how accurate your creation is to the actual thing!
Unlock many types of injections that are unique. Have fun coloring jelly objects today!
Jelly Dye Highlights
Do you love experimenting with different things? Get crazy in Jelly Dye as you try to recreate the object in the image.
Inject Jelly Objects with Dye – Often times, we try to relieve our stress by watching movies, playing with friends or playing with our smartphones. However, most games today feature violent and non-stop action scenes which can backfire. Instead of relaxing, we may get even more stress from these games. If you're tired of these games, then it's time to play Jelly Dye. This is a fun and relaxing simulation game that you can enjoy today.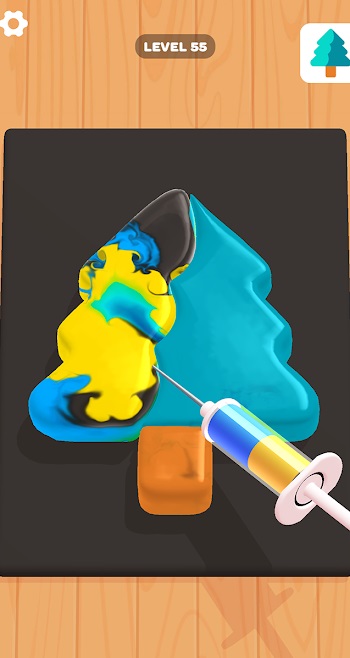 A unique simulation game, here, you'll color different objects to make them look like their real-life counterparts. These objects are made of jellies and there are many of them that you will color. There are hotdogs, lotions, ice creams, a drink and many more. Each of these objects feature different parts that you need to fill in with different colors. To make things easier for you, you'll just need to follow the image on the top!
Complete Various Levels – This simulation game aims to relax your senses by giving you the satisfaction of coloring objects. Using an injection, you'll need to color different objects made out of jellies. Here, there can be a pencil, a lip, an ice cream, a lotion, clouds, a plant, an eggplant and many more. Each of the object in here requires different colors that you need to recreate. Try your best now!
Use Many Colors – In each level in Jelly Dye, you'll need to inject different dyes to different parts of the object. For instance, the eggplant is divided into three parts. There's the light violet, dark violet and the green part. You can then use your imagination to combine colors to recreate the dark violet part as much as you can! This is a game that tests your skills and creativity as well as makes you relaxed.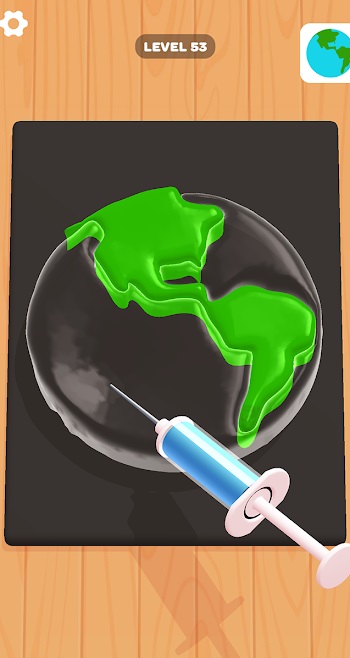 Unlock Fun Skins – In this game, you'll get rewarded based on the accuracy of your work. The more accurate your work is to the real thing, the more rewards you can get! Moreover, you can unlock new skins when you fill up the bar. There are a bunch of unique injections that are fun to collect here. There's a bee one, a beach-inspired one, and many more!
Get Rewards – Enjoy many types of rewards as you complete each level here. Your rewards will depend on how accurate your work is to the real thing!
Download Jelly Dye Mod APK – Latest version
Recreate different jelly objects now by mix and matching colors in Jelly Dye! Unleash your creative side now.