Download Ice Scream 6 MOD APK no ads for Android and enjoy a creative mix of horror and adventure in highly immersive gameplay. It comes with 3D graphics and easy game controls.
Information of Ice Scream 6
| | |
| --- | --- |
| Name | Ice Scream 6 |
| Updated | |
| Compatible with | Android 4.4+ |
| Last version | 1.2.6 |
| Size | 183.62 Mb |
| Category | Adventure |
| Developer | Keplerians Horror Games |
| Price | Free |
| Google Play Link | |
| MOD | Free purchase |
Get rewarded for not watching ads
No Ads
Ice Scream 6 is the latest release of the Ice Scream game series. It has newly added features that make it stand out from the other versions. If you enjoyed Ice Scream 5, then you can be sure that this latest version will blow your mind off!
The game has more advanced game physics that allows you to solve various puzzles without losing concentration on the bigger goal. As such, you'll get a more fulfilling experience as you'll likely find your friends faster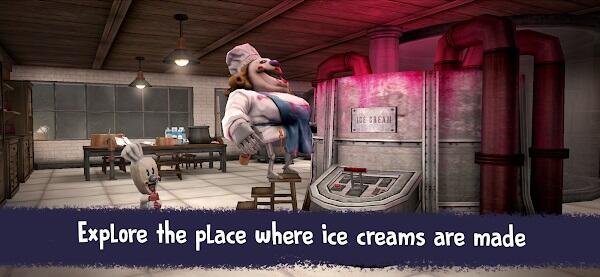 Even better, the game is optimized for speed. It is lightweight and works optimally with Android 4.4 and above devices. Download it today and enjoy solving puzzles in a realistic world. It has in-app purchases in the range of $2.49 to $3.49.
How to Play Ice Scream 6
In the previous versions of the game, J worked closely with Mike who was trapped in the engine room. J was required to solve several puzzles and find a way to meet Mike in the control room.
In Ice Scream 6 version, you realize that there are still two friends captured and detained by Rod, the ice-cream seller. You have already identified the location of one of them - the factory's kitchen.
Unfortunately, the kitchen is guarded by a new addition of a Super Robot that will not let you in anyhow. As such, the gameplay calls for creativity and wits to outsmart all the guards in the kitchen.
In the game, you'll play as Charlie - a witty character who's determined to regain his freedom. You'll be helped by J to maneuver through various security systems as you find your way out of the factory.
However, it will not be easy! The ice cream man has set up many traps to prevent his detainee from escaping. You should also be careful not to fall into his hands since he can also kidnap you!
As you solve your puzzles, you'll earn treasures that will help you unlock better gaming features. Ensure that you utilize every opportunity that comes your way. This way, you'll have an easy time progressing in the game.
Unique Character Switch System
What makes this game more interesting is the newly added character switch system. This feature allows you to switch between the two characters - J and Charlie - with just a few taps on the screen.
This way, you can explore different paths and get a new gaming experience. The best part is that you don't have to start from scratch; the game saves your progress automatically.
If you are stuck on a certain level, you can easily switch to another character and try a different approach. This will make it easier for you to get past all the obstacles in the game.
What are the Unique Features of Ice Scream 6?
Ice Scream 6 APK comes with several features that'll make gaming fun and highly addictive. They include:
Navigating through the factory in 3D is fun. With HD quality graphics, you'll get to fully enjoy the game's detail and beauty.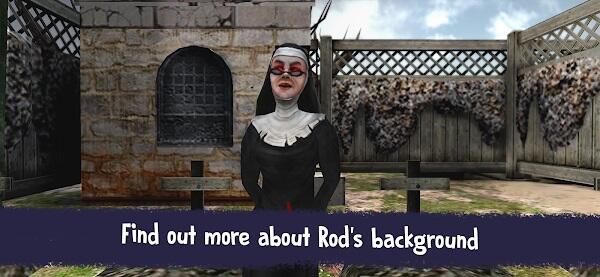 Even more exciting, you'll have access to computers, furniture, and a host of other objects. Apart from giving you realistic clues, these objects also add to the thrill and suspense of the game.
Multifaceted Level Design
The ice cream man has set up many traps that pose a huge risk to your well-being. You should, therefore, be extremely careful in dealing with them to avoid unnecessary injury.
You'll also have to face security cameras, lasers, and robots. As such, the level design is highly multifaceted and will require all your focus to enable you to progress in the game.
In previous versions of the game, J had to find and save his friends before they could escape. In Ice Scream 6, you have to be very careful since the game features new challenges.
As you progress in the game, you'll unlock better gaming features that'll make your experience more exciting. These include a speed boost, invisibility, and a shield. Utilize them well to outsmart your enemies!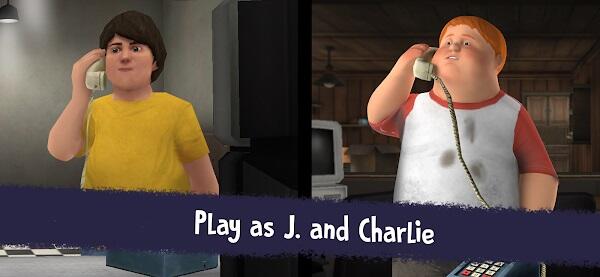 The game has many different puzzles that rely on your creativity to solve. As such, it never gets boring since there are always new head-scratchers to solve every time! The more you advance in the levels, the more difficult they'll become.
In Ice Scream 6, you'll be introduced to a new set of characters - Charlie and his friends. They all want out of Rod's factory as fast as possible! You should help them by unlocking their chains using special keys found on each level.
Charlie is a determined character that will help you in your quest. He is also witty and resourceful, making him the perfect ally in your escape plan.
The game is designed for speed. This means that you can complete the levels faster and more easily. Additionally, it works optimally with Android 4.4 and above devices. Download it today and enjoy solving puzzles in a realistic world.
A Helpful Hint System
Helpful hints will be unlocked when you complete each level. They'll allow you to solve the next puzzle without exerting too much effort.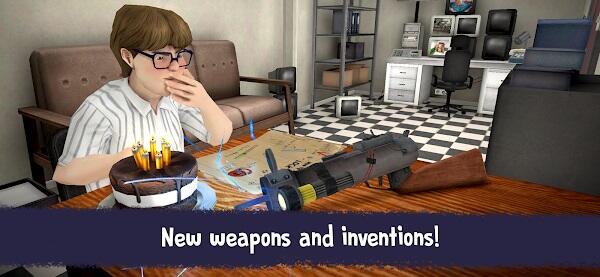 The hints are also in different levels, allowing you to access them depending on where you are stuck. This way, it is faster and easier for rookies to progress in the game.
Ice Scream 6 MOD APK Latest Version
The Ice Scream 6 MOD APK download is available on several sites. It is optimized to offer an enhanced gaming experience. For example, the MOD allows you to access all gaming levels without restrictions.
Additionally, you can use the unlimited speed boost to outrun your enemies. The MOD is also designed to protect your device from crashes and other problems. Its seamless user interface guarantees an easy time navigating its features.
Conclusion - Ice Scream 6 MOD APK Free Purchase
The Ice Scream 6 APK is the latest version in the series. Its stunning HD graphics, numerous challenges, and multifaceted level design are just a few of the highlights.
The MOD version unlocks all levels while providing you with an unlimited speed boost to allow for enjoyable gameplay. The game's new characters also make it more thrilling since they'll guide you throughout the quest.