Do you love drawing and designing? With the Ibis Paint X Pro APK App, you can now do it on your Android smartphone or tablet. Express your imaginations now!
Information of ibis Paint X Pro
| | |
| --- | --- |
| Name | ibis Paint X Pro |
| Updated | |
| Compatible with | Android 4.1+ |
| Last version | 11.0.5 |
| Size | 52.23 Mb |
| Category | Art & Design |
| Developer | ibis inc. |
| Price | Free |
| Google Play Link | |
| MOD | Premium |
For artists, it is usually frustrating to miss making a great view when you don't have your drawing kit next to you. Well, that is a thing of the past since you can always turn your versatile smartphone into a drawing table with the ibis Paint by Ibis inc. This awesome app allows users to create beautiful art using a range of features that it provides. If you're not an artist, it will not hurt to express your creativity using the ibis Paint X app.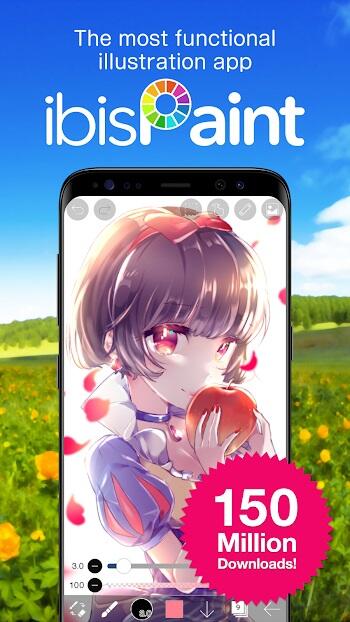 With this drawing app, you can use tons of tools to create detailed designs. The feature tools in this app are similar to what you will find in design programs such as Adobe Photoshop. With this awesome app, the possibilities are endless! You can draw and express your imaginations down to the last detail. Select between 142 different pencils, numerous types of canvas, and dozens of different tools to paint what your heart desire.
Professional Drawing Android App
Without a doubt, ibis Paint X provides a huge collection of varied drawing features that will help you become a professional artist. The best thing about the app is that you can use it on tablets and smartphones. Choose the right templates to work on with over 2100 materials available.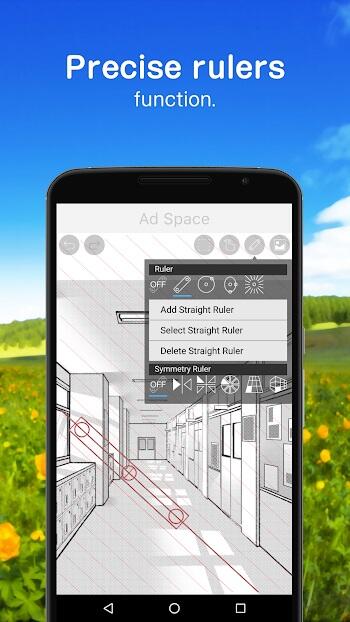 Explore the variety of art of calligraphy with hundreds of exciting fonts. You will never find yourself lacking brushes because the pp has over 140 different samples. In addition, you can experiment with 37 filters, 27 blending modes, 46 screen tones, as you have fun creating art in your own unique way.
If you want to record yourself drawing, you can use the Live Recording feature to help you capture your working moments and share them with the world! You can import templates and images from your gallery and draw with layers. That makes drawing a personalized image much easier. We are certain that this great drawing app will satisfy amateur and professionals artists with the features it offers.
Ibis Paint X Pro Features
Here are some of the features that make Ibis Paint X an exceptional drawing app.
Smooth and Accurate Drawing Experiences – Ibis Paint X not only provides useful drawing tools but is also created to connect drawing fans and developing their drawing capabilities. If you're a drawing lover, this application is a great app for you to develop your drawing abilities and skills.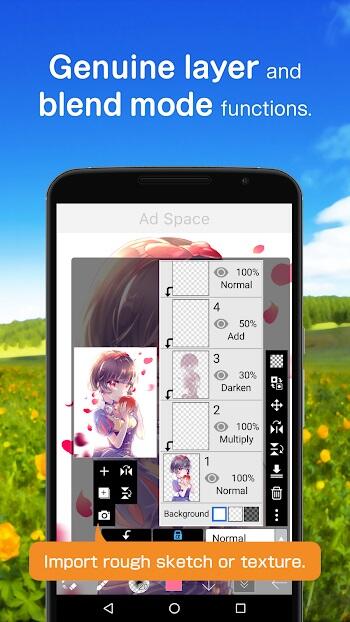 Thanks to the use of OpenGL technology and accelerated GPU, ibis Paint X comes with smoother and satisfying drawing experiences than most drawing apps on the Google Play Store. That said, you will enjoy drawing at a good frame rate, up to 60 frames per second. That implies that your drawing activities will be smooth and fast! Moreover, your mobile device doesn't have to be advanced for the ibis Paint X app to run properly.
Lots Of Useful Tools – this app comes with many drawing tools that are mainly found on PC drawing software. For artists who are looking for a capable drawing Android app that could compare to the great drawing PC software, ibis Paint X should be the first priority. The app features 142 kinds of brushes, digital pens, oil brushes, airbrushes, Brush, Eraser, Smudge, Fill, Blur, Color Picker, and more.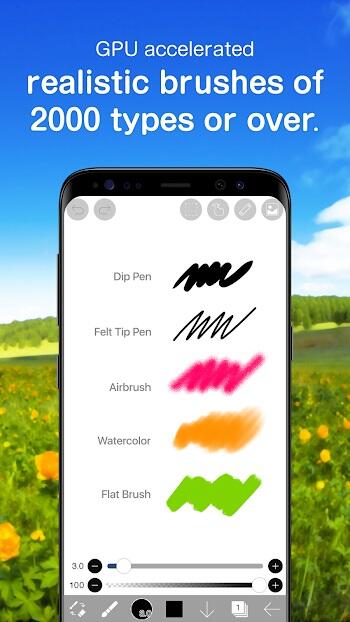 In addition, you can adjust the color tone to match with RGB, HSB, or Gradient effects. There are more than 30 free color filters that you can use to draw details perfectly. with all these tools, you can easily create high-quality art from the comfort of your smartphone devices.
Share Your Art with Others – for those who love sharing and showing their work with others, you can definitely do that with the ibis Paint X. with its Live Recording feature, you can go live as you draw. With simple commands, you will be able to start recording your drawing progress. That means you can also create drawing tutorials and inspire online artists.
No Ads – imagine being interrupted while creating your best illustration or painting. Obviously, it will not feel all right! The developer doesn't allow third-party ads on this app. Ibis Paint X Pro Mod Apk is 100% ad-free and works efficiently on all Android devices.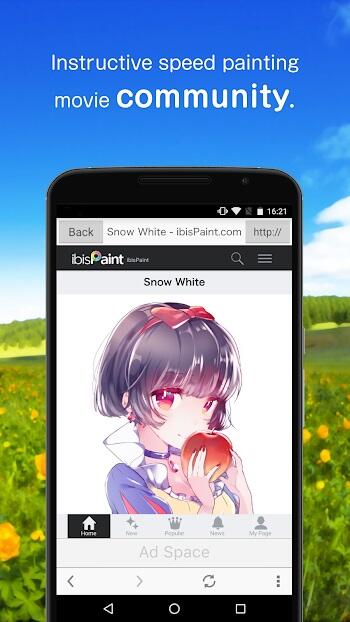 Photo Sharing Community – one of the best features of the Ibis Paint X app is its social capabilities. With this app, you can share the design process for any painting or drawing you create with a huge online community. You can as well check out the process other users apply to create their designs and learn something.
Free To Use – all these impressive features in this app are free. All it takes is a few minutes to download and launch the app and you'll have yourself a perfect drawing app on your smartphone.
Download Ibis Paint X Pro APK 2021 – Premium Unlocked
Download Ibis Paint X Pro APK for PC now and enjoy premium drawing tools right from your mobile device!