Do you want to create festival posts for your loved ones? Download Festival Post Premium Mod APK App now and experience a fast way to make festival posts for free!
Information of Festival Post
Are you looking for an app that you can use to create all types of festival posts, photos, and videos? Don't hesitate to download the Festival Post, the best Android photo editor, frame, and post maker app. With the app, you can create a festival banner and embed your logo and texts of choice. In this app, you have to select any festival post template or photo frame. Then, you can easily make festival greetings and promotion cards for your businesses.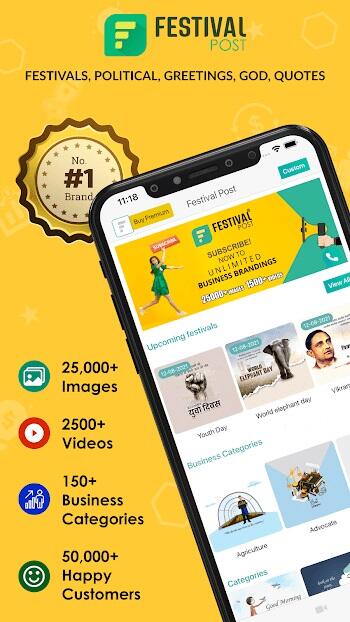 Using this awesome festival post maker, you can upload your brand logo design and produce business cards with details like business name, business email, business phone or mobile number, and more. This app automatically creates festival photos or posters without you having to do so much. The app allows you to save festival posts into your phone gallery. This app comes in handy when creating not only festival photos, but also banners for Holi, Ganesh Chaturthi, Navratri, and other festivals.
Special Posts for All Festivals
In the recent past, editing has become a precious skill with some people even earning a living through this exciting activity. As such, App developers are continuing to create apps that will help users edit photos and videos they can post on social media with pride. One such remarkable app is the Festival Post!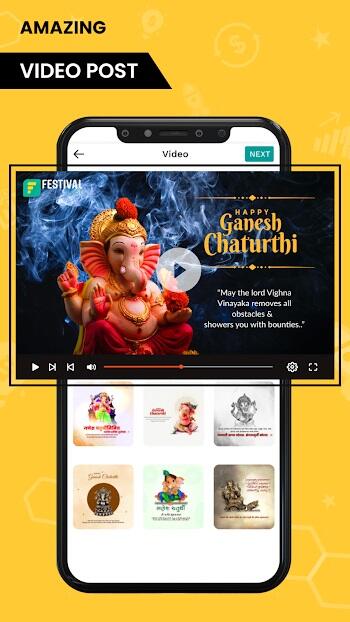 Through this app, users can create festival posts in form of photos and stunning videos! Here, users can access a number of templates for just about any festival or holiday. This app offers many categories to choose from including Daily posts, Day Wise, festivals, and more.
You can add daily Hindu festivals, celebration, birthday, Gujarati quotes, motivational, freedom fighters, god, seven wonders, business ethics, good morning, good night, Great Personalities, and more to you photos. If you are using the app for business purposes, you can make flyers for customers and even include your official logo!
Features of Festival Post
With the Festival Post App, you can create any type of festival post today. Enjoy the many features that come with this post-maker app now.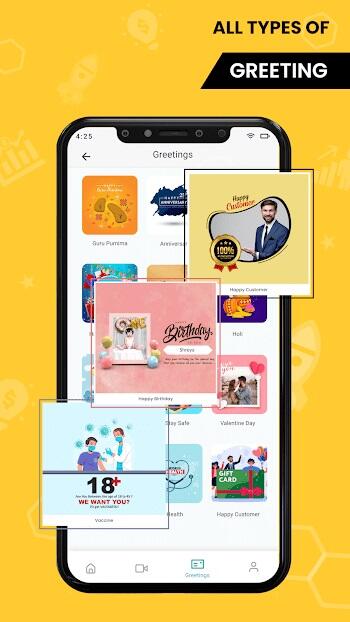 Make Festival Posters – throughout the year, Indians celebrate so many festivals such as Navratri, Happy Diwali, Holi, Republic Day, Makar Sankranti, Uttarayan, Pongal, Maha Shivratri, and more. Islam has Eid-ul-Fitr, Eid Al-Adha, and others. Christians have Easter and Christmas. All these are special days that we ought to wish happy times for our loved ones. If you were operating a business, it would be perfect if you created and shared an exceptional poster with your customers.
Overall, the Festival post is the best app for making greeting cards and poster designs for any type of festival. You can simply select your favorite frame and make the most intriguing festival posts. With your loved ones happy holidays with personalized messages blended with special templates and frames.
Thousands of Templates – there are very many fantastic editing apps that let you create posters today. However, the main problem is that most of these editing apps allow you to make posters on your own. They just provide a platform and editing tools, which isn't helpful for some people. You can ditch them and use the Festival Post.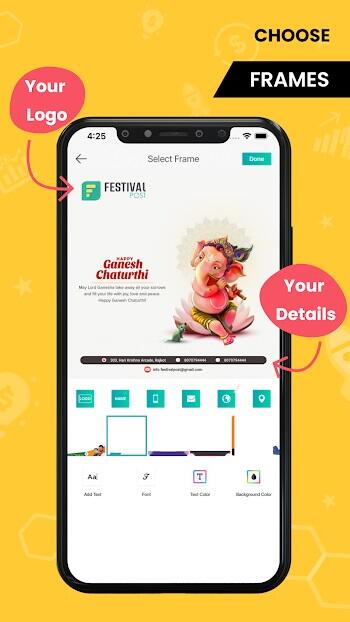 With this app, you can enjoy free templates that you can use to create a variety of posts. Since there are ready-to-use templates, it will be easy for you to edit and make the best photos and posters without breaking a sweat! Simply select your favorite design and edit it as you wish.
Many Categories – to help you create as many types of posts as possible, Festival Post provides many categories for you to enjoy for every occasion. For instance, there are many Festival templates, Daily Post, Day Wishes, and many more. You can create any post for wedding best wishes, holiday greetings, festival greetings, and many more.
Create Various Characters – Festival Photo Posters Maker comes with various characters that can be included in posts including Mahadev, Mahakal, Radha Krishna, Hanuman, Lord Shiva, Durga Mata, Bajrangbali, Jay Shri Ram, Sai Baba, & Jesus Christ.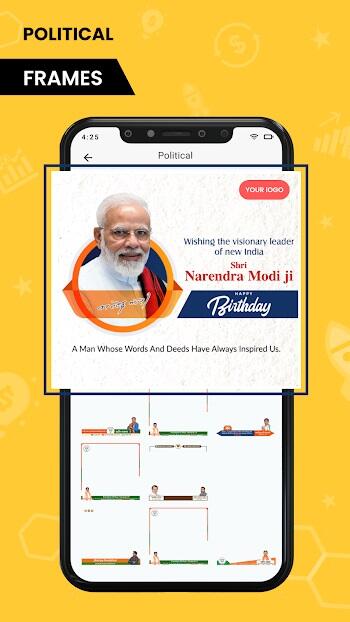 Multilingual Support – you can explore the Festival Poster Maker app in languages such as Telugu, Hindi, Punjabi, Gujarati, Marathi, Kannada, Tamil, English, etc.
Stickers, Frames, Backgrounds, Texts – the Festival Post app lets you make your posts with many elements. There are lots of backgrounds, stickers, frames, and texts to go along with your post!
Download Festival Post Mod APK – Premium unlocked
If you like to create posts quickly, download Festival Post Mod APK and access many elements and templates now.