Are you ready to test your knife-throwing skills to save hostages? Download Hit Master 3D now and enjoy a game where you will clear many stages and earn a lot!
Information of Hit Master 3D
| | |
| --- | --- |
| Name | Hit Master 3D |
| Updated | |
| Compatible with | Android 5.0+ |
| Last version | 1.8.1 |
| Size | 116.75 Mb |
| Category | Action |
| Developer | CASUAL AZUR GAMES |
| Price | Free |
| Google Play Link | |
| MOD | Unlimited money |
Unlimited money
No ads (Get free stuffs without watching even a single ads)
Are you a fan of knives? Isn't it cool when action stars start throwing knives like they're pros? They say that when you're good with knives, you're even better with guns. If you agree with this statement, then you should try playing Hit Master 3D today and gauge your skills.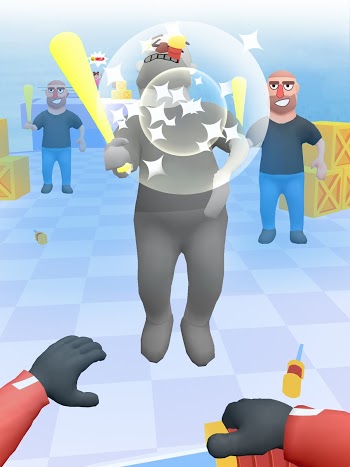 This game was created by Casual Azur Games which were also responsible with other popular games such as Worms Zone and Do Not Fall. In this game though, you'll throw knives at people. But not just any people, they're bad guys that are holding people hostages. You need to be accurate with your shots or else you risk the lives of the hostages! Are you able to overcome the challenges facing your way? Play the game today!
Show Off Your Knife Skills
When we see some fictional characters thrown knives like a pro, it's such an awesome skill to have. In real life it may be hard to achieve that feat, but in Hit Master 3D, you can do it easily! But you need to be as accurate as possible so you don't hit the innocent hostages that the bad guys are holding.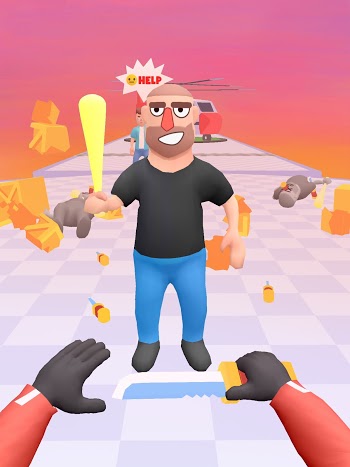 Try to unlock the different knives in the game categorized in 3 different rarities: Common, Rare and Epic. Of course, these aren't your normal knives as they include things such as plungers, tridents, hotdogs, cooking pans, scissors, chainsaw blades, boomerangs and more. But if you want the normal knives, you can easily get them as they're only rated Common. But this game isn't as simple as you think – you'll need insane accuracy and quick reflexes. Become the best knife-wielding super spy agent in the world and save thousands of lives! Can you conquer the challenges that are laid on your path?
Hit Master 3D Features
If you're unsure if this game is to your taste, there's no harm in trying! But don't worry, we're here to show you just how awesome this game is by listing all of its features.
Become a super spy with only knives – When you watch movies and shows about spies, they usually wield guns as their main weapon. But some are even more badass as they only equip themselves with knives and even bare hands. If you think knives are the coolest weapons in the world, then Hit Master 3D is the game for you. Here, you'll become an elite super spy agent that only wields knives. You'll throw knives at the bad guys who are holding a lot of people as hostages. The mission is simple, eliminate all the bad guys, save the hostages and go to the extraction point! There's nothing else that needs to be done – only this easy task.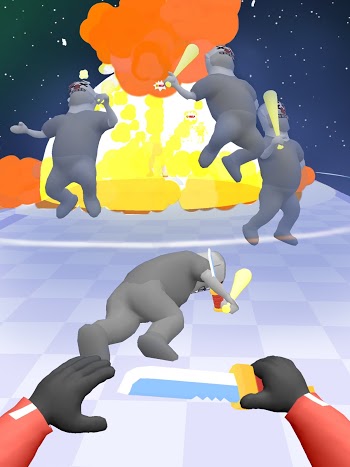 Stunning 3D graphics – Let's face it, you can't play a game unless it's in 3D? No problem, this is actually the concern of many players today. But with Hit Master 3D, you can instantly play it as everything is beautifully-designed. From the characters to the locations – you will enjoy a very beautiful game. The animation is also smooth as you throw your knives and go to different levels.
Unlock many interesting knives – The star of the game are the knives. Here, you can get many types of knives aside from the default one. There are 3 classifications to the knives such as Common, Rare and Epic. But the Epic ones isn't what you think! They consist of some funny and normal household items such as a plunger, a hotdog, a cooking pan, a unicorn horn and many more. There are also other things such as darts, scissors, boomerangs, cutters, skewers, chainsaws and tridents.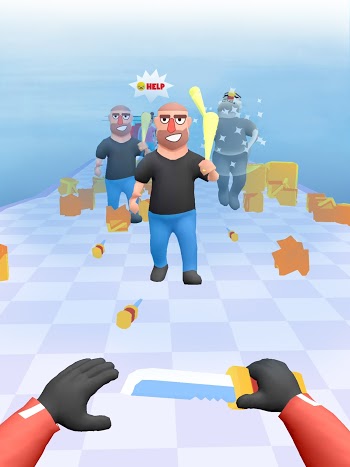 Difficult challenges – Enjoy different challenging levels in Hit Master 3D. In every level, you'll face different enemies and challenges. You'll also face bosses that won't go out with just one hit. At times, you may need to hit them consecutively to knock them down.
Enjoy the game and earn rewards – With this game, you can earn many rewards as you complete the levels. Use the money you earned to unlock different types of knives to make things even more fun.
Download Hit Master 3D Mod APK – Latest version
Are you up for a new type of action? Download the latest version of Hit Master 3D right now so you can become the world's best knife-wielding spy.