Expand your lands, build your kingdom, and defeat enemies with deadly weapons in the Helmet Heroes Mod APK game. Exploit the abilities of your heroes to win every battle!
Information of Helmet Heroes
| | |
| --- | --- |
| Name | Helmet Heroes |
| Updated | |
| Compatible with | Android 4.0+ |
| Last version | 10.6 |
| Size | 13M |
| Category | Adventure |
| Developer | Helmet Games |
| Price | Free |
| Google Play Link | |
| MOD | Unlimited money, tickets |
Start an incredible adventure where you can recruit more players and together explore beautiful lands in the deep underground. Discover what is hosted in the ancient forts, mysterious forests as well as ancient tombs and caves in the Helmet Heroes MMORPG gameplay. Helmet Heroes is an amazing MMOROG with artistic adventure where you will be able to roam a vast world with many enemies and lots of danger. You will not get bored playing every level of this addictive masterpiece by Helmet Games.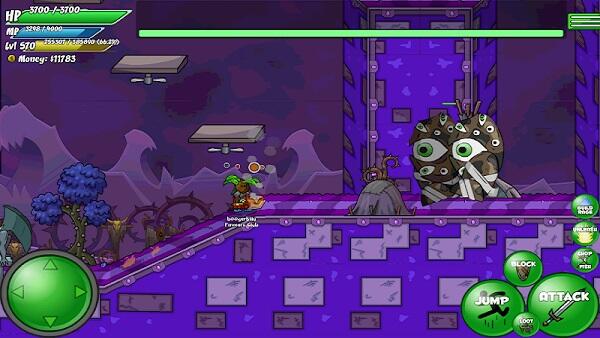 This game opens sensational adventures where you can explore many friends and players from around the world. Here, you will not only will you find out the secrets of the beautiful land, but also face many unpredicted dangers. You will encounter over 40 powerful armies that are ready and willing to participate in unprovoked battles. However, you can choose to fight alone as a lone knight or create a team of heroes to complete the many challenges in Helmet Heroes with help from your friends.
Helmet Heroes Thrilling Gameplay
Helmet Heroes is presented in a platform game format where players get to choose from a number of classes of characters such as a Warrior, Archer, Wizard, Cowboy, etc. In addition, they can also customize the game with over 600 in-game items. This game also has dozens of monsters, PvP combat game mode, and different missions to complete.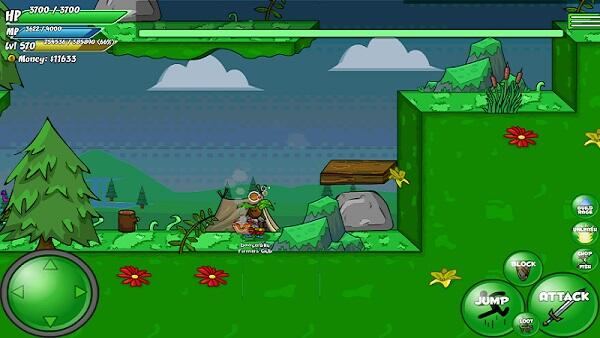 Notably, this game comes with minimalist graphics in a 2D format where you roam around vast and strange worlds full of danger. Nonetheless, you can also be able to find and gather weapons that will help you overcome the enemies. There are all kinds of treasures too. To earn money and get rich in the game, you will need to kill enemies and conquer their dungeons.
Start the game by selecting the class of character that will in turn determine your abilities including being a warrior, wizard, archer, cowboy. Then, you will face each challenge using your character's unique abilities and capabilities. In addition to having electrifying relaxing moments throughout the game, you are also be connected with many players around the world.
Highlights of the Helmet Heroes Game
Below are the main features of this multi-player platformer and RPG game.
Interesting Gameplay – this game provides challenging and competitive gameplay where you can play with a player from across the globe. In the PVP mode, you can create a guild on Helmet Heroes to connect and chat with everyone. Apart from offering engaging gameplay, this game is a platform where you can meet, make friends, and learn more. Besides, the friend system allows you to interact and trade with other players.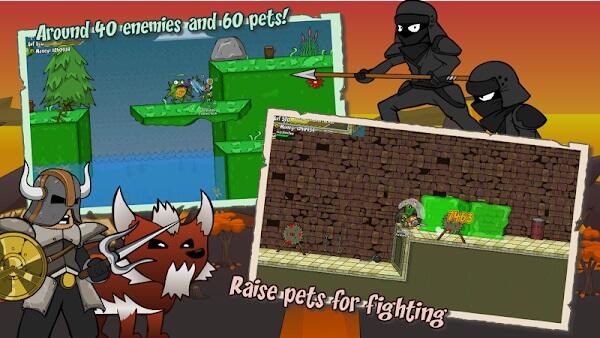 On the screen, the game interface has joystick buttons that are make playing on mobile devices easy and enjoyable. You can also blend multiple moves to form unique combat skills against enemies. With Helmet Heroes, you can engage in gameplay with various activities. Here, you will not only kill monsters and go up in arms against other players on the live battlefield. You can also expand new grounds, build houses, and do many other fascinating activities.
Build Your Own Weapons & Items – in this game, the player can collect various recourses that can be used to make weapons and other useful items. It would be known that it is not easy and will take time to collect, assemble the material to make finished products. There are over 600 items that you can create for customizing your character, including weapons, armor, helmets, shields, and more. With these weapons, you can take on enemies with a variety of firearms, swords, bows, sticks, etc. if you have sufficient coins, you can choose to obtain more items faster by visiting the stores featured in the game.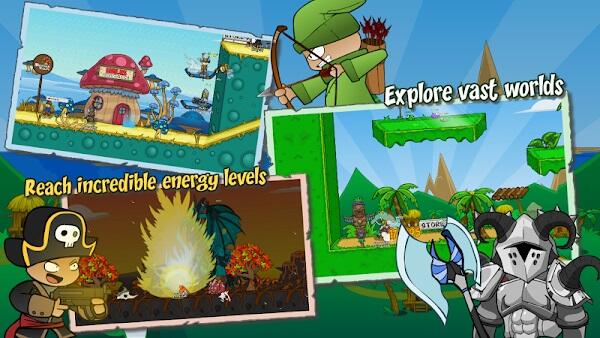 Various Characters – like in other action games, this game allows you to choose the character you want to use in the gameplay. The game offers four characters. That is the Wizard, Warrior, Cowboy, and Archer. The most interesting thing is that each character has its own skills, with over 30 special skills to be explored. Each character comes with their special weapons too. For example, warriors use strength while the archer has the ability to aim at huge distances. In addition, the wizard uses magical powers while the cowboy uses weapons to eliminate all enemies.
Many Mini-Games – if you get bored of completing all the challenges of the regular situations, you can maintain your entertainment by taking part in the tree filling or fishing mini-games. Playing mini-games will give you comfort after intense fighting action. It also helps you accumulate more resources that are valuable and useful in the entire game. The fishing mini-games allow you to collect unlimited resources with 40 types of fish. On the other hand, Tree Filling games will help you expand and grow your kingdom as you also collect new weapons.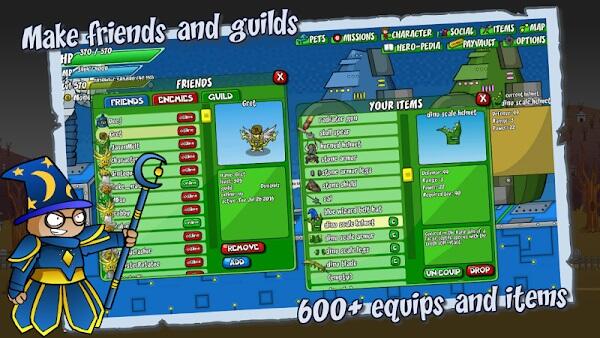 Multiplayer Mode – Helmet Heroes have an online playing mode. Within this gaming mode, you can team up with your friends and online player to explore the vast game world, obtain swords and equipment, and battle against monsters. Before you start the game, you need to register a new account and afterward choose a favorite server and start to play online.
Download Helmet Heroes Mod APK - Unlimited Money & Tickets
With the Helmet Heroes APK, you can make unlimited newgrounds, expand your kingdom, overcome enemies with lethal weapons and earn unlimited money and gems.