Download Grand Survival Mod APK Unlimited everything Latest version and unravel a series of challenges to become the ultimate survivor. It has well-thought-out missions & 3D graphics.
Information of Grand Survival
| | |
| --- | --- |
| Name | Grand Survival |
| Updated | |
| Compatible with | Android 5.0+ |
| Last version | 2.8.4 |
| Size | 254.84 Mb |
| Category | Simulation |
| Developer | Becube Co Ltd |
| Price | Free |
| Google Play Link | |
| MOD | Unlimited everything |
Grand Survival APK is an online Android game developed and published by Becube Co Ltd. It is an adventurous game with a lot of tasks and challenges to accomplish.
The game will place you in an ocean full of mutant crabs, sharks, and other monsters. You must use a floating raft to navigate and find resources to survive on the island.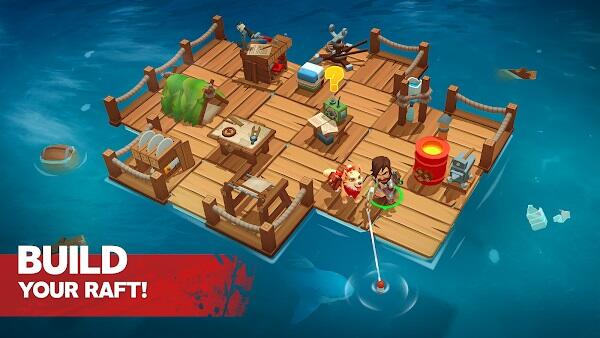 However, your survival journey will have many puzzles, traps, and challenges. As such, you must be creative to find solutions. Above all, you should be brave and calculate your moves carefully to progress through the game.
If you are looking for an exciting and unique survival game, you should play Grand Survival APK for Android. It will take you on an unforgettable journey with amazing challenges.
A Mind-Engaging Survival Journey
The storyline revolves around friends stranded on an island after their raft broke in the middle of the ocean. They need to find food and shelter to survive and eventually find a way back home.
Each day, you will have to accomplish different missions, including gathering food, building shelters, and fending off mutant crabs. The game will also require you to solve puzzles, which will become harder as you progress.
Aside from the main storyline, Grand Survival APK also has side missions that you can accomplish to get rewards. These include rescuing other survivors, finding lost treasure, and more.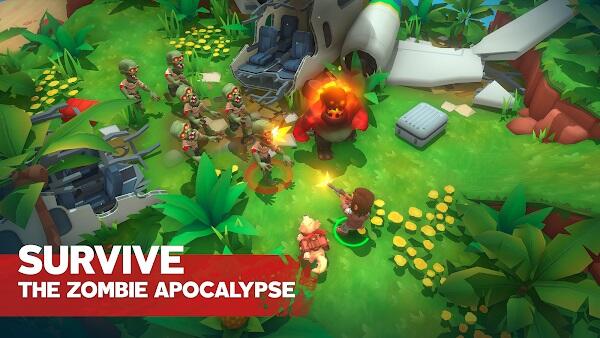 The game is also packed with different features to make your survival journey more exciting. For instance, you can craft items, build traps, and upgrade your raft. You can also use the map to find resources and discover new areas.
Survive a Harsh Ocean
While this game has an avalanche of missions, the most crucial goal is to survive. To do this, you need to find food and water.
You can catch fish using a spear or a net. You can also collect fruits from trees. However, you need to be careful as some fruits are poisonous. It is also important to cook your food properly to avoid getting sick.
As for water, you can collect rainwater or find a freshwater source. You can also distill salt water to make it drinkable.
You must also build a shelter to protect yourself from harsh elements and predators. You can build a tree house, a cave, or any type of structure that can keep you safe at night.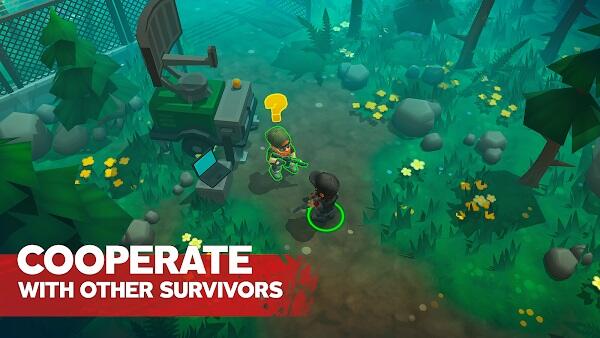 You also need to be careful of the conditions of your raft. If it gets damaged, you will not be able to explore the island or gather resources. As such, you need to repair it regularly using the resources that you gathered.
Fend Off Dangerous Creatures
The island is dotted with lethal creatures that can annihilate you. These include giant mutant crabs, zombies, sharks, and other monsters.
You need to defend yourself by building traps and weapons. You can also use environmental objects such as rocks and logs to your advantage.
It is also critical to stay alert and be careful of your surroundings. Some creatures are more active at night, so you need to be cautious during these times.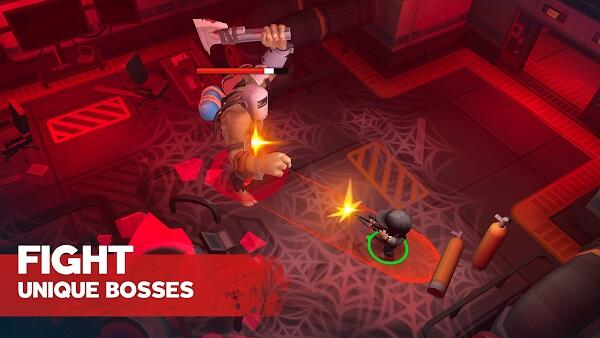 Aside from the creatures, you also need to watch out for other survivors. They can help you or kill you for your resources.
Survive Zombie Apocalypse
How will you handle a zombie apocalypse? This game tests your survival skills in a post-apocalyptic world full of zombies. These blood-hungry creatures will stop at nothing to get your brains.
The creatures will test your limits and push you to your brink. To survive, you need to find food & water, build a shelter, and fortify it to protect yourself from zombies. You must also find weapons and ammunition to defend yourself.
The most critical thing is to be calm & think clearly. You must have a clear head to make the right decisions and survive through this nightmare.
Find Out Infection Sources
A deadly virus has spread across the globe, turning people into zombies. The infection started from different sources, and it is up to you to find out where it all began.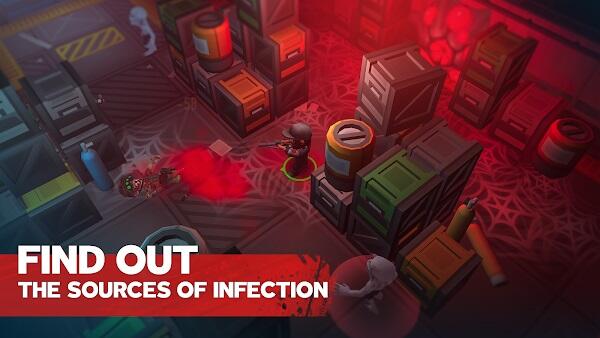 You should explore different areas, gather clues, and solve puzzles to find infection sources. Once you find them, you need to stop them and save humanity.
This game is a test of your detective skills and your ability to survive in a zombie-infested world. Can you find the infection sources and put an end to this nightmare?
Other Unique Features of Grand Survival APK
A Unique Crafting System. This game has a unique crafting system that allows you to create items using the resources that you gathered. You can also use this system to upgrade your weapons and traps. However, you should always prioritize your raft! It is your only way back home.
Lots of Weapons to Use. This game has a wide variety of weapons you can use to defend yourself. These include Harpoon, Katana, Rifles, and more! Each weapon has its strengths and weaknesses, and you must choose wisely.
Dynamic Weather Conditions. The weather in this game is also dynamic. It can be sunny, rainy, or even stormy. You must be prepared for these conditions as they can affect your gameplay. For example, rain can make it harder to gather food.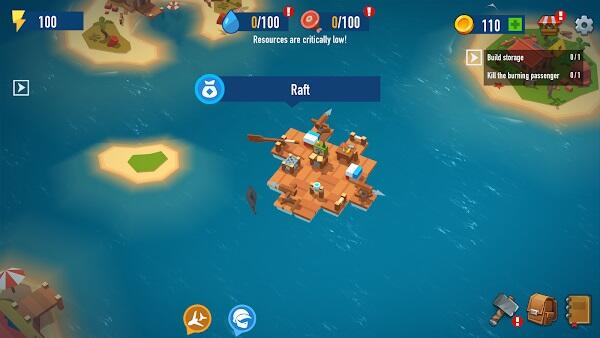 Beautiful Graphic Design. This game has beautiful graphics that will surely immerse you in the game. The environment is also well-designed, and the creatures are realistically rendered. You will feel like you are stranded on an island.
World Map Available. This game has a world map that you can use to find resources and discover new areas. You can use the map to discover new islands and travel to different locations.
Meet Different Characters. This game has different characters. You can cooperate or compete with them. Some of them can even join your team and help you in your quest to survive! Always remember that teamwork is key in this game.
Fight Unique Bosses. In this game, you will also encounter powerful bosses. These bosses are harder to defeat, but they offer better rewards. You can get new weapons and equipment from defeating them.
Cool Sound Effects. Whenever you undertake an action, there will be a realistic sound effect. For example, when building the raft, you will hear the sound of hammering. This high-level realism makes the game super authentic.
Grand Survival MOD APK Free Purchase
If you want hassle-free survival escapades, you should download the Grand Survival MOD APK for Android. This MOD boasts the following features: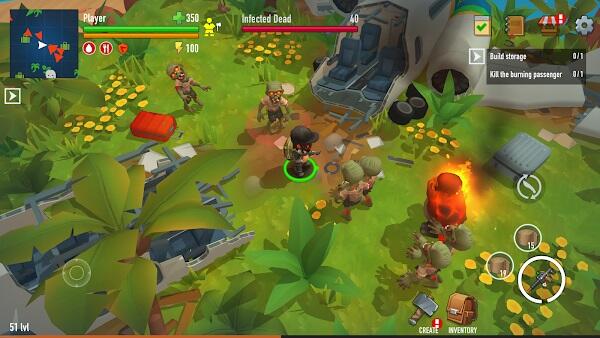 Grand Survival MOD APK Unlimited Everything and Energy. The MOD gives you unending resources, eliminating the fear of shortages. It also offers unlimited energy, enabling you to play the game for as long as you want!
All Resources Unlocked. The Grand Survival MOD APK Unlimited Resources version offers wood, weapons, food, and other items without restrictions. You can use all the resources you want to improve your chances of survival.
No Ads. The Grand Survival MOD APK 2023 is intuitively designed to give you the best gaming experience. It does this by providing an ad-free environment, allowing you to play the game without annoying pop-ups and banners.
Conclusion
The Grand Survival APK is an excellent game that will challenge you to survive in difficult situations. You must use all your resources to find food, build shelter, and defend yourself from zombies.
With the Grand Survival MOD APK, you will have an even better gaming experience as it offers unlimited resources and energy. Try it now and see if you can survive in this zombie-infested world!