Download Golf Orbit Mod APK Unlimited money, gems Latest version and fight to become the global golf king. Hit the golf ball to Mars in a unique & exhilarating gaming experience.
Information of Golf Orbit
| | |
| --- | --- |
| Name | Golf Orbit |
| Updated | |
| Compatible with | Android 5.0+ |
| Last version | 1.25.24 |
| Size | 90.00 Mb |
| Category | Sports |
| Developer | Quiet Games Inc |
| Price | Free |
| Google Play Link | |
| MOD | Unlimited money, gems |
Unlimited coins
Unlimited diamond
Unlocked Vip
Unlocked ball
Unlocked character
Unlocked world
No ads
Golf Orbit APK is a unique one-shot golf game offered by Quiet Games Inc. It challenges you to hit the golf ball into space and then around the planets to reach Mars orbit. The more successful you complete each shot, the more points you earn.
The game features beautiful 3D graphics, simple controls, and easy-to-use gameplay. You will see the ball flying past different planets and asteroids as you make your way to the goal.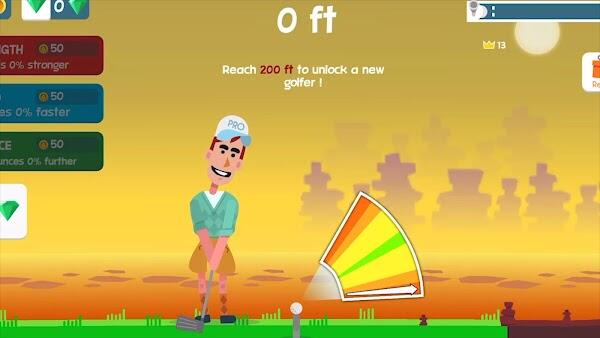 Even better, this game has many power-ups and bonus items to help you along the way. Use them wisely to improve your score and achieve a high ranking on the leaderboard.
A Unique Gameplay
Would you want to start a new life on the Lava Planet? This game will offer you a chance to do just that! It is one of the many unique features that make this game stand out from the rest.
You start playing golf on earth with the ultimate goal of sending the ball to the furthest outer space. But you will not be alone in this space odyssey as other golfers are playing alongside you.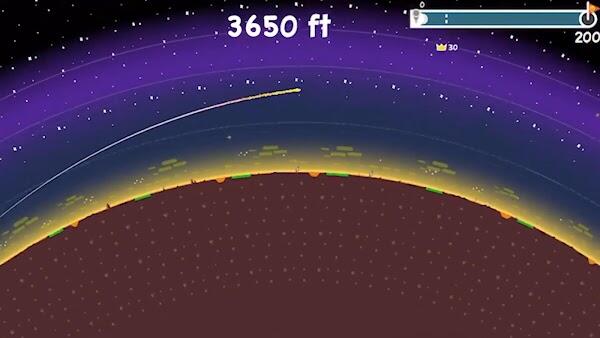 As such, you can expect stiff competition as everyone tries to achieve the best score. Ensure you use all your strength to send the ball flying to unimaginable heights. This is the only way to earn a high score and become the king of golf.
Choose Your Adventure
This game offers everything a golf enthusiast would want. From different worlds to conquer to many challenging levels, there is something for everyone.
While your goal will be to unlock other planets, you will not be forced to live there. Once unlocked, you can choose to start your life there or come back to earth anytime you want.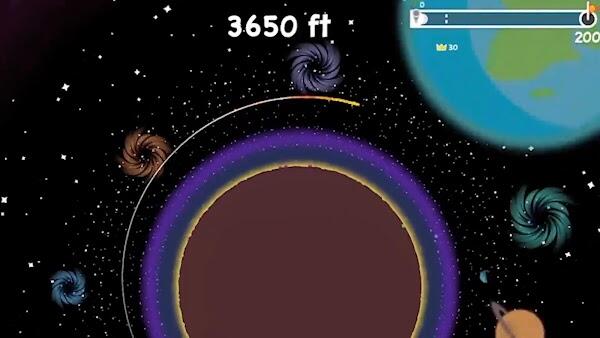 Even better, all unlocked worlds remain open for you to visit anytime. This way, you can take your time to master each world before moving on to the next one. You can find all your unlocked worlds in the world menu of the clubhouse.
Highly Authentic Graphics
This game features some of the most realistic graphics you will ever see in a golf game. From the lush green on earth to the red rocks of Mars, every world is designed with keen attention to detail.
This realism ensures you enjoy every second you spend playing the game. It also makes it easier to get lost in the game as you try to unlock new worlds and find new hidden features.
Upgrade Your Golfer
This game gives you the chance to upgrade your golfer as you progress. You just need to visit the clubhouse and select the golfer you want.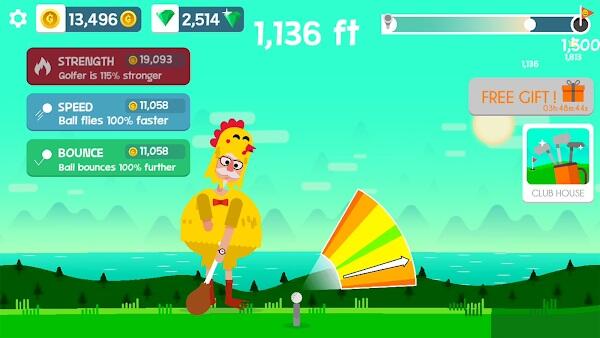 Ensure you upgrade your golfer regularly to take advantage of the many benefits they offer. These benefits include increased strength, more accuracy, and a longer drive.
Unique Features of Golf Orbit APK
Idle Golf Orbit Rocket League. This game features an Idle Golf mode that allows you to keep playing even when you are not actively using the app. This way, you can still earn points and progress in the game without having to be glued to your device.
Unlock New Golfers. This application sets targets for you to achieve as you progress in the game. Once you reach these targets, you will unlock new golfers with different abilities. For example, you can have a target to reach 200 ft in a single shot. Once you reach this target, you will unlock the Pro Golfer.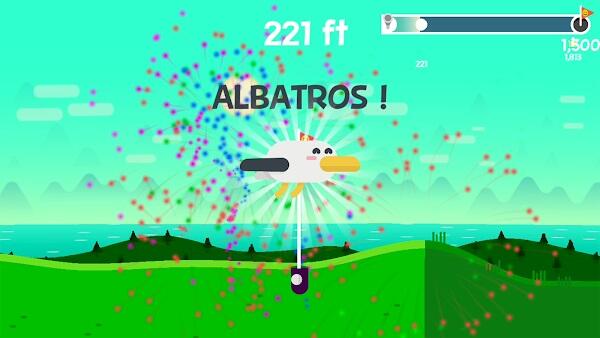 Elaborate Congratulatory Messages. This game congratulates you with an elaborate message whenever you achieve something great. For example, when you manage to hit the ball into outer space for the first time, you will be congratulated by a message that reads "perfect". This encourages you to keep playing and striving for perfection.
Day/Night Cycle. The outer space in this game has a day/night cycle that mirrors the one on earth. This means that you can play at any time of the day and still enjoy the beautiful graphics. At night, you will be treated to a star-studded sky that is simply breathtaking.
This game features a leaderboard where you can compare your progress with other golfers from all over the world. The leaderboard is designed in such a way that you can see how you rank according to different factors. For example, you can see how you rank in terms of the longest ball hit or the number of planets unlocked.
This game has a long list of achievements for you to accomplish. As you complete these achievements, you will be rewarded with different items that can help you progress in the game.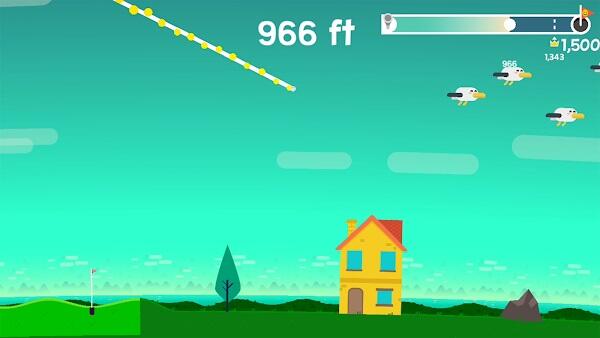 Credible Sound Systems. The ball produces rocket-like sounds as it zooms through space. This, combined with the other credible sound effects in the game, makes for an immersive experience.
Simple Controls
This game's physics & mechanics are designed to be as realistic as possible. However, the controls have been kept simple to allow for easy gameplay.
The most critical thing is to achieve the perfect angle and force when taking your shot. Once you master this, you will hit the ball with pinpoint accuracy.
Golf Orbit MOD APK Download
The original game has in-app purchases ($2.49 - $114.99 per item) to help unlock superior features. However, this feature can make gaming expensive for some people.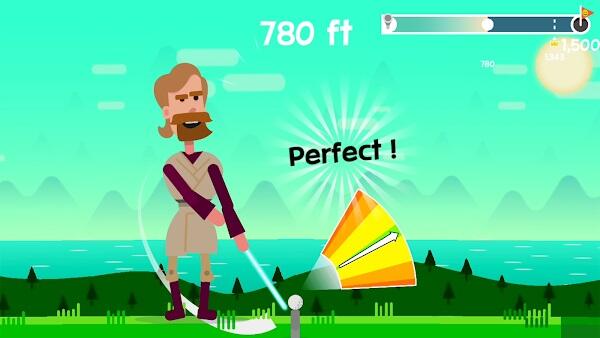 The good news is that you can now get the Golf Orbit MOD APK unlimited money and gems for free. This modified version allows you to enjoy all the game's features without making in-app purchases.
You can unlock sophisticated golfers and upgrade them to their full potential without spending a dime. In addition, you get an endless supply of coins and gems that you can use to buy different items in the game.
Finally, the Golf Orbit MOD APK for Android is ad-free. This ensures that you can focus on tailor-making your gaming experience without being interrupted.
Conclusion
Golf Orbit APK is a golf game that is out of this world, quite literally. In this game, you are tasked with hitting the ball into outer space. It has experienced golfers to help you with your gameplay.
The MOD APK version of the game gives you unlimited resources. This allows you to buy any item in the game without worrying about the cost.