Love playing soccer? Enjoy a fun and easy football game right now with Score Hero. There are over 800 levels you can play. Pass the ball and score goals!
Information of Score Hero
| | |
| --- | --- |
| Name | Score Hero |
| Updated | |
| Compatible with | Android 4.4+ |
| Last version | 3.05 |
| Size | 8.05 Mb |
| Category | Sports |
| Developer | First Touch Games Ltd. |
| Price | Free |
| Google Play Link | |
| MOD | Unlimited money |
Unlimited money: don't decrease when spent
Most football fans have a profound love for the game which explains their jerseys and all things football. More than that, there are many football teams, players and matches being held regularly around the world. If you didn't notice, the World Cup brings in millions of viewers around the world whenever they're held as people would tune in on TV or watch it personally. Because of this, you might want to download Score Hero today! Enjoy a simple game of football now.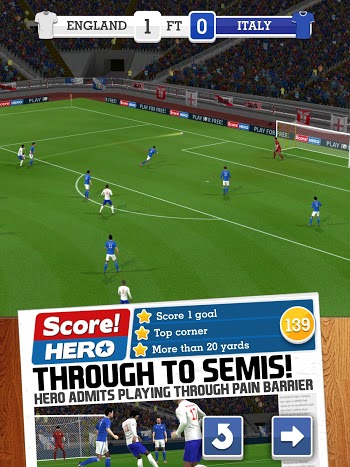 A game published by First Touch Games, this one lets you enjoy football in a new light. Instead of the usual one where you run across the field and switch between different players. You'll just need to score some goals here! This game skips the long intervals between scoring and defending and lets you enjoy scoring unlimited goals in different levels. You're also able to customize your Hero from his face down to his shoes!
Draw Lines to Score
There are so many things you can love about football. It can be the ball, the players, the shoes or even just the sheer thrill of scoring. Some even focus on doing tricks with their feet and scoring in the fanciest ways. Whatever it is you love about football, you can now enjoy it to the fullest with Score Hero. This game showcases football particularly the goals!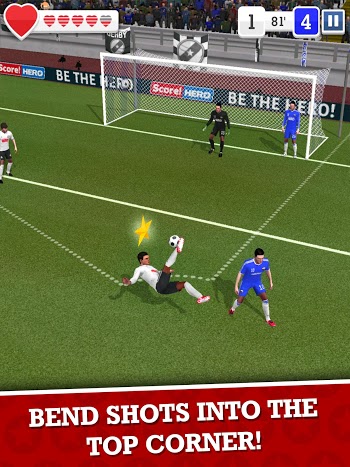 Here, you're free to score goals as you please by drawing lines to the goal. Before that, you may need to pass it to your teammate first by drawing an accurate line as well. Try to beat all 800 levels today with different scenarios, positions and difficulties! In this game, you will just need to draw some lines so you can score some goals. You don't need to wait for minutes or hours just to score a goal today.
In addition, you can customize the look of your hero from his hairstyle, facial features, shirts, beards to even his shoes. Enjoy scoring the best goals today and make it to the front page of the newspaper! This is a simple game to play with challenging levels.
Score Hero Capabilities
You can enjoy quite a lot of football games today seeing as it's one of the most popular sports in the world. But if you're looking for a different one, then try Score Hero.
Score Goals Using Lines – There are probably thousands of football-oriented games available today. Most of these games are regurgitated garbage that are a direct copy of popular ones like FIFA. So, if you're tired of these games today, why not try something new? Score Hero is a new one you can enjoy that lets you score goals in the most fantastic ways! You can skip the long running times and go straight for the goal here.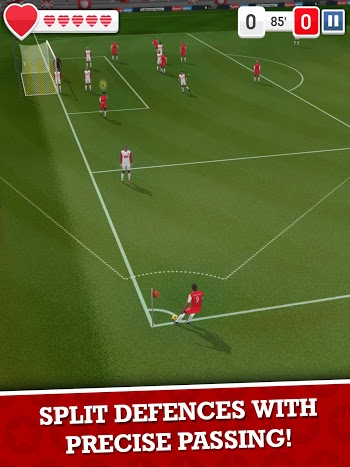 You don't need to worry about playing a whole regular game here as you only be scoring goals. You can say that this game only focuses on the offense as you won't need to defend or do anything else to win. You just need to pass the ball to the scorer by drawing a line and choose the path to the goal! Here, you just need to be a quick thinker so you can win.
Beat 800 levels – There are over 800 levels available to play in Score Hero. Most of the levels only focus on you scoring the goals! Here, you'll mostly just be playing the part when you're close to the goal. You'll then need to pass the ball to your teammate by drawing a line. But you need to be careful for it not to be intercepted by the opponents. You must draw a line accurately for you and to score a goal.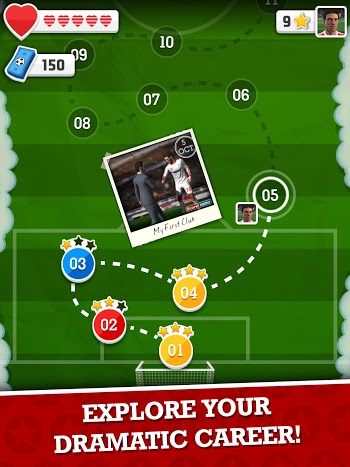 But things won't be as easy here are the levels are unique! You'll need insane skills to master the art of drawing lines in the game. But once you get it, you'll enjoy the different scenarios today! You will learn a lot of things in this game.
Customize your hero – If you want to become the best, you also have to look the part. In this game, you can fully customize your character. You can change his beard, face, hair, jersey number, shirt, shorts and shoes! Buy the best apparel for your character today as you score more goals.
Events – You can also participate in regular events online. There are a lot of prizes to get and medals to get.
Draw lines to score – Here, it's easy to draw lines to score. But you need to think about the trajectory of your shot as well as the lines you'll draw!
Download Score Hero Mod APK – Unlimited money
Experience football like you've never played before in Score Hero! Score now and complete levels.