Download Goddess of Victory Nikke Mod APK Unlimited money Latest version and enjoy intense one-handed shooting combat. It features numerous humanoid nikkes with diverse abilities.
Information of Goddess of Victory Nikke
| | |
| --- | --- |
| Name | Goddess of Victory Nikke |
| Updated | |
| Compatible with | Android 7.0+ |
| Last version | 112.8.8 |
| Size | 113.30 Mb |
| Category | Role playing |
| Developer | Level Infinite |
| Price | Free |
| Google Play Link | |
| MOD | Unlimited money |
About Goddess of Victory Nikke
Goddess of Victory Nikke APK is an intense shooter game offered by Level Infinite. It features anime-themed characters carrying guns & other extraordinary sci-fi weapons.
Your goal is to defeat all enemies and become the ultimate Goddess of Victory. Choose your Nikke wisely, each one possesses unique abilities that can turn the tide of battle in your favor.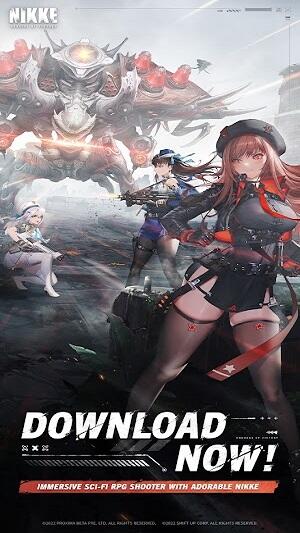 You can also upgrade your weapons and improve your Nikke's stats to become stronger. This way, you can easily defeat tougher opponents and earn rare treasures.
Detailed Background Analysis
In this game, you'll face devastating destruction where the world has been taken over by an unknown enemy. The merciless enemy is sweeping away humans with its advanced technologies.
Everyone is losing hope, and deaths are increasingly common. While humans are trying to fight back and safeguard their remaining cities, they are overwhelmed by the enemy's strength.
The situation is so bad that some humans have even joined the enemy's ranks, betraying their kind. These desperate acts have complicated the war, making it harder for the remaining humans to win.
But a ray of hope shines through as a group of humanoid robots come to humanity's aid. These advanced robots were created by scientists in secret and have been specially trained for battle. They have special abilities that give them an edge against the enemy, and with their help, humanity may stand a chance at winning back their world.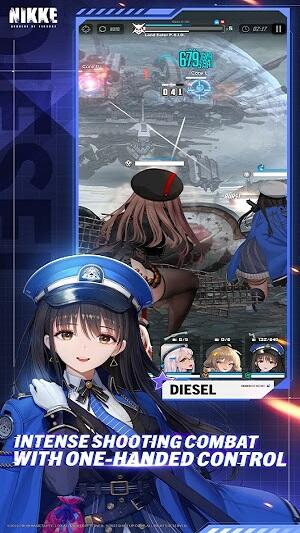 Unfortunately, the enemy was so strong that even the humanoid weapons were losing. In a last-ditch effort, everyone gave themselves out, and the world was utterly defeated. The remaining human beings were forced to live deep underground.
Decades later, a group of courageous girls awaken the last remaining humanoid robots and set out on a mission to reclaim their world and defeat the enemy once and for all. They move to the earth's surface and start their journey to save the world.
These girls are known as Nikke, and they are the Goddesses of Victory. Will you join them in their quest to defeat the enemy and reclaim their world? Download Goddess of Victory Nikke APK for Android and become a part of this exciting story.
Super Intense Gameplay
If you love adrenaline-packed battles, Goddess of Victory Nikke APK is the perfect game. The controls are smooth and responsive, allowing for precise aim and movements in the heat of battle.
You will start with simple assignments that do not require too much effort. However, you should never let your guard down as the difficulty ramps up quickly. You will face formidable foes and must strategize effectively to withstand their fierce attacks.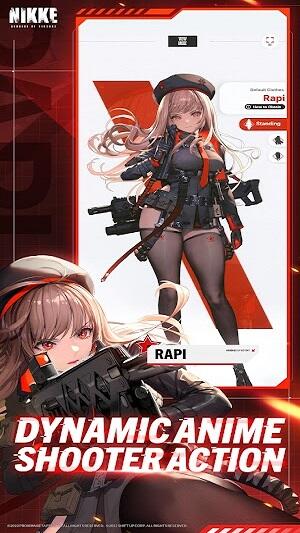 Always use the best humanoid weapon for the job and upgrade them as often as possible. If you realize your current Nikke is not suitable for the mission, don't hesitate to switch to a different one. This is the only way you can restore hope to the world!
Collect & Command Nikkes
This game offers a variety of girls with beautiful designs and exceptional abilities. Collect them all and customize their weapons to make them even more powerful in battle.
Each Nikke has a different set of skills and special attacks, so choose wisely depending on the mission at hand. Don't forget to also upgrade their skills and stats to further improve their combat capabilities.
Besides, you will have sci-fi weapons at your disposal. Switch them up and find the best combination for each mission to gain an edge against your enemies. Ensure you don't waste resources and strategize effectively to defeat the ever-evolving enemy.
Highly Cunning Invaders
When you thought you'd defeated one enemy, they come back stronger and smarter than before. The enemy's advanced technology makes them a formidable force in battle, so be prepared for intense battles against highly cunning invaders.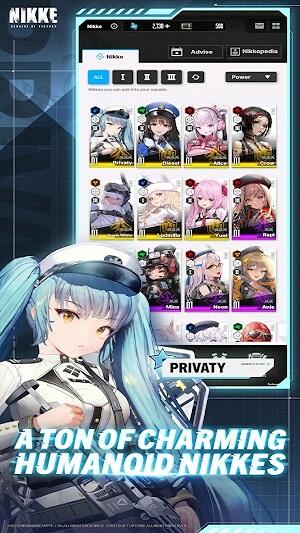 You will constantly adapt and upgrade your weapons and Nikkes to stay ahead of the enemy's evolving tactics. Don't lose hope and keep fighting until you reclaim your world and bring peace back to humanity.
Additionally, the stunning 3D graphics bring the post-apocalyptic world to life. From the destroyed cities to the fierce battle scenes, everything looks incredibly realistic and immerses you in the game even further. This way, you can truly feel like a goddess of victory as you fight for humanity's survival.
Exceptional Features of Goddess of Victory Nikke APK
Distinctive Personalities. In this game, you will collect and command girls with unique personalities, abilities, and weapons. You must ensure your team composition is suitable for each mission to increase your chances of victory.
Smooth Controls. The game's motion-sensing controls have been optimized to offer smooth, responsive, and immersive gameplay. You can easily maneuver your Nikke in battles and execute precise attacks to defeat the enemy.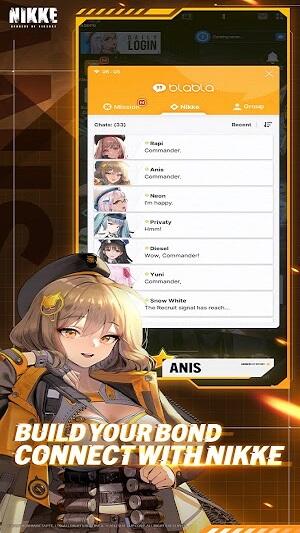 Advanced Physics Engine. This game uses the latest technology to bring realistic battle scenes to life. From the destruction of buildings to the impacts of attacks, everything looks incredibly lifelike. Additionally, the authentic illustrations & animations enhance the overall game experience.
Strategic Gameplay. This game is not so much about button mashing as it is about strategic thinking. You must constantly assess your team's strengths and weaknesses, upgrade their weapons & skills and adapt to the enemy's evolving tactics to succeed.
Horror-Filled Post-Apocalyptic Tale. The story of Goddess of Victory Nikke APK takes place in a post-apocalyptic world overrun by terrifying invaders. As the player, you must restore hope and bring peace back to humanity through clever strategy and strong leadership.
Immersive Sound Systems. This game features stunning sound effects and a thrilling soundtrack that enhances the gameplay experience. Let the music pump you up as you lead your team to victory against the formidable enemy.
Goddess of Victory Nikke MOD APK Download
Goddess of Victory Nikke MOD APK for Android is a better version of the game that offers a more fulfilling combat experience. It lets you enjoy these exceptional features: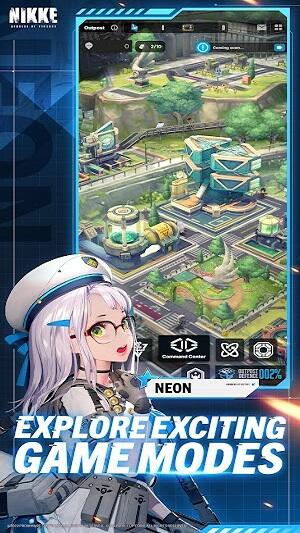 Goddess of Victory Nikke MOD APK Unlimited Money. With the MOD, you will have enough resources to upgrade your weapons and Nikkei to the maximum level. This will give you an edge in battle and make it easier to defeat the enemy.
All Weapons are Unlocked. The MOD unlocks all weapons in the game, allowing you to experiment and find the best combination for each mission. You will also access all the characters and their abilities right from the start.
No Ads. Interruptions can mess up your concentration and ruin your gameplay strategy. The MOD removes all ads for a smoother and more enjoyable gaming experience.
Conclusion
Goddess of Victory Nikke APK offers a strategic and immersive gameplay experience set in a post-apocalyptic world. It challenges players to lead their team of unique girls, upgrade their weapons, and reclaim humanity's future.
If you want to enhance your gameplay experience, consider downloading the Goddess of Victory Nikke MOD APK. The MOD offers unlimited money, unlocked weapons, and ad-free gameplay. Get ready to fight for humanity's survival as the Goddess of Victory.