Download Fun Hospital Mod APK Unlimited money Latest version and build a hospital to make money & become a tycoon. It has a humorous element that adds to its fun-filled gameplay.
Information of Fun Hospital
Fun Hospital APK is a fun-themed business simulation game offered by OrangesGame Technology Limited. It has high-grade humor that will keep you laughing all the way through.
The game's objective is to design and manage a hospital while caring for patients. You will treat patients with different medical conditions and offer them the best possible care.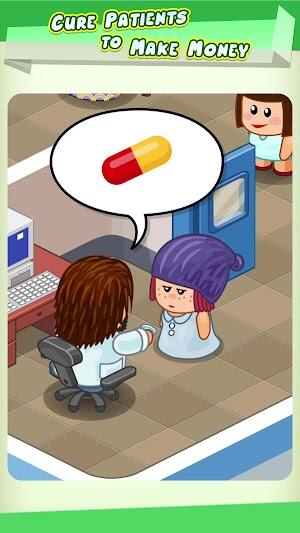 You will start with a small clinic and gradually build it into a full-fledged hospital. The game features many rooms, including the emergency room, surgery room, and examination room. You must hire staff, such as doctors, nurses, janitors, and receptionists, to run your hospital efficiently.
Fortunately, the game also features an in-game micro-transaction system that allows you to buy items, such as new furniture and equipment, to improve your hospital. The affordable in-app purchases ($0.99 - $99.99 per item) will come in handy if you want to progress through the game quickly.
Diverse Patients
Like any other hospital, Fun Hospital also has a wide variety of patients, each with a unique medical condition. You will have to diagnose and treat patients based on their symptoms.
Some will have funny conditions, such as total hair loss or excessive hair growth. Even better, you may be required to treat extraordinary patients, such as evil guys, strange aliens, and superheroes. No matter who the patient is, you must offer them the best possible care.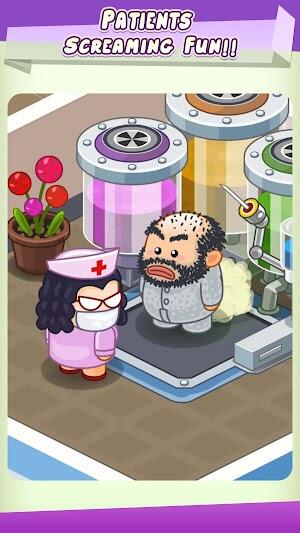 To do that, you must use world-class medical equipment. This is the surest way to provide efficient treatment and earn a good reputation.
Customize Your Hospital
You can also customize your hospital to match your preferences. The game allows you to change the color of the walls, floor, and ceiling. You can also add new furniture and equipment to improve the look of your hospital.
The best part is that you can design the layout of your hospital however you want. For instance, you can choose to have a linear layout or a maze-like layout. The choice is up to you!
However, you must always keep your patients at the center of your design. They must easily be able to find their way around the hospital without getting lost. Ensure you strategically place the rooms, such as the waiting area, examination room, and surgery room, in a way that is most convenient for your patients.
Train & Equip Your Medical Personnel
The healthcare quality will be directly proportional to the quality of your medical personnel. You must, therefore, ensure you hire only the best doctors, nurses, and other staff members.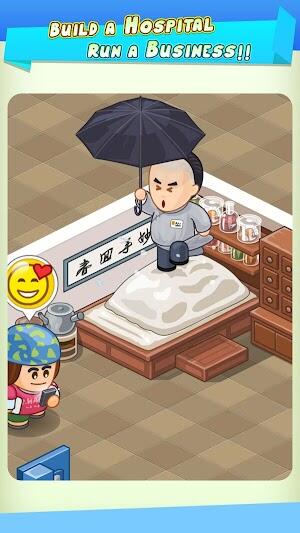 Besides that, you must provide them with adequate training, enabling them to offer world-class healthcare services. The training must cover all aspects of their job, from diagnosing and treating patients to using medical equipment and managing hospital resources.
You should also ensure your staff members are well-equipped with the latest medical & diagnostic technology. This is the surest way to diagnose and treat patients quickly and efficiently.
Earn Money & Become a Tycoon
This game offers various ways to make money. For instance, you can charge patients for consultation, medication, and surgery. You can also earn money by completing in-game tasks and goals.
As you make more money, you will be able to upgrade your hospital and add new rooms & staff members. You can also use the money to buy in-game items, such as new furniture and equipment.
With enough money, you can even build multiple hospitals in different locations. You can then manage all your hospitals from a single dashboard and become a healthcare tycoon!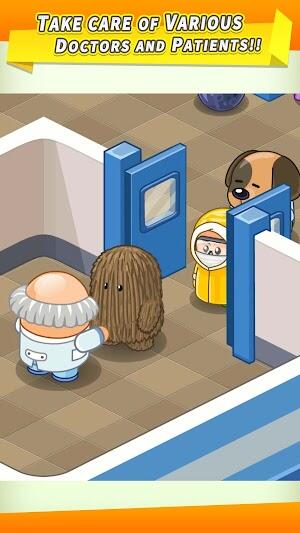 Always ensure you re-invest a portion of your earnings back into the hospital. This will help you to keep your hospital running smoothly and efficiently.
Fantastic Graphics
Fun Hospital boasts high-quality 3D graphics that are colorful and cheerful. The cute character designs will put a smile on your face, even when you're feeling down.
The hospital environments are realistically designed, giving you a true simulation gaming experience. You will feel like you're managing a hospital.
Even better, the game's controls are also simple and intuitive. You can easily learn how to play the game without any prior experience.
Other Unique Features of Fun Hospital APK
Create/Join a Union. You can create or join a union with other players. These are like mini-communities within the game. You can chat with other members, share tips & tricks, and collaborate to earn more money.
Participate in Weekly Medical Tournaments. Unions will engage in weekly medical tournaments against other unions. These tournaments are a great way to earn money, experience, and bragging rights.
Decorate Your Hospital. Always ensure to provide a therapeutic and pleasing environment for your patients. This will help to rejuvenate them, reduce their stress levels, and increase their comfort.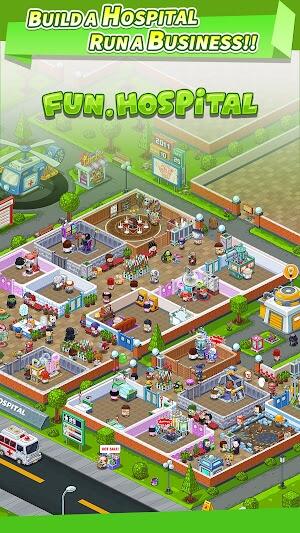 Lots of Role-Playing Missions. This game has many missions that require creativity, agility, and strategic thinking to complete. They are designed to help you learn more about managing a hospital. They will teach you how to deal with different types of patients, staff members, and hospital resources.
Regular Updates with New Content. The developers regularly release new updates with additional content. The new content includes new missions, rooms, staff members, and features.
Fun Hospital MOD APK Download
The Fun Hospital MOD APK Unlimited Money version provides unlimited resources to buy anything you want in the game. You can use this money to upgrade your hospital, buy new furniture & equipment, and hire more staff members.
With the Fun Hospital MOD APK 2023 version, you will also have access to all the game's features. You can play all the missions, participate in medical tournaments, and decorate your hospital however you want.
Conclusion
Fun Hospital APK is a great simulation game for those who enjoy managing hospitals. The gameplay is engaging and provides many hours of fun. The missions are fun-themed and designed to teach you about hospital management.
Additionally, you can use Fun Hospital MOD APK for Android to get unlimited resources. This will allow you to upgrade your hospital faster and become the best healthcare tycoon!