Download Free Fire India APK latest version for an India-inspired survival-action gameplay hassle-free. It has dynamic modes, a pet system, and a revamped Bermuda Peak! 
Information of Free Fire India
| | |
| --- | --- |
| Name | Free Fire India |
| Updated | |
| Compatible with | Android 5.0+ |
| Last version | 1.100.1 |
| Size | 1.5 GB |
| Category | Action |
| Developer | Garena International III |
| Price | Free |
| Google Play Link | |
| MOD | No MOD |
Free Fire is undoubtedly a popular game that delivers exhilarating survival-action gameplay seamlessly. The game's popularity in India rose fast since its release on 23 August 2017.
However, the Indian government cut short this meteoric rise by banning it on suspicion of data breaches. This decision left many Indians disappointed since the game had quickly become a favorite for many.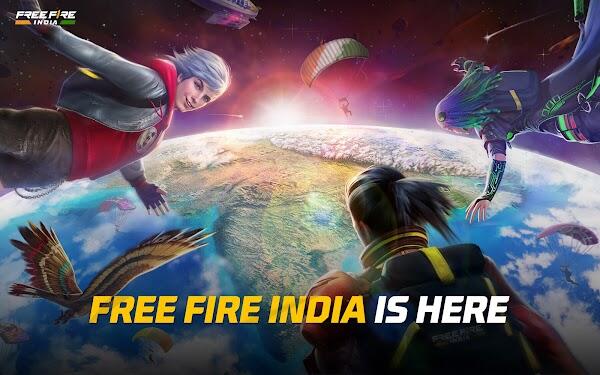 As such, they have been hoping that the government will unban the game to allow them to continue with the enjoyment. On August 31, 2023, Garena announced that Free Fire would make a comeback in India.
The game is specially made for the Indian market, allowing gamers to have more immersive gameplay experiences. The environments and characters are inspired by India's culture. As such, players can expect to enjoy a highly personalized experience as of September 5, 2023 (the expected availability date).
Why Download Free Fire India APK 2023?
Are you looking for a game that's going to get your heart racing and your adrenaline pumping? Look no further than Free Fire India APK for Android. Here's why you should hit that download button and dive into this epic gaming world:
This game transports you to a visually stunning world with its high-level graphics that are nothing short of a masterpiece. Its breathtaking landscapes and intricate details of your weapons are an exceptional work of art.
Well-Thought-Out Challenges
This game isn't a mindless shooter but a thrilling intellectual challenge. Every match presents a mind-bending puzzle that requires strategy, quick thinking, and impeccable skills.
Whether navigating treacherous terrain or engaging in a high-stakes firefight, every challenge is a chance to prove your mettle.
Free Fire India APK's authentic sound effects breathe life into every moment. The thunderous gunshots, explosive blasts, and stealthy footsteps are incredible. Listening to your surroundings guarantees a heart-pounding gaming escapade.
Immersive Storytelling and Pet System
Beyond the battles, Free Fire India APK weaves a captivating narrative that draws you into its world. It includes pet characters, enabling you to fight with highly loyal companions.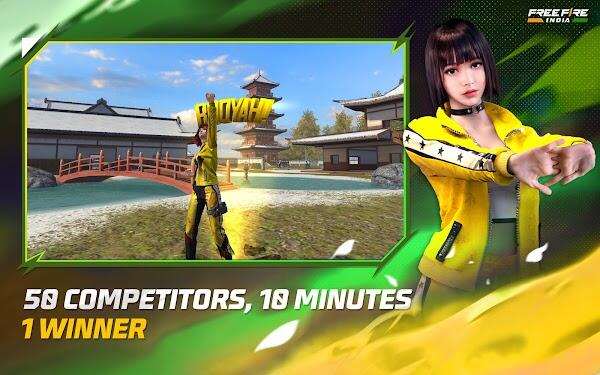 The character's backgrounds, & the unfolding drama add depth and emotional resonance to your journey. It's not just about winning; it's about experiencing an unforgettable tale.
Community and Camaraderie
Downloading Free Fire India APK means joining a community of passionate gamers. Whether you're forming squads with your buddies or forging new alliances in the game, you are part of something bigger.
It's a place where friendships flourish, strategies are shared, and each victory is a shared triumph. The sense of belonging to this worldwide gaming family is what truly sets Free Fire India APK apart.
Free Fire India APK Game Modes: In-Depth Analysis
The game has two main modes:
Classic Battle Royale
4v4 Clash Squad
These game modes rotate around defeating opponents to be the last person/team standing. However, there are several distinct differences between the two modes as shown below:
The Battle Royale Challenge
Free Fire India APK download offers an intense Battle Royale experience that tests your survival skills in a fast-paced 10-minute match. You are dropped onto a remote island, alongside 49 other contestants, all vying for the ultimate thrill of being the last one standing.
The game starts with a parachute dive. From there, it's a race against time to outlast your opponents and avoid the Electromagnetic Zone, which gradually engulfs the map. This game has these outstanding characteristics:
Wild Battle Tactics. Free Fire India APK MOD encourages players to employ a variety of battle tactics. For example, you can go with all guns blazing or adopt a stealthy approach.
Strategic Positioning. The game emphasizes strategic positioning on the map, using terrains and structures to your advantage. Finding the high ground or hiding in grasslands can be the difference between victory and defeat.
Revival System. This unique feature allows you to bring back fallen teammates during a match, adding a layer of teamwork and strategy to the game.
In-Game Side Missions. Completing in-game side missions can provide you with valuable advantages, such as better loot or unique abilities.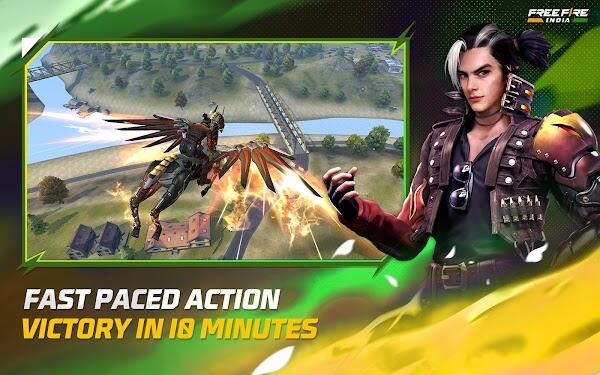 Utilizing Surroundings. Smartly using the environment, such as buildings and natural cover, can give you a significant edge in combat situations.
Loot Hunts. Scour the island for valuable loot, including weapons, armor, and supplies, to gear up for intense battles.
Outrun the Electromagnetic Zone. As the match progresses, the Electromagnetic Zone encroaches on the safe play area, forcing players to keep moving and engaging in combat, ensuring a fast-paced and thrilling experience.
The Clash Squad Challenge
If you prefer intense team-based battles, the 4v4 Clash Squad mode will serve you right. In this mode, you and three other teammates collaborate in a tense 7-minute match. Can you outlast the opposing team and claim victory? Play the game to find out. Here are other mode features to expect:
Squad vs. Squad Battles. It's all about teamwork in this mode as you go head-to-head with another squad. Communication and strategy are key to emerging victorious.
Resource Allocation. Properly allocating resources and using team strategies are vital for success. Coordinate with your team to make the best use of available assets.
BOOYAH! Moments. The thrill of shouting BOOYAH! after a hard-fought victory is unmatched. Winning as a team in Clash Squad mode is a moment of pure adrenaline.
Additionally, this game has a revamped zombie hunt game. Here, you will have hair-raising experiences as you fight against fierce enemies, determined to leave a trail of destruction in their wake!
Craft Your Adventure
Free Fire India APK offers numerous options to aid gameplay personalization, enabling you to bring your gaming fantasies to life. Here are key features that enhance your crafting experience:
Custom Playable Maps. This game allows you to design unique maps, allowing you to tailor the gaming environment to suit your needs. This feature opens up endless possibilities for unique gameplay experiences.
Interactive Objects. The game has over 50 fun and interactive objects. This way, you can create dynamic and engaging gaming environments hassle-free.
Multiplayer Fun. You can invite your friends over to enjoy the customized maps you've created. It's all about having a good time together, and Free Fire India APK makes that easy.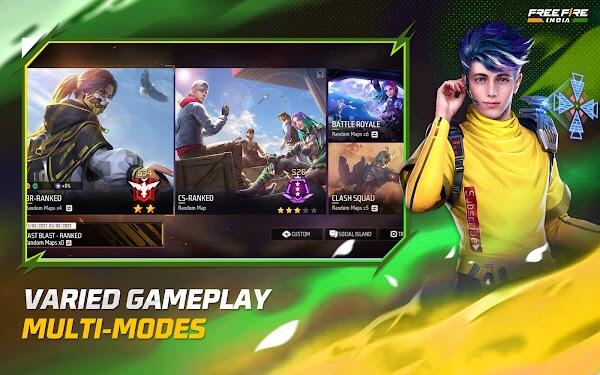 Diverse Character Pool. With a roster of over 50 characters, there's a character to suit every player's preference. Whether you prefer a stealthy approach or aggressive gameplay.
Unique Skills. Each character has unique skills and abilities, adding depth to the gameplay. This also allows you to adopt different strategies.
Customizable Outfits. The game enables you to personalize your character's appearance from head to toe. This way, you can easily stand out on the battlefield with your unique style.
Different Loadout Combinations. You can experiment with various loadout combinations to find the one that suits your playstyle. Whether you favor sniping or close-quarters combat, there's a loadout ideal for you.
The Future of Free Fire India APK
Free Fire India APK is still fresh. However, we expect it to emulate the original game and consistently offer new features and upgrades. Here is our prediction:
New Maps and Modes. Free Fire India APK will likely introduce new maps and game modes to keep the gameplay fresh. Players can look forward to exploring new environments and facing new challenges.
Collaborations and Events. The game will likely continue its trend of collaborating with popular brands and hosting special events. These collaborations add a unique flavor to the game and provide players with exclusive content.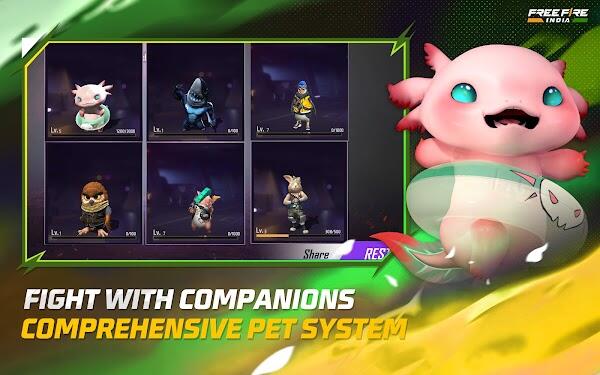 Esports Expansion. The competitive scene is expected to expand further, with more tournaments, leagues, and opportunities for aspiring esports athletes. Free Fire India APK aims to become a prominent title in the esports world.
Community Engagement. The game's commitment to its community is unwavering. Players can expect more in-game events, social features, and ways to connect with fellow gamers.
Download Requirements and Additional Information
Free Fire India APK OBB file is offered by Garena International III. It is quite heavy and requires at least 3.5 GB of free storage space. While the game itself is approximately 500MB, you will be required to download other resources and files that may occupy over 1.5 GB.
Additionally, the game is highly optimized for lag-free gameplay. However, ensure you regularly update it to receive the bug-free, optimized version.
Free Fire India brand ambassador is MS Dhoni and will be the first Indian sportsperson to be featured in the game as a playable character – Thala.
Conclusion
Free Fire India APK has firmly established itself as a mobile gaming phenomenon, offering players an action-packed survival experience that keeps them coming back for more. It offers numerous exceptional features, including its engaging Battle Royale & Clash Squad modes, personalized gameplay experiences through Craftland, and a diverse character system.
Additionally, the game's evolution, commitment to community, and plans for the future all point to Free Fire India APK continuing its ascent in the world of mobile gaming. Whether you're a seasoned pro or a newcomer looking for an exciting gaming adventure, Free Fire India APK is a must-try title that promises hours of thrilling gameplay and social interaction.
Download Free Fire India APK and be among the first players to embrace the thrill of this mobile gaming sensation. It's time to drop into the battlefield, craft your own adventure, and experience the adrenaline rush that only Free Fire India APK can deliver. Are you up for the challenge? BOOYAH!