There are many fans of sports worldwide today. If you're one of them, don't miss out on any sports-related content with ESPN now! Stream events, scores and more!
It's not a secret that there are many sports out there such as cricket, baseball, basketball, hockey, soccer, tennis and many more. Whatever sport you're a fan of, we can't afford to miss any matches at all. Because of this, we try to watch as much sport events on TV as much as possible. However, sometimes we get so busy that we no longer have time to watch. Don't be sad as with the ESPN app, you can stream any sporting events live anywhere and anytime!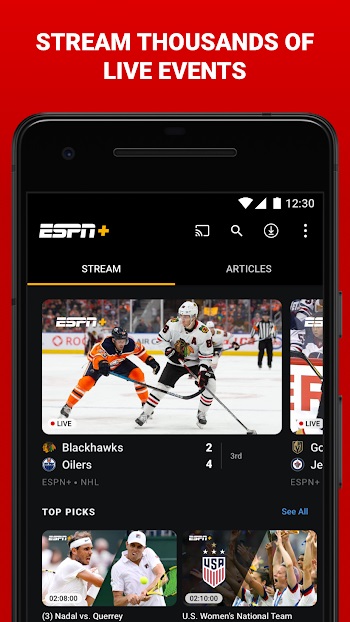 We all know how big of a company this one is and they are one of the most recognizable channels on TV. But thanks to this app, we no longer have to tune in to specific time dates or stick with our TVs every time. Here, you can stream any sporting events live or replay anytime you want on demand. Not only that but you can also get important info such as live scores, team info, players, stats, and many more highlights.
Enjoy Sports in One App
Sports are physical activities that have been bringing us closer together for the past decades now. These activities are enjoyable, competitive and a whole lot of fun for everyone even for fans. There are so many professional sports now such as basketball, boxing, soccer, tennis, baseball, golf, volleyball, badminton and many more! If you want to watch these ones, you need to have a cable subscription on your TV. However, that all changes when you have a streaming platform such as ESPN.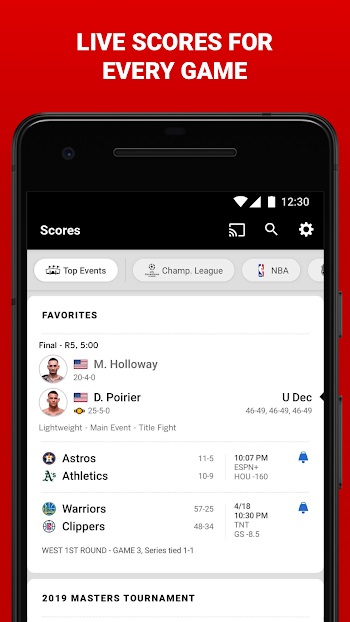 This app was published by Disney and it contains so many info and videos for sports fans around the world. Here you can stream different live sports matches such as hockey, basketball, football, tennis, and many more. From college sports to international leagues, this app lets you watch and cheer for your favorite team and players now. Moreover, you will also get to see the live scores for every game there is today and get other relevant info.
You can also follow your favorite teams and players, as well as leagues in the app. Enjoy different highlights and notifications today.
ESPN Features
If you don't want to miss anything about your favorite sports, download ESPN now and stream events! Enjoy live scores and news as well.
Stream and Enjoy – Sports are known globally today as there are plenty of major sports being played worldwide. Whether you're into soccer, basketball, tennis, hockey or any other sport, it's a must to watch our favorite teams every time they're playing. But sometimes, life and work get in the way so we're forced to just wait for the replays. If you don't want this to ever happen again, download ESPN today and stream all the live events!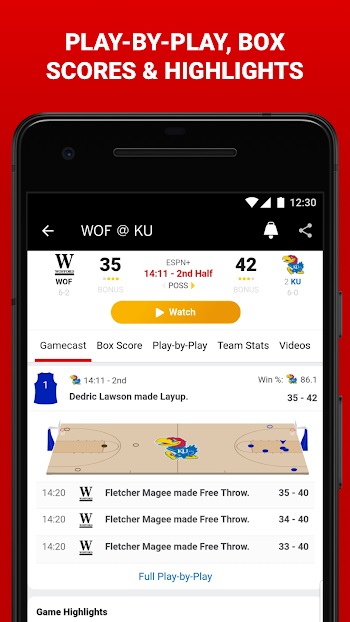 Here, you can stream live sporting events from leagues and tournaments such as the NBA, MLB, NFL, Tennis, Soccer, Golf, and even eSports! Here, you can enjoy the games live and follow the scores right on your screen wherever you are. Stream and enjoy lots of content today such as news and play-by-play highlights from the latest games. Whatever sport content you want to read, you can access it right on this app now! Get notified whenever your favorite team is playing so you won't miss anything.
Plenty of Sports and Leagues – There are plenty of major sports around the world today. These sports are played by billions of people globally and you can enjoy them all in ESPN. Here, you can watch plenty of sports and leagues like the NBA, NFL, MLB, College sports, Golf, Tennis, Soccer, eSports and even ESPN shows! Here, whatever sport you're into, you can be assured that you can stream the live events on your device whenever you want to.
Moreover, you can enjoy original shows from the app today featuring sports' biggest names like Kevin Durant, PeYton Manning, Dana White and amny more.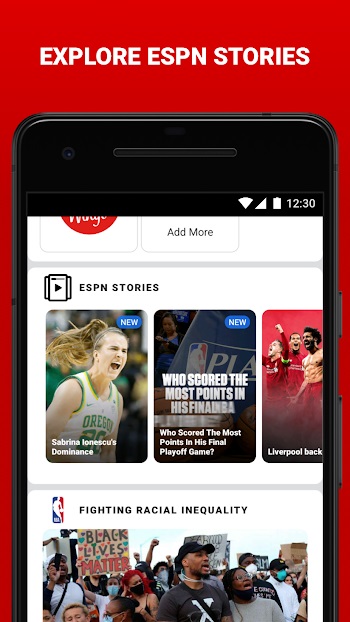 Stream Live Matches – You can also stream live score matches right as they're happening in the app. The app updates in real time which means you can get updates wherever you are in the world. You will see relevant info such as the scores and the most important details as well.
Follow Leagues, Teams and Players – Hardcore fans don't just watch the game, they also want to know everything they can about the players, the teams and the league as a whole. Here, you can follow your favorite teams, league and players and see their season stats right on the ap. You will also get to see the news, stats, bio, game logs and many other details here.
Live Scores and Highlights – If you want to get in depth, you can also enjoy a play-by-play analysis, box scores and highlights from every game here.
Download ESPN Mod APK – Latest version
Don't miss out on your favorite sporting events with ESPN! Enjoy all the sports content in one app.