If you love action games where you defeat bad guys with superpowers, download Elemental Master for android now. Use two hands of mass destruction and kill 'em all!
Information of Elemental Master
| | |
| --- | --- |
| Name | Elemental Master |
| Updated | |
| Compatible with | Android 5.0+ |
| Last version | 2.3.6 |
| Size | 149.56 Mb |
| Category | Action |
| Developer | Supersonic Studios LTD |
| Price | Free |
| Google Play Link | |
| MOD | Unlimited money |
Did you watch the Last Airbender 2010 movie? Well, the action in this movie is stunning! The avatar, the Last Airbender, has powers to interact, distort various natural elements, and use them to defeat enemies. The earth bender characters in this movie can use soil or stone extracts to defeat their enemies. On the other hand, waterbenders can use water elements as weapons. What if you get the same thrilling experience created and integrated into a game? It is interesting to know that you can get an almost similar experience in the Elemental Master game by Supersonic Studios LTD.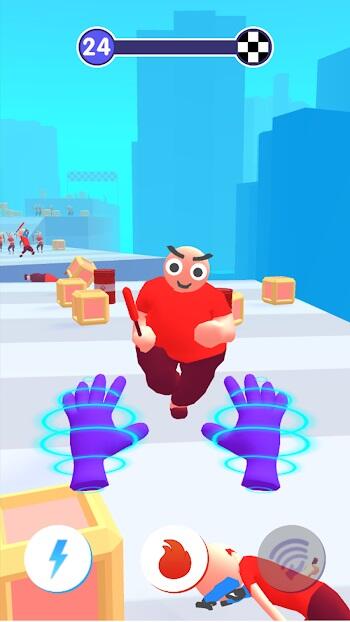 In this game, you will play in the first person and you will have superpowers that you disseminate using a pair of hands. During gameplay, you will just have to tap on the screen to discharge the preselected powers and defeat your enemies. For example, you will have the object whirling powers, fire, or lightning powers. To play this game, you need to have an Android device with 5.0 OS and above. Download Elemental Master now and join a gamer's community with over 1 million players.
Elemental Master Two Powerful Hands
The Elemental Master is an action game where you use various powers to overcome enemies. The series of game levels have different difficulties. However, you will easily beat your enemies with a single tap on the screen. Every tap release strong superpowers from the pair of hands. Here, you will have to select the superpower that you want to use before starting the gameplay. You will be using various powers including striking with lightning powers, fire, freezing, and tossing people around with the whirling powers.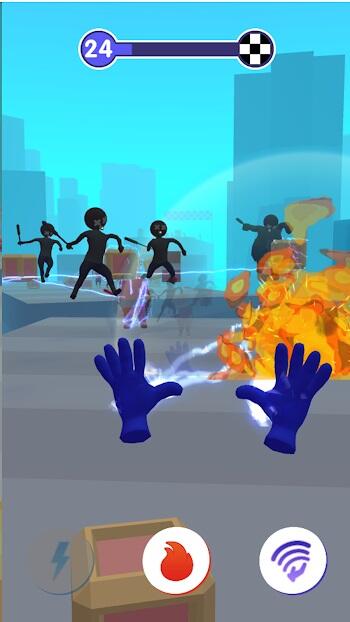 The game setting is on a runway full of armed enemies. To win the game, you must go through several groups of enemies to the finish line. You need to be careful and avoid enemies coming closer to you or hitting you with their weapons. Your enemies have shields, baseball sticks, and crude weapons and are always ready to strike. As you go near the finish line, you will notice a gigantic enemy that you should eliminate without hesitation! Any slight mistake or belittling the potential of your enemies will make you lose and start all over again.
Elemental Master Features
If you haven't played this game, you may never experience having a pair of hands with the most lethal powers on earth! Download the Elemental Master game now and play! Here are various features that make this game stand out in its genre.
Control Various Elements – to defeat your enemies in this game, you need to ruthlessly electrocute them with the lightning powers, roast them alive with the fire powers, or use the object whirling powers. What's more fascinating is the whirling power that you can use to pick up enemies, rotate them in the air before tossing them far away! To start with, you will have only three powers, which are fire, lightning, and whirling powers. However, you will be able to unlock more powers and use them to overcome all your enemies. Notably, the power you are using will be highlighted at bottom of the interface.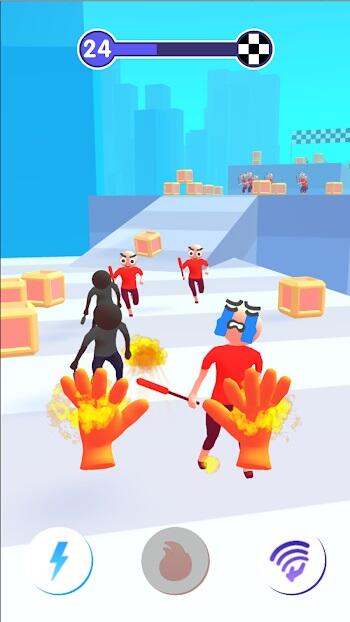 Simple Controls – here, you will play with simplistic controls. You just have to point the pair of hands in the direction of the enemies and tap the screen to hurl the striking superpowers. Besides, you can swap the powers at the bottom of the interface from the horizontal display of the various powers. To move forward, you just need to slow hold and drag the hands towards a specific direction.
User-Friendly Interface – the interface in this game is easy-to-use and makes the gameplay easier more interesting. All features of the game are well displayed and you will learn to perform the various awesome actions in the game within no time. At the bottom of the interface, you get a selection of the powers you should use to eliminate your enemies.
Unlock New Skins and Powers – You only start with 3 superpowers. However, you will be able to unlock more powers and skins with accumulated gold coins. The game offers a specific power that you should unlock as you continue winning in various game levels. The success rate in opening the new powers will be indicated on the interface as a percentage.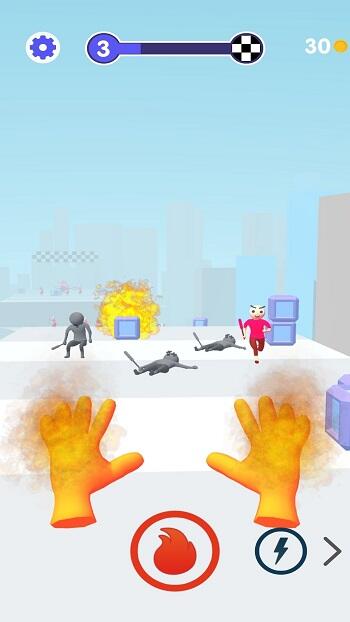 Minimalistic 3D graphics – in this game, you will attempt to become the greatest master of all elements. The world needs you to defeat evildoers with your elemental powers! In all this action, the spectacular 3D graphics will make the game environment real and assist you with smooth flow and movement. Most noticeable is the realistic movement of characters and objects. The game setting is also made colorfully and with enemies in pink outfits. Something else that stands out is the lifelike action of whirling enemies in the air and tossing them all over!
Unlimited Money – earn unlimited coins, get multiplied amount of coins by watching ad videos. You need this money to upgrade skins and acquire more superpowers.
Download Elemental Master Mod APK – Unlimited Money, Skins & Powers
Get the latest version of elemental master free and make the best out of the superpowers you are offered. Make unlimited money and unlock more skins and powers!