Download Dragon Nest 2 Evolution APK Mod an improved sequel to the popular RPG Dragon Nest! You'll experience improved graphics and gameplay, as well as an all-new story.
Information of Dragon Nest 2 Evolution
| | |
| --- | --- |
| Name | Dragon Nest 2 Evolution |
| Updated | |
| Compatible with | Android 5.0+ |
| Last version | 2.3.61 |
| Size | 1.8 GB |
| Category | Action |
| Developer | Level Infinite |
| Price | Free |
| MOD | No MOD |
About Dragon Nest 2 Evolution
The long-awaited sequel to the popular action RPG Dragon Nest is finally here! Dragon Nest 2 Evolution offers improved maps, graphics, and gameplay. Plus, an all-new story that ties together the events of the first game.
Play as one of four distinct classes – Archer, Warrior, Sorceress, or Cleric – each with unique skills and abilities. Then team up with friends to take on challenging dungeons and bosses.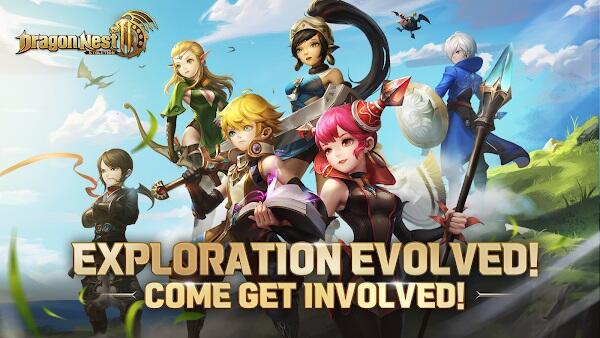 The improved graphics engine brings the world of Dragon Nest to life like never before. So dive into the action and download Dragon Nest 2 Evolution for Android today!
Dragon Nest 2 Evolution APK Mission
You come into this game when Alteria is reeling from the aftershocks of an invasion by a powerful Green Dragon. This creature has destroyed much of the land and left death and destruction in its wake.
The desolate conditions have forced the different nations to put aside their differences and unite for the common good. You must help them reclaim their homeland and drive out the dragon once and for all.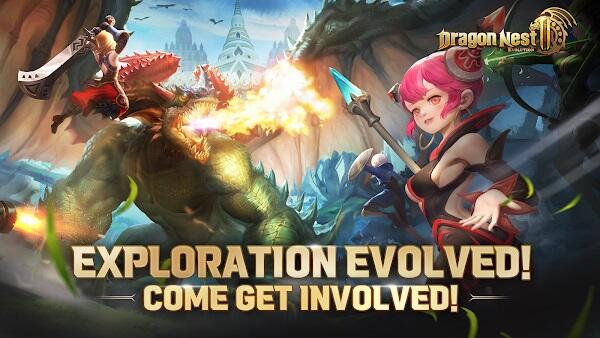 However, expect fierce resistance along the way. The dragon has left behind hordes of minions to stop you. So be prepared for some intense action and fast-paced combat.
Highly Engaging Gameplay
This game challenges you to team up with friends to take on dungeons and bosses. But it's not just about slashing your way to victory. You'll need to use strategy and coordination to succeed.
After all, you're up against some tough enemies. But with the right team and a little bit of luck, you just might be able to save the day.
And there's plenty of content to keep you busy. With multiple dungeons and bosses to defeat, you'll have your hands full. Not to mention the many side quests and activities that you can take part in.
Highly Realistic NPCs
This game lets you interact with various non-player characters. They play a significant role in the story. And they're all designed to look and act like real living creatures.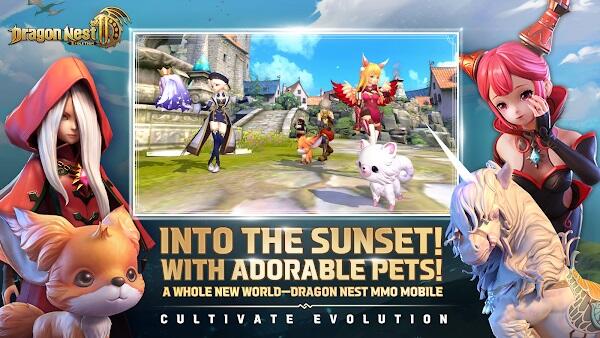 You'll be able to talk to them, get quests from them, and even form relationships with them. You can also ask them for help in battle. They'll provide valuable support and backup.
However, not all NPCs will be friendly. Some will be out to get you. As such, you must be careful who you trust.
High-Level Hero Customization Options
In this game, you will be able to choose from four different classes. And you can further customize your hero by selecting from a variety of weapons, armor, and accessories.
You can also change your appearance to suit your taste. Whether you want to be a handsome warrior or a beautiful sorceress, you can make it happen.
There are also many different pets that you can acquire. These little creatures will follow you around and help you in battle. They're cute and cuddly. But don't let that fool you. They're also powerful allies.
Lots of Dungeons to Explore
This game features a variety of dungeons for you to explore. Each one is filled with deadly creatures and treacherous traps. You'll need to use all your skills to make it through alive.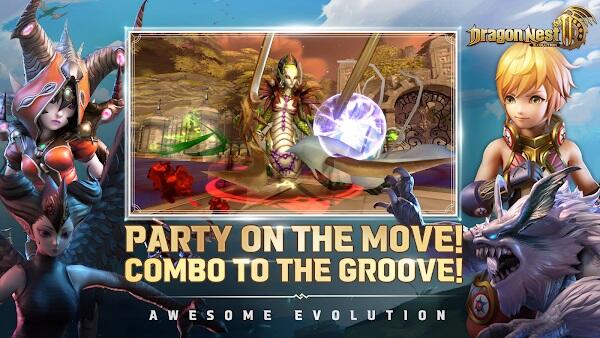 And if you're feeling brave, you can take on the optional boss battles. These are even more challenging than the regular dungeons. But the rewards are well worth it.
Earn Coins & Collect Treasures
This game features an in-game currency system. You can earn coins by completing quests and defeating enemies. These will come in handy when buying items and equipment.
You can also find treasures while exploring the dungeons. These can be sold for a tidy sum of coins. So, keep your eyes peeled for anything valuable.
Besides, weapons and armor are critical in this game. You must have the best gear if you want to stand a chance against the tougher opponents. This calls for regular upgrades. And that's where the coins come in.
Other Unique Features of Dragon Nest 2 Evolution APK Download
Supports 2D/3D Gameplay. This game features both 2D and 3D graphics. You can switch between the two at any time. This allows you to enjoy the game in whichever way you prefer.
Features Multiple Playable Characters. You're not limited to playing as just one character. You can unlock additional characters as you progress through the game. This way, you will always have someone new to play as.
Has a Well-Written Storyline. This is not your typical slash game. It features an engaging story that will keep you hooked for hours on end. You must complete tasks and achieve objectives to advance the story.
Play with Friends. This game lets you team up with other players. You can join forces to take on dungeons and bosses. Or you can just chat and socialize with them. Either way, you're sure to have a good time.
Interactive World Crafts. The world of Dragon Nest is filled with interactive elements. You can collect materials and use them to craft items. This includes weapons, armor, and accessories.
Overall Improved Gameplay. This game is a major step up from the original Dragon Nest. The graphics are better. The gameplay is smoother. And there's just so much more to do. Once you start playing, you won't be able to put it down.
Dragon Nest 2 Evolution APK MOD
The modified version of this game will give you access to all the features and levels. It significantly reduces the grind, allowing you to enjoy the game more.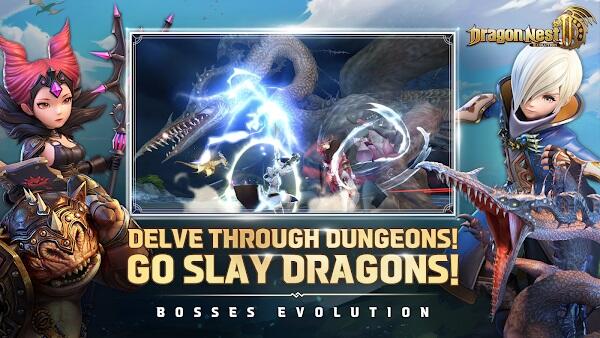 It also comes with a few quality-of-life improvements. For instance, you will get more coins and experience points from enemies. This way, you can level up and buy items faster.
Overall, the MOD APK is the best way to experience Dragon Nest 2. If you're looking for more casual and relaxed gameplay, this is the version for you.
Conclusion
Dragon Nest 2 Evolution APK is an action-packed game that's sure to keep you enthralled. It features beautiful graphics, engaging gameplay, and a slew of other unique features. If you're looking for a game to sink your teeth into, this is it.