Download Chrome Valley Customs MOD APK latest version and transform old cars into irresistible vehicles. You can customize cars & test their performance on the track.
Information of Chrome Valley Customs
About Chrome Valley Customs
Chrome Valley Customs is a vehicle customization app offered by Space Ape. It tests your mechanic skills as you restore old, rusty cars into classic vehicles. You can take an old model and fix it up with repairs, paint jobs, or even upgrade parts.
You can create your special design for the car's exterior look. This gives you 100% control over the car's appearance. To test your car, you can race it and see how well it handles.
Even more interesting, the game offers auto-themed puzzles. They help to break the monotony, introducing a different type of challenge. They also help you win rewards that you can use to improve your car.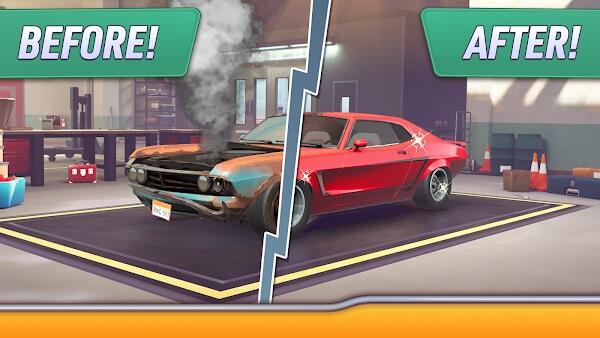 The game has smooth graphics and easy controls for a satisfying experience. You're unlikely to experience lags or stutters while playing this game. It's a great way to unleash your creativity and enjoy some competitive action. Download Chrome Valley Customs MOD APK for Android now and start transforming cars.
How to Play Chrome Valley Customs APK?
Chrome Valley Customs APK is a thrilling mobile game that takes you on a nostalgic journey back in time to the golden era of vintage cars. It offers an immersive experience where you transform forgotten, rusted vehicles into magnificent works of art. But how do you navigate this world of gears and grease?
The first step in Chrome Valley Customs APK is restoring vehicles. The game presents you with a variety of classic cars, from muscle cars to junkyard finds, all in desperate need of your mechanical expertise.
Each car has its own unique set of challenges and requires different tools and parts for restoration. You'll need to study each vehicle carefully, identify its needs, and then work diligently to bring it back to life. This process involves an array of tasks from replacing old parts to repainting the exterior, all while ensuring the vehicle maintains its original charm.
Once you've successfully restored a vehicle, the next stage is customization. Here, you get to flex your creative muscles and design your dream ride. The game provides a plethora of customization options, allowing you to modify everything, from the engine to the upholstery.
You can choose between sleek, modern makeovers or opt for a vintage, retro vibe. The choice is entirely yours. Remember, the more unique and attractive your customizations are, the higher the value of your car.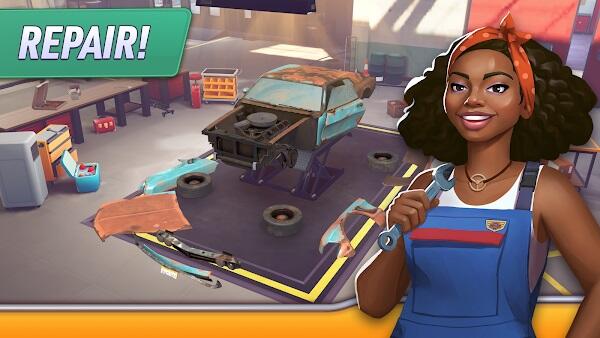 Additionally, the game guarantees unrivaled camaraderie within the garage crew. As you advance, you'll interact with various characters, each with their personality & role within the team. These interactions add a captivating narrative to the game and provide relaxing moments amidst the intense car restoration process.
To further enhance the gaming experience, Chrome Valley Customs APK incorporates auto-themed match puzzles. These puzzles serve as exciting mini-games that test your problem-solving skills. Completing these puzzles rewards you with bonus points and special tools, which can be instrumental in your car restoration projects.
Another thrilling aspect of the game is racing through levels with explosive tools. As you progress, you'll unlock various tools that can significantly speed up your restoration and customization process. These tools often come with visually impressive effects, adding a layer of exhilaration to the game. However, they must be used wisely and strategically, as they are limited.
Overall, playing Chrome Valley Customs MOD APK 2023 is a blend of strategic thinking, creativity, and a passion for vintage cars. It's about transforming rusty, forgotten vehicles into beautiful, customized masterpieces, one car at a time. So, roll up your sleeves, join the garage crew, and earn your title as a master mechanic!
Other Exceptional Features of the Game
Stunning Visuals. Chrome Valley Customs APK boasts high-quality, realistic graphics that enhance the gaming experience. Every car model is designed with meticulous detail, replicating the look and feel of real vintage cars. The game's environment, from the garage to the race tracks, is equally immersive, offering a visually rich experience.
Intuitive Controls. The game features an easy-to-use interface that makes navigation a breeze. Whether it's tuning up a car, selecting tools, or navigating levels, the controls are user-friendly.
Extensive Color Palette. One of the game's most exciting features is its vast variety of paint options. Players can choose from diverse colors & finishes to customize their cars.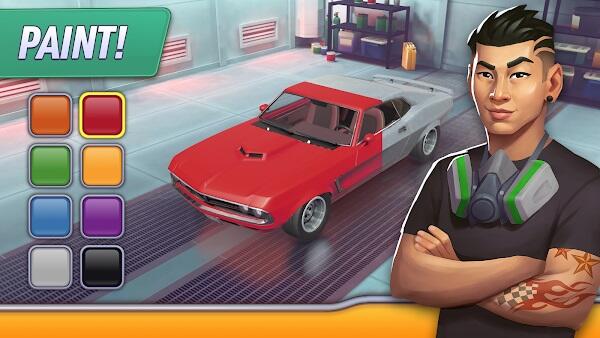 Diverse Garage Collection. Chrome Valley Customs APK provides an extensive collection of classic cars in the garage. From muscle cars to junkyard finds, the game offers a wide array of vehicles that players can restore and customize. This diversity adds depth and variety to the gameplay, keeping players engaged for hours.
Simplified Gameplay Mechanics. Despite the intricate details involved in car restoration and customization, the game simplifies these processes through easy-to-understand gameplay mechanics. Each task, from replacing old parts to repainting the exterior, is broken down into manageable steps, making the process straightforward and enjoyable.
Realistic Physics. The game incorporates realistic physics, adding authenticity to the gaming experience. Whether it's the way the cars move or how they respond to different modifications, the game strives to provide a realistic depiction of car mechanics. This attention to detail enhances the immersion, making players feel like they're working on real cars in a real garage.
Engaging Sound Effects. The sound effects in Chrome Valley Customs MOD APK download add another layer of realism to the game. From the roar of the engines to the clanking of tools in the garage, the game uses sound effects to create an immersive atmosphere.
Download Requirements and Additional Information
Chrome Valley Customs APK is a captivating mobile game developed and offered by Space Ape. Known for their exciting gaming experiences, Space Ape has not disappointed with this unique blend of vintage car restoration and customization.
To download the game, you will need a device that operates on Android 9.0 or above. This requirement ensures that the game runs smoothly and delivers the high-quality graphics and responsive controls that it promises. The game developers have optimized the game to work seamlessly even on devices running on this minimum requirement, promising an engaging gaming experience regardless of your device's specifications.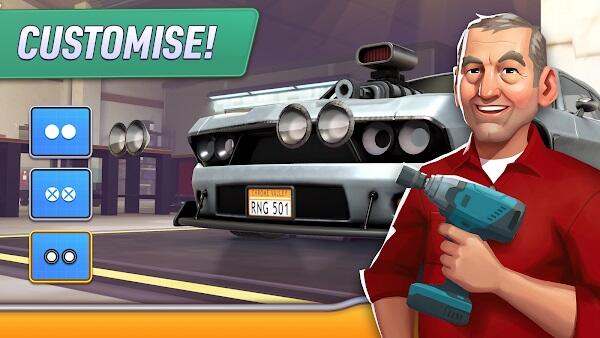 One key aspect to note is that Chrome Valley Customs APK features in-app purchases. These purchases can help enhance your gameplay, allowing you to unlock additional features, tools, and levels. While the game itself is free to download and play, these in-app purchases can provide a more enriched and accelerated gaming experience. However, they are entirely optional, and the game maintains its charm and challenge even without them.
Proven Tips to Play Like a Pro
Understand the Basics. Before diving into the game, familiarize yourself with the basics. Know how to restore cars, customize them, and use various tools. This understanding will help you navigate the game more efficiently.
Strategically Use Your Tools. As you progress, you'll unlock various unique tools. Use these strategically to speed up your restoration and customization processes.
Experiment with Customization. The game offers a wide array of colors, finishes, and parts for customization. Try different combinations to create unique and valuable cars.
Complete Match Puzzles. Make sure to complete the auto-themed match puzzles. These puzzles not only provide a fun diversion but also reward you with bonus points and special tools.
Interact with the Garage Crew. Engage with the garage crew. These interactions can provide insights on how to complete puzzles and achieve the best results.
Conclusion
Chrome Valley Customs APK offers a unique, immersive gaming experience that combines the thrill of vintage car restoration with the excitement of customization. Its high-quality graphics, intuitive controls, & diverse gameplay elements create a captivating environment.
Whether you're a vintage car enthusiast or a casual gamer, Chrome Valley Customs APK provides a fun, challenging platform to showcase your creativity and strategic thinking. So, buckle up, dive into the world of classic cars, and embark on a thrilling journey to become the ultimate master mechanic!