Do you love origamis? In Paper Fold, you will enjoy folding papers to complete the beautiful illustrations! Fold the paper correctly so you can reveal the illustrations.
Information of Paper Fold
| | |
| --- | --- |
| Name | Paper Fold |
| Updated | |
| Compatible with | Android 5.0+ |
| Last version | 200046 |
| Size | 152.11 Mb |
| Category | Puzzle |
| Developer | Good Job Games |
| Price | Free |
| Google Play Link | |
| MOD | No ads, Unlimited money |
There are so many stressing things we face each day wherever we are in the world. We're bombarded with so much information on the internet and plenty of problems at work and at home every day. Because of this, we try to unwind by watching movies or playing games to calm our minds. If you're looking for the best one to play today, try Paper Fold and it will blow your mind! We need to warn you though because once you start playing this game, it will be hard to stop.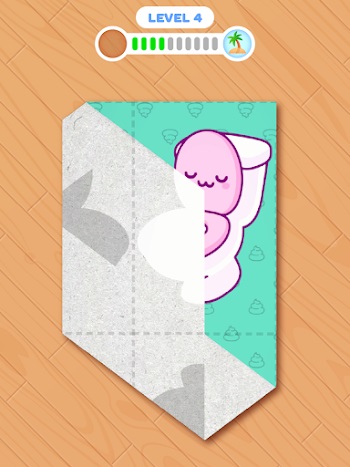 This game was published by Good Job Games and it's one of the most relaxing games there is. That's if you can solve the origami in your first try because it can get challenging when you're at the higher levels. Here, you'll get to fold various papers just like an origami to reveal a beautiful illustration that you will enjoy. From dogs to cute toilets to rabbits doing weights, there are many fun stickers to collect!
Fold and Reveal
If you know origami, then you had a fun childhood. Origami is the Japanese art of folding paper to create incredible shapes and figures in different sizes. There are so many people who love creating Origamis and displaying their creations online. If you love creating these, then you will want to play a game that allows you to flex your creativity. With Paper Fold, you can tap and fold many paper pieces and reveal the wonderful sticker in it!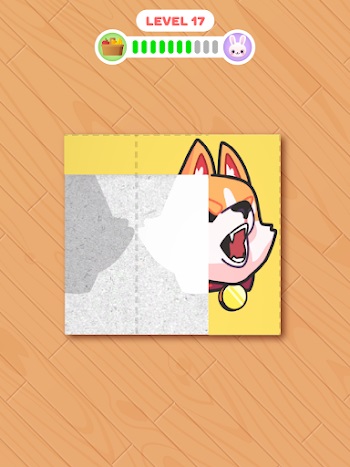 Here, there are many levels in the game that you can complete that range from easy to challenging. There are so many fun papers that you can fold today to reveal the cute illustration in it. Here, the only goal is to relax and try to fold the paper so you can get it in as few tries as possible. But that's not always the case as sometimes, you'll need to be creative and see the paper at a larger perspective. In this game, you'll enjoy different illustrations that are all cute.
There are fruits, animals, food, vegetables and cute things in the game. Combined with a relaxing background music, you can enjoy this game now.
Paper Fold Features
There are many relaxing games you can play right now. However, Paper Fold is a different one that you will enjoy.
Fold and Enjoy – We face a lot of problems every day in our lives whether we're at school, at work or at home. There are many stressful things that can bring us down but we can always end the day at a good note. We can watch movies, talk with our family, connect with our friends or play a game to relieve our stress. With Paper Fold, you can enjoy a fun origami game that lets you relieve your stress today!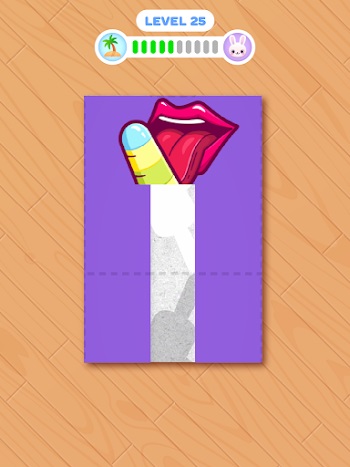 You can fold the paper correctly in a sequence that's most logical so you can reveal the cute illustration at the end. Collect many stickers today and enjoy folding by tapping the screen. Here, there's no time limit, no limited moves and unlimited fun! You can enjoy collecting different illustrations like the grapes, cute toilet, orange, donut, boxing gloves and many more. Moreover, you will enjoy the relaxing sound effects today that will put your mind to ease as you play.
Different Levels – There are many levels that you can enjoy in this game today. Each level allows you to complete one origami piece with different difficulties. Here, the easier ones are at the beginning and you'll face tougher ones as you complete more levels. Each paper features different folds that you can do but the only way to complete the puzzle is by correctly folding the paper. You can take as many tries as you want as there's no time limit or limited moves.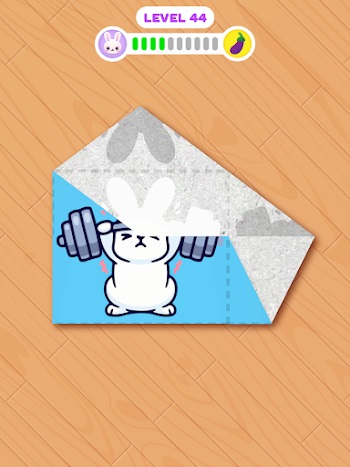 Easy Mechanics – The game isn't as difficult as you may think. At first, you might need to get used to the mechanics but it's incredibly easy. You just need to tap the part you want to fold it and see if it creates the illustration. Here, you can take as many tries as you want!
Fun Illustrations – There are many illustrations that you can do today such as a bunny, grapes, a dog, a toilet, a mouth, a rabbit and many more. When you complete each one, you'll see that these illustrations are all cute!
Relaxing Music – You will enjoy playing this game thanks to the relaxing background music it features.
Download Paper Fold Mod APK – Latest version
Have fun creating countless cute stickers now! Tap and fold with Paper Fold and collect all the illustrations.