If you love fixing cars, then you'll certainly like Car Mechanic Simulator where you will buy cars so you can fix them, replace the parts and paint and sell to earn money!
Information of Car Mechanic Simulator
| | |
| --- | --- |
| Name | Car Mechanic Simulator |
| Updated | |
| Compatible with | Android 5.0+ |
| Last version | 2.1.72 |
| Size | 207.92 Mb |
| Category | Simulation |
| Developer | Digital Melody Games |
| Price | Free |
| Google Play Link | |
| MOD | Unlimited money |
About Car Mechanic Simulator
Have you ever played some racing games? If you're a big car fan, then you must have played a lot by now. But what if you're looking for something a little different that still involves cars? What if there's a game you can play where you can buy and fix cars to sell? If you're curious as to what it is, the game is called Car Mechanic Simulator and it's made by Digital Melody Games.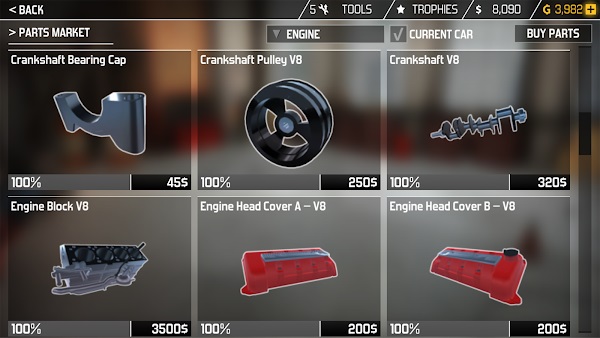 In the Google Play Store, the game doesn't have much description. This is because there's a popular PC game with the same title. But if you're not aware of this game, you don't have to worry as this article is for you. In this simulation game, you're going to buy used cars that are slightly damaged. You'll then need to fix them before you can sell them for a profit!
Buy, Fix and Sell Cars
Have you ever fixed a car in real life? If you own a car, then you might know a thing or two. It's necessary for cars to be maintained and to be fixed every so often. But because fixing them is a skill, they are taken to the mechanics the majority of the time. If you're wondering what it's like to work as one, this is your chance to become one!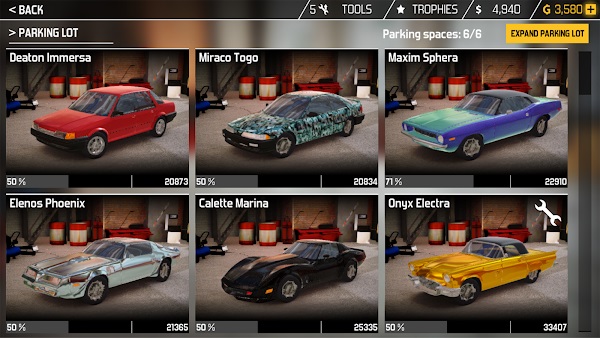 In the game Car Mechanic Simulator, you'll buy used cars that have slight damages in them. The damages are in interior and exterior parts. The car may have rust as a result of not being used for a long time. Or it may have a broken engine that you need to replace. After fixing all of the broken parts, you'll then need to repaint it to make it shine and look brand new. Then, you'll sell it to the highest bidder to make some money. That's the majority of what you'll be doing in Car Mechanic Simulator.
Car Mechanic Simulator Features
Does your face lit up when you see a car? Are you sad when you see a vintage car that's not in a great shape? If so, this is your chance to fix them!
Buy and fix cars – There are a lot of people who buy and sell cars for a living. They make big bucks out of this profession because it's not that hard to do. But in Car Mechanic Simulator, you can do so much more. Experience buying a used car with some damages that you will fix. The car you buy may have some rusts which you can easily fix. Then, you need to check the internal parts of the car and see if there's something broken. Check the engine, gearbox, exhaust, chassis and many more. If there's something broken, you can tap on it to remove it. Then, you'll buy new parts on the market which you'll use to replace the old ones. After that, you'll need to repaint the car to make it look new. Lastly, you will sell it so you can make money!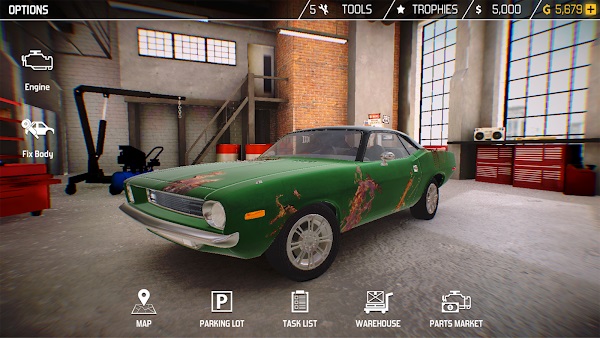 Work with different cars – In Car Mechanic Simulator, you'll have the opportunity to fix a lot of cars. There are different types of cars that you will encounter but they are all based on real cars. There are some sports cars, vintage cars, muscle cars and even luxury cars. However, each car is different from one another and it needs different fixes. It's your job as the mechanic to use your skills in fixing the car. Everything needs to be fixed before you can sell it off into the market.
Replace parts and paints – Car Mechanic Simulator is a realistic car game where you can disassemble and assemble the parts freely. The game does a great job of visualizing the parts making it look as realistic as possible. Also, they are based on real cars so you will learn a lot even if you don't know anything about being a mechanic. Then, you'll also have access to a parts market where you can buy different car parts. But if you're confuse as to what to do, you can always just check the task list! This will give you a step-by-step guide on what to do to fully fix the car.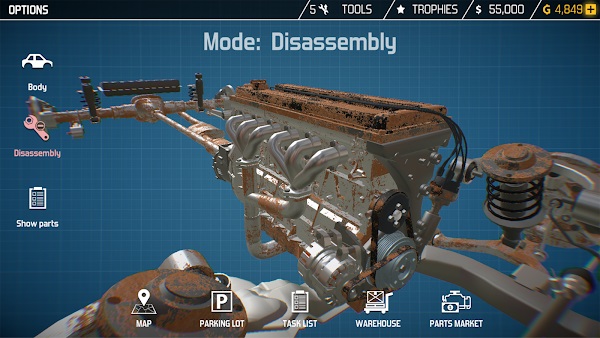 Make money to upgrade tools – This game allows you to buy, fix and sell cars for a profit. You can then use the money that you make to buy used cars again. Or, you can upgrade your tools to work faster and more efficiently.
Car Mechanic Simulator Mod APK – Unlimited money
Do you love fixing cars? Play Car Mechanic Simulator now so you can fix and sell cars for a living!