In Boss Life 3D Mod APK - unlimited money, you become the office boss who controls various activities like hiring, firing, and promotion of workers. Give bonuses to hardworking workers!
Information of Boss Life 3D
Welcome to Boss Life 3D game by Alictus and enjoy a game where you become a boss! In this game, you have the liberty to hire, fire, or even promote at will! Moreover, you make all managerial decisions to run the entire office without hiccups. Even so, ensure that you don't be biased in any decision you make as you play your roles as the boss.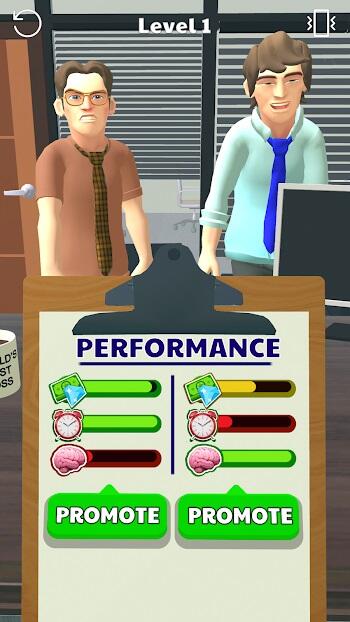 There are multiple levels where you can experience various activities that occur even in a normal office. Without a doubt, you will do lots of things in your many days in your office life. Sometimes work-life will boring but you don't have a choice in this game. That is because you are the only boss here you're your absence will have a negative impact on office operations. Download the game now, go to the office, and start enjoying office life!
Perform All the Roles of a Boss
In this amazing game where you play as the boss, you will be at the helm of your office. You will have to rate various workers based on their performance before you rise their pay. When firing some of the employees, you will need to vet their behaviors based on the evidence file displayed on the game interface.
In addition, you will have to formulate and approve job contracts. The most amazing thing is that signing the job contract is done by moving your finger to trace the signature outline provided.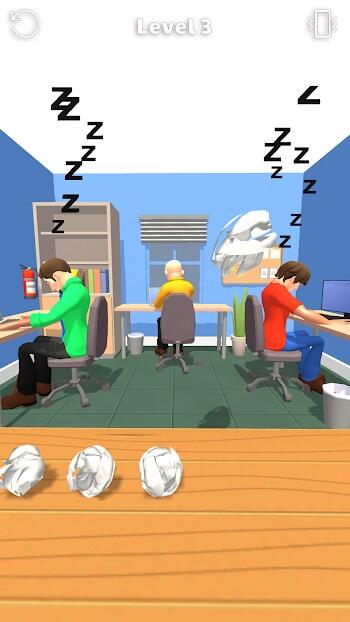 Determine the pay of new workers and approve salary increments for those showing improvement in their jobs. If you like, you can surprise your workers with a money spray gun that dashes them unlimited money as bonuses for jobs well done! The workers will be excited and will be celebrating by jumping up and down! Point the money spray gun towards a specific person to award them with unlimited money!
Boss Life 3D Features
Here are the features that make Boss Life 3D Mod APK a game you should download and play today!
Perform Various Boss Roles – the gameplay is set to offer the player various days at the office in which he or she will be playing the role of the boss. Each level of the game forms a new level. Promote workers, hire new workers, and even supervise the workers during their working shifts. The fame will provide you with a file containing various parameters that you should use to promote your workers.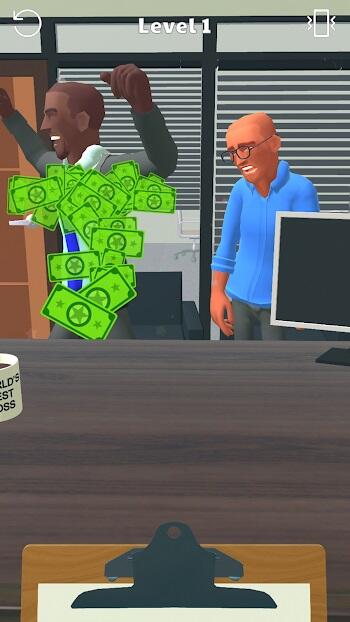 Besides, there will be evidence files showing you're the bad behaviors of different workers as you look forward to firing them from your office. Run the office and become the boss in this exciting gameplay. Download the game now and join over a million gamers who are enjoying playing this game now!
Various Game Levels – the Boss Life 3D game comes with many levels that have various challenges for you! For example, there will be levels where you are hiring, firing, or promoting workers. On other levels, you will have to play thrilling games in the office. In these office games, you will transform the office into a playing space. You will be able to play with various items such as fire extinguishers, dustbins, cans, and more as obstacles that you should maneuver as you slide on your office seat.
On other levels, you will be spying your workers using a camera to see how they relate while at work and if they utilize their office hours to the fullest! If they are always idle or using their office hours to do unnecessary things, you can then go ahead to fire them! overall, you will play in various levels that represent different days in the office.
Intriguing 3D Graphics – this game immerses you into gameplay set in 3D office environments. Everything from people, desks, computers, and even documents looks real. You can customize your office with colorful paints and office furniture using unlimited money. The movement of characters is life like courtesy of the stunning graphics that make the game stand out!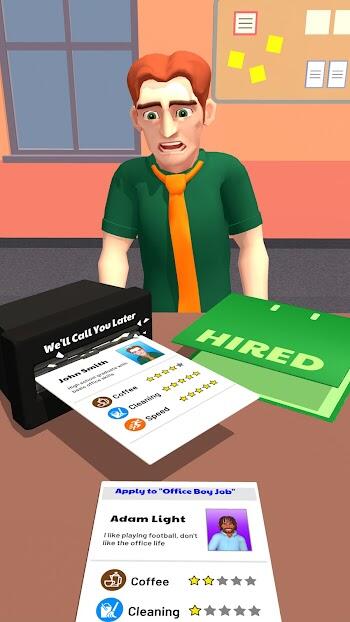 Simple Controls – this first-person game comes with simple controls that make it easy to play. Here, you can sign contracts with simple moves of your finger to control the pen as you sign. Besides, crucial decisions in the game will have selectable response options for you to choose the best decision. Other movements of characters in the game are automated. For example, you are not the one that will control workers to celebrate when they receive a promotion.
Unlimited Money – once you execute your roles properly, you will earn lots of unlimited money in the Boss Life 3D. Every level will provide you with unlimited notes that you can accumulate to unlock various in-game items.
Download Boss Life 3D Mod APK – Unlimited money, no ads
Earn lots of unlimited money in the Boss Life 3D Mod APK by completing each day in the office successfully.