Want to fight with weapons? In Bloody Bastards Mod APK, you'll experience a new type of fighting. With ragdoll physics, the game is sure to put some exciting challenges!
Information of Bloody Bastards
All unlocked
Unlimited money (Increase after using)
Disable the game security ( You'll be banned if you don't use this feature)
Freeze enemy's attack
Note: Never enter the multiplayer mode. The game will be broken and you will need to delete and install it again.
Fighting has always been a way to decide a lot of things even when humans first existed. The leader of the pack would be the strongest and anyone can challenge him anytime by fighting. This is the same with most animals today and even in the modern world. But if you just want to enjoy a 2D barbaric fighting game that is both enjoyable and challenging! Here, you will settle disputes with a good old fight to the death.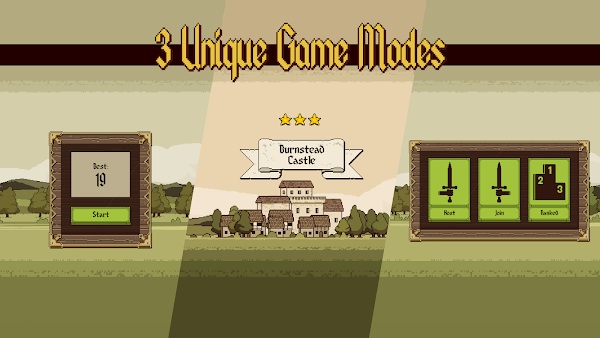 Face many types of opponents today in this game. Each of them wields unique weapons, shields and armors as some don't even have one. At the start, you will both be almost naked with only knives to wield. But as you go through the levels, you will have the ability to unlock powerful items and weapons. Go for the maces, swords, axes and many more powerful weapons! Experience a barbaric way of fighting today where your skills will decide the outcome.
Fight to the Death
Throughout history, we've seen countless battles and wars waged by different countries all over the world. Each one of us has different opinions and views on matters which is always the cause of these fights. Because of this, we settle disputes either in a diplomatic way or through battles. But if you enjoy fighting today, then you must download Bloody Bastards. A fun game published by Tibith, this one is as fun as it looks!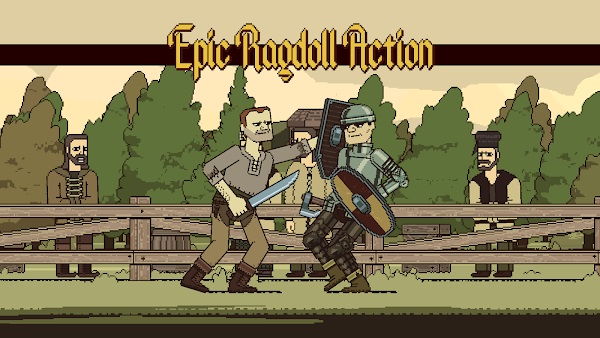 In the medieval world, only the strong survives in here. Enjoy fighting against lots of warriors today as you duel it out in 2D gameplay. Here, you'll enjoy picking a variety of weapons so you can go on the offensive. There are maces, hammers, flails, knives, axes, swords and many more weapons to choose from. Your opponent will also have a unique weapon at hand and you'll duel it out with ragdoll physics.
This means moving normally is close to impossible as you'll move like a doll. But that also means that the fights are funny and full of interesting challenges. You will fight to the death until one of you loses all their health!
Highlights of Bloody Bastards
Do you enjoy fighting games? Have fun with Bloody Bastards today and fight plenty of bastards your way.
Fight to the Death – Throughout history, there have been a lot of fights between countries. But before guns, people would wield melee weapons and armors in battles. This was an era that a lot of manly people were roaming the streets and were not afraid of fights. If you're someone who loves this type of fighting, then download Bloody Bastards today. Get to see intense and funny fights today with ragdoll physics and pixel graphics.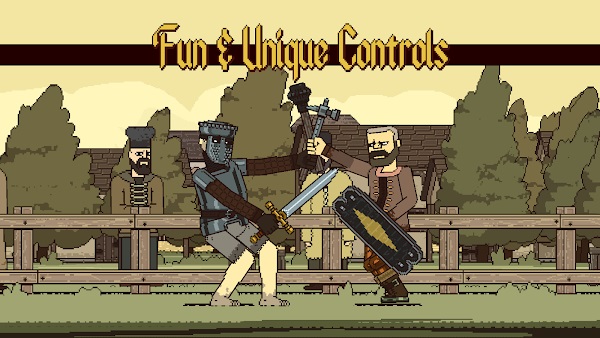 Here, you'll fight to the death in the classic 2D gameplay style. Slash the enemy up and dodge their attacks. Don't let them hit you as they will have weapons and armors as well. Speaking of which, you can freely buy various weapons in the game such as hammers, swords, axes, maces and many more! The more you win, the more money you can get so you can unlock many items and armors.
Wield Different weapons – Sure, gun fights are fun and all as we see a lot in battle royale. But if you're into a more manly fights, then Bloody Bastards is the game to go. Here, you'll enjoy nothing but bloody fights as you prove your skills in the field today. Don't be afraid of your opponents as you charge with them with your swords. Enjoy unlocking different weapons like axes, knives, flails, hammers and plenty more today.
Don plenty of armors – Bloody Bastards rewards you with money every time you win a level here. With that, you can use it to buy weapons as well as armors! There are hundreds of items and armors that you can unlock today and use. From shields, to body armors and even helmets, you can use a lot to protect yourself. You can even choose to don a full-gold armor if you have the money for it. It's certainly enjoyable to see your progress!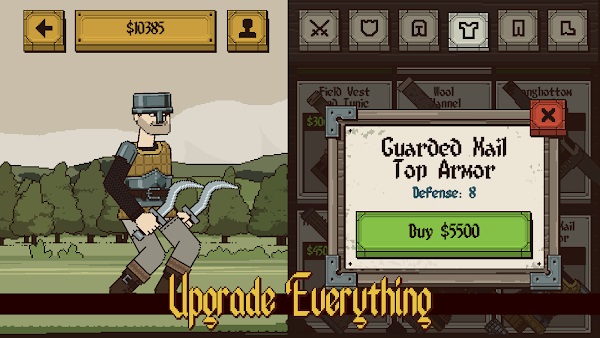 Complete stages – In each level in here, you'll face an opponent with an equal amount of strength and skills. You must outlast them in a battle of strength and wits today. You must fight to the death as you pummel the health of your opponent. As you win more stages, you'll face tougher enemies that wield powerful weapons and armors!
Ragdoll physics and pixel graphics – What makes this a fun game is the ragdoll physics and pixel graphics. This set the tone for the whole game which you can enjoy.
Download Bloody Bastards Mod APK – All unlocked
Download Bloody Bastards to get unlimited money to buy impressive weapons and armors!