Complete in stirring Beyblade battles in the Beyblade Burst Game Mod APK - Unlimited money today. Experience the feeling of participating in battles and defeating all your enemies!
Information of Beyblade Burst Game
| | |
| --- | --- |
| Name | Beyblade Burst Game |
| Updated | |
| Compatible with | Android 4.3+ |
| Last version | 11.1.2 |
| Size | 56.17 Mb |
| Category | Action |
| Developer | Hasbro Inc. |
| Price | Free |
| Google Play Link | |
| MOD | Unlimited money |
 Unlimited Money
 All items and customization elements are unlocked
You can buy a new beyblade every time you enter or exit the market in-game, you don't have to wait 7 days.
About Beyblade Burst Game
If you are a fan of the Beyblade Burst TV series, you'd better try Beyblade Burst. This is the official action game by Hasbro Inc. that you can play and experience Beyblade Battles right on your smartphone. Interestingly, it will be in form of a thrilling game as opposed to the series version! Get a chance to compete in your own battles.
Here, you immerse yourself in an action-packed adventure to challenge hundreds of opponents from all other the world! In this game, the player can select their favorite Beyblade and unleash its full potential in exciting battles.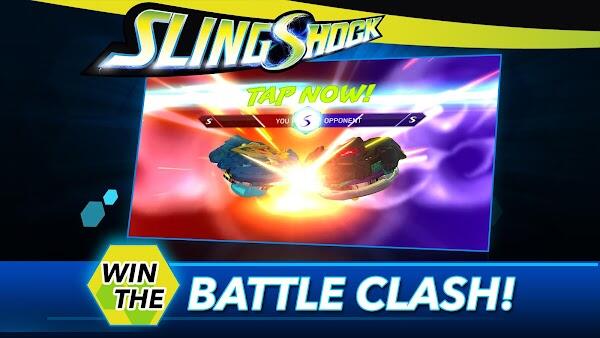 You will first need to create a profile to start a new adventure in this game. Choose some defining features to stand out among all the Beybladers. Then, obtain your first Beyblade and participate in your first game and tournament. Here, you will learn the basics of controlling your Beyblade. Be keen to plan your attacks carefully! Your opponents will always attempt to slow you down and even sap your energy. So, take advantage of the right moments to get the most out of every attack!
Become the Master of Beyblade Battles
Beyblade Burst game for Android is based on the popular Japanese anime TV series. In this game, the gamer can choose your top and try to defeat your rival using all your mastery of the spinning tops and Beyblade control skills.
You may have missed the episodes of this Japanese anime series. However, that should not worry you because we're here to narrate what it's about. This series is similar to the Masters of the Universe in that it was released to support the commercialization of futuristic spinning tops called Beyblades. The characters of that anime take part in spinning top battles to win the championships and earn points.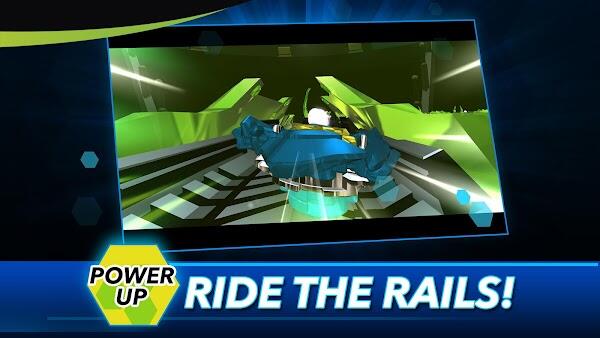 Start by creating a player profile to get an initial set of tops to begin playing. You will gradually improve these tops by redeeming your points or unlimited money. The game offers a short tutorial that introduces the player to the game before they get down to the arena. Download this game now and battle it out against other gamers in Beyblade battles now!
Beyblade Burst Game Features
This game comes with a special attack and unique features such as an indicator on top of the screen where you can view how much energy is reaming for you and your opponent. Here are other features!
Exciting Battlefield Gameplay – this game takes you into a battlefield where you control the Beyblade of your choice. Your opponent will also select the best Beyblade and therefore you need to look out for unending attacks that may put you down and lose the game.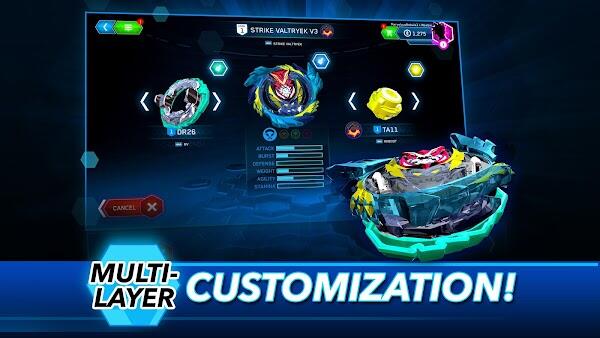 Select the trajectory you want to use to throw your top and reduce the life bar of your opponent every time you hit it. During gameplay, you will be able to use two special attack styles depending on the Beyblade you're using.
Your victory or defeat depends more on your luck as opposed to a well-planned strategy. However, that doesn't mean you will not enjoy great fun playing this game. Download the Beyblade Burst game now and enjoy playing in this enthralling game!
PvP Battle Mode – in this game, you can battle friends head-to-head against one another in online battles. Challenge other payers from more than 90 countries worldwide. Challenge each other to get to the top of the global leaderboards. At the same time, you will earn numerous achievements for leveling up.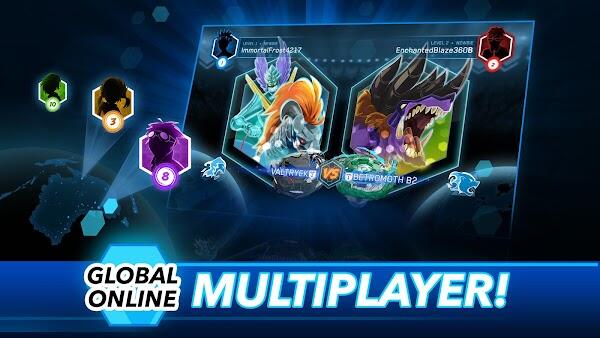 Win every match and earn fascinating Beyblade parts. Note that having an advanced Beyblade will make you win more regularly. In PvP battles, gamers can choose either physical Toy Battles or online Digital Battles. In Digital Battles, players are rewarded with Blader points on the scoreboard. On the other hand, Toy Battles let players record their battle results in the Battle League.
Start a League with Your Friends – together with your friends and other new players you meet online, you can create a league. Here, you can invite your friends and battle it out in multi-round tournaments for the top on the leaderboard. Besides, you can select a season of different lengths including 1 day, 1 week, or 1 month.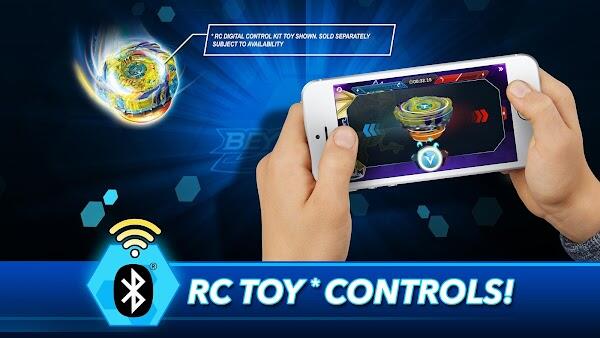 Unlimited Money and Gems – to earn unlimited money and gems, players should defeat all enemies. After this, players will also be able to collect other items, utilize the unique power of top cards to damage and overcome their opponents. Once the player earns enough points, the player gets the chance to activate special power moves such as jumping, spinning, and landing Beyblades. There are special costumes for the main characters you can unlock.
Personalized Profiles – select a player icon and customize it from the gallery options. You can also pick a continental team badge for your character in battle!
Download Beyblade Burst Game Mod APK – Unlimited Money
With the Beyblade Burst Game Mod APK, you can earn unlimited money and unlock various in-game items. Win all battles with special unlock powers and items.