Are you looking for a fun game that involves music and guns? Download Beat Shooter now enjoy a rhythm game that lets you shoot cubes with weapons!
Information of Beat Shooter
| | |
| --- | --- |
| Name | Beat Shooter |
| Updated | |
| Compatible with | Android 5.0+ |
| Last version | 2.2.8 |
| Size | 87.91 Mb |
| Category | Music |
| Developer | Badsnowball Limited |
| Price | Free |
| Google Play Link | |
| MOD | Unlimited coins |
Unlimited coins
Unlimited gems
Unlock all
No ads (You can watch videos to receive rewards)
Are you a lover of music and guns? In the mobile gaming world, there have been plenty of music rhythm games such as Cytus, Deemo, Voez and many more. These are popular among young gamers who love music and have fast reflexes. But if you want something that features guns and music, try Beat Shooter. This game is exactly as it sounds – you'll shoot in tune to the music!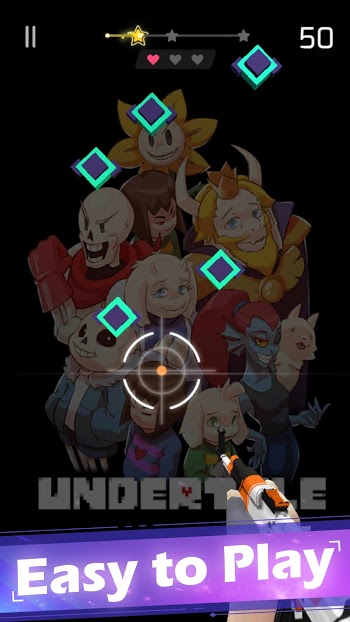 This unique game has been making waves ever since it was released and it has now more than a million players. Here, you can use different guns which gives off different feelings. There are also a wide variety of songs you can use! Play a fast one and shoot all the cubes perfectly. Try to time everything with music so you won't get lost!
Music Rhythm Game with Guns
Do you enjoy music as much as games? Why not enjoy both? There are a lot of mobile games today that you can play which feature music as one of its main components. The most popular types of games right now are music rhythm games such Beat Shooter. This one is a unique one in a bunch of popular ones. It's because here, you'll shoot cubes using different weapons! Enjoy this game published by Badsnowball Limited today.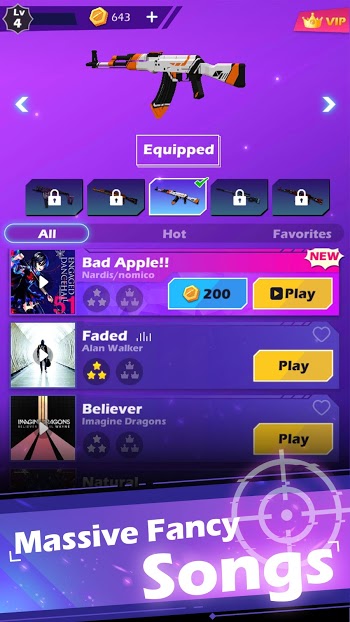 In every music rhythm game, there are always different songs and styles used. However, Beat Shooter differs in most games under this category since it uses weapons as one of the main aspects of it. Here, you'll just need to tap on the cubes that appear on the screen and you will shoot them. But you need to time them right so that you won't miss anything. The more accurate and efficient you are, the higher your score and rewards are! There are a variety of songs and guns for you to choose from to impress your followers and friends!
Beat Shooter Features
If you're ready to shoot and play, read all about Beat Shooter's features here. There are a lot of things to enjoy and look forward to!
Shoot to the beat – If you love music, then you must have played a ton of related mobile games thus far. However, if you can't seem to find the perfect one for you that also loves guns, then this is the perfect one! Beat Shooter combines seemingly the 2 weirdest things into a beautiful mobile game! Here, you'll shoot cubes in tune to the music! This is a music rhythm game in which you'll shoot cubes that pass by. Be careful as you need to time them perfectly in order to get a good score. The more you shoot, the higher your score is! Perform insane and powerful combos to impress your friends!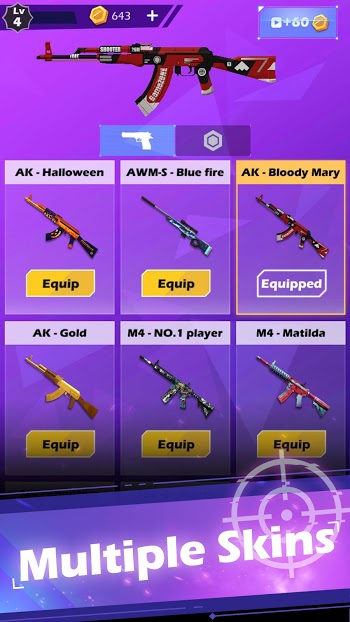 Choose a gun – One of the most unique aspects of Beat Shooter are the weapons. These are the things that you'll use to shoot the cubes in response to rhythm. Here, you can select from a bunch of them such as AK-47s, M4 and many more! There are also a variety of skins you can equip so you can enjoy the game. These are just for decorations but they give the players a sense of individuality. You can unlock many of the weapons! Each gun gives off a different sound and feeling so you must try to unlock them all. You can do this by scoring higher and earning more coins! Or you can just watch video ads to get more coins instantly.
Different tracks – The other main aspect of Beat Shooter are the tracks that will be played in each level. Here, there are hundreds of songs to choose from. Each of them has different rhythms which makes it a challenge for many. There are slow and fast songs so you need to time your shots right! In any case, you'll enjoy listening to the song while playing the game because most of them are catchy and modern. This game is easy enough to play but it's challenging to master.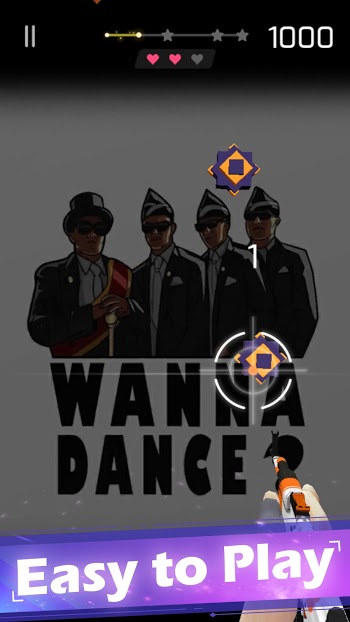 Smooth graphics and animations – The game boasts the smoothest animations and graphics! The sound effects of the guns are also realistic and well-integrated. If you time your shots correctly, you can get a nice melody to listen to. This makes the game highly-addictive especially for music and gun lovers!
Different stages – Perform different levels in the game and earn different rewards. Each one has different rewards and difficulty levels that you will enjoy.
Download Beat Shooter Mod APK – Latest version
Are you into music and guns? Why not play a game that combines them both? Download Beat Shooter today and experience a different music rhythm game!