Download Bad 2 Bad Apocalypse MOD APK latest version and salvage the world from a devastating virus from Human Forces. It has 60+ maps, many missions, & 3D graphics.
Information of Bad 2 Bad Apocalypse
| | |
| --- | --- |
| Name | Bad 2 Bad Apocalypse |
| Updated | |
| Compatible with | Android 7.0+ |
| Last version | 2.0.9 |
| Size | 205.67 Mb |
| Category | Role playing |
| Developer | DAWINSTONE |
| Price | Free |
| Google Play Link | |
| MOD | Unlimited money |
About Bad 2 Bad Apocalypse
Bad 2 Bad Apocalypse APK is a sequel to Bad 2 Bad Delta & Extinction. The game, offered by Dawinstone, is a 3D mobile shooter game set in an apocalyptic world characterized by a deadly virus hell-bent on destroying the world.
It follows the story of the Delta Team; a special forces unit set to survive and salvage the world from the virus. The team comprises courageous individuals (led by Major Pan, who must fight off mutated beings and other enemies to save humanity.
They must also reconstruct the destroyed world with the help of their allies. This story-based shooter game has many thrilling missions, including annihilating enemies, collecting resources to rebuild ruins, and using special weapons to counter threats.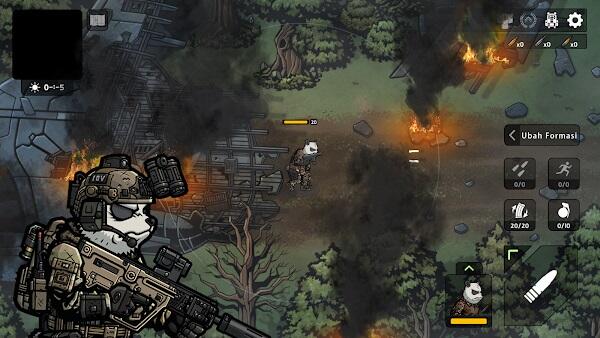 Overall, you can expect a thrilling, real-time action experience. As you progress, you will access higher-level weapons customizations to make your squad more powerful. This way, you can confront more dangerous enemies in the game hassle-free.
Bed 2 Bed Apocalypse APK - Background Story
Ever envisaged an apocalyptic world, where humankind is in peril due to a fatal virus? This is the scenario of Bad 2 Bad Apocalypse APK; the sequel to Bad 2 Bed Delta & Extinction.
The virus is spreading like bushfire, and the Delta team is set to save humanity by destroying the virus and rebuilding what's left of the world. This will involve draining missions that will test the courage and skills of the players.
Additionally, the sequel improves the graphics, gameplay, and plot to offer a more engaging experience. You can expect smarter enemies, brand-new world maps, and an expanded missions' system.
It also blends many activities, including exploration, crafting, fishing, gathering, and more. This way, you will beat monotony and enjoy your journey stress-free.
How to Play Bad 2 Bad Apocalypse APK
This game has several gameplay sections that you master to progress. They include:
This game will by no means be a walk in the park. Its challenges will require you to display your survival skills, including gathering resources and fighting enemies.
You must always be alerted to ensure you don't fall victim to unexpected danger. This will call for strong combat skills and fast decision-making abilities.
Additionally, you must look for resources via various activities, including fishing, crafting, and gathering. Ensure you transverse all areas looking for hidden treasures, like ammo and armor.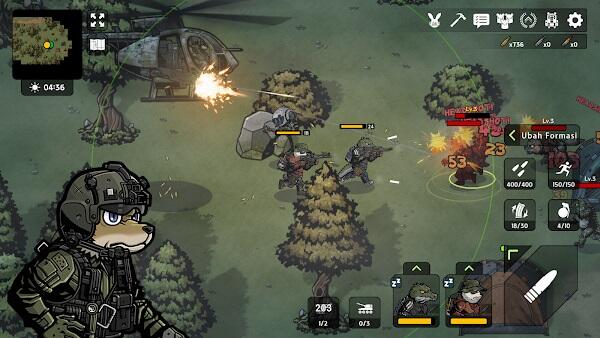 The pandemic has changed our world forever, leaving it a fractured land of despair. You and your team have been tasked with the challenge of rebuilding what was once lost to restore joy to this broken landscape.
It's time to act and make the required transformations for a brighter future. As you move through each area, collect resources to restore broken structures. To guarantee victory, devise an effective plan to defeat enemies that have taken over certain regions.
The insidious virus has taken a dark turn, breeding monsters from humans and animals to challenge humanity. As these beasts menace the world, it will take unparalleled strength and skill in combat to defeat them and eradicate this evil once more.
You will have access to weapons like rifles & grenades as you progress in the game. You can upgrade these weapons using resources or acquire higher-level ones (including powerful drones, air support, and artillery support).
What Are the Features of Bad 2 Bad Apocalypse APK?
Open-World RPG Gameplay. Set off on a captivating expedition & experience an enchanting adventure. Discover hidden secrets, explore a thrilling world, & determine your destiny in this fantastic RPG that brings together classic elements with immersive 3D visuals.
60+ Unique Maps. Discover a boundless universe of endless chances. This game offers sixty maps with unique missions, guaranteeing that no two journeys will be the same. Indulge in the joy that accompanies variety, diversity, and hours upon hours of entertainment.
Lots of Activities to Undertake. This game revolves around survival and defense, requiring you to be creative with resources. You'll need to hunt, fish & craft weapons to survive - not forgetting to seek aerial support whenever necessary. Outsmart your enemies at every turn by using all the tools available.
Top-Notch Weapons. You'll have plenty of firepower- three times more than its predecessors. Choose from various weapons, including handguns, machine guns, sniper rifles, and grenades. Ensure you frequently upgrade each weapon for an optimal gaming experience.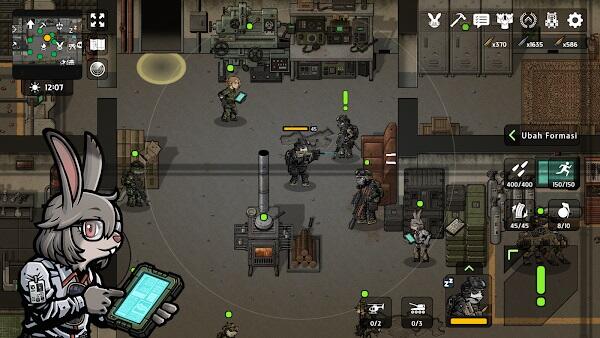 Highly Detailed Customization Options. Unleash your imagination and create an utterly unique character! With this game, you can select from an endless range of weapons & customizations to express yourself. You can adjust every aspect of your gun's color scheme or even construct an avatar with no equal - whatever suits you best.
High-Quality Graphics & Audio. This game showcases an all-new post-apocalyptic world, brought to life through stunning 3D graphics and enthralling audio that truly brings out the game's mood. Prepare for a riveting experience like no other.
Create a Special Force. Team up with allies to create an invincible special force in this game. The more comrades you have, the bigger & stronger your squadron will be. Ensure you utilize distinctive talents so that your force can outmaneuver any opposition it encounters. Together, nothing is beyond reach.
Build & Upgrade a Base Camp. In this game, you must construct a stronghold to shield your troops and resources. To achieve this goal, it is critical to consistently upgrade the base camp as you move forward in the narrative. This allows for both agility and defense against hostile forces.
Night Vision. This feature allows you to explore even on the darkest of nights. You can equip night vision goggles and see your enemies before they do, giving you the upper hand. This way, you can comfortably hunt at night and ensure your team's safety.
System Requirements and Additional Information
To run Bad 2 Bad Apocalypse MOD APK for Android, your device must meet the following system requirements:
Android 7.0 and above
200MB of storage speed (the game is 148MB)
At least 1GM RAM (recommended is 2GB)
The game also features in-game elements ($0.99 - $14.99 per item) to help you progress faster. These are optional & you can switch them off in the game's settings.
Additionally, this game requires internet connectivity for online gaming and updates. Besides, you should note the game has adverts (easily eliminate them via in-app purchases).
Proven Tips & Tricks
Upgrade Your Weapons. Upgrade your weapons and supplies frequently to guarantee an incomparable gaming experience. This will allow you to confidently challenge adversaries that obstruct your progress during gameplay.
Create Alliances. Unite with other gamers to form a powerful alliance that will protect its members from danger. The greater the unity and solidarity of your team, the more secure you all become.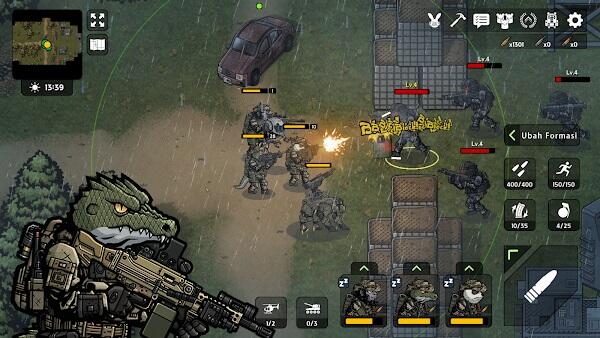 Utilize Night Vision. Take your gaming to the next level with night vision mode. With this cutting-edge feature, you can spot foes before they even know what hit them and gain an upper hand on rivals by outsmarting them at every turn. Now you possess it all in one eye-opening mode.
Be Creative with Resources. You'll need to be crafty and use all available materials for survival - meaning always scavenging for supplies, break down items for resources, and purchasing better weapons.
Get Aerial Support. Unleash the power of drones and aerial vehicles to gain a tactical edge over your competition, ensuring victory for you or your team.
Conclusion - Bad 2 Bad Apocalypse MOD APK Download
This game delivers an intense, post-apocalyptic experience that will test even the most seasoned gamer. With cutting-edge graphics & customizable visuals, you get to give life to your unique character and take it into the unknown.
You must be clever with resources, form alliances, and upgrade weapons to guarantee safety for yourself and others. With this approach, you can push further into the game and rightfully declare yourself a survivor of this fierce world.
Download Bad 2 Bad Apocalypse APK now to experience an interesting twist on survival! It will be a worthwhile and unforgettable journey.