Love Attack on Titan? You will surely enjoy Attack on Giants today as it vividly mimics the anime in every aspect. Fly through the skies and eliminate giants!
Information of Attack on Giants
| | |
| --- | --- |
| Name | Attack on Giants |
| Updated | |
| Compatible with | Android 5.0+ |
| Last version | 0.14.2 |
| Size | 71.57 Mb |
| Category | Action |
| Developer | HOMA GAMES |
| Price | Free |
| Google Play Link | |
| MOD | Unlimited money |
There are certainly tons of anime fans today than a few decades ago when it was just starting. Today, the industry has fans all over the world and thousands of shows were made over the past years. Now, you can enjoy a lot in different genres such as action, comedy, slice of life, horror, thriller and many more. But if you're a huge fan of Attack on Titan, then it's time to play Attack on Giants! This game isn't the official game but it's a nice game to play nonetheless.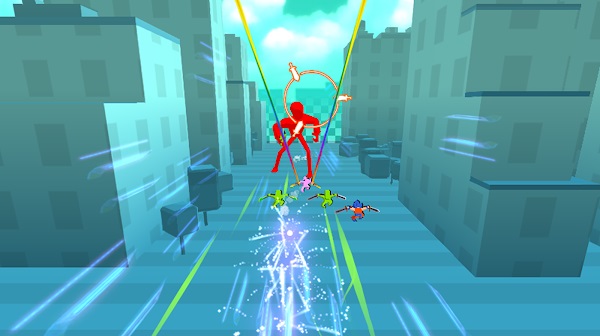 If you love the show, you more or less already know how to play this game. You will just use a complex mobility gear to navigate through buildings and use your swords to slice the giants. The fate of the world lies in your hands and it's now your responsibility to slash all the giants all over the world. Enjoy unlocking many blades, skins and even ropes so you can face tougher enemies. Finish many levels now!
Fight Giants
There are many fun games today you can play that feature popular anime shows like Sword Art Online, That Time I Got Reincarnated as a Slime, The Seven Deadly Sins and many more! Today, you can enjoy these games along with the respective stories that they're famous for as well as the characters. But sometimes, there aren't a decent anime adaptation game on the market that you can play on your favorite anime. In these cases, we turn to imitations which does the job most of the time.
Attack on Giants is a game based off on the popular anime show Attack on Titan. Here, you can fly around using a special mechanized gear like what they use on the anime itself. Then, you can slash giants in different directions to incapacitate them so you can enjoy a vivid gameplay. This game features incredible 3D gameplay that lets you do combos and enjoy the colorful graphics.
Moreover, the controls are easy enough and the physics are realistic as well. Enjoy upgrading your blades, ropes and even unlock skins today!
Attack on Giants Features
There's nothing more epic than a battle with monsters. In Attack on Giants, you will fight plenty of giants!
Epic Fights – Do you ever watch an anime and marvel at the incredible fight scenes you're witnessing? There are so many anime shows today that you can watch and enjoy with plenty of characters and incredible stories. Today, there are many fun anime shows with various genres and incredible plots that will keep you wanting for more. But for Attack on Titan fans, the best one to play right now is Attack on Giants where you can kill plenty of giants. Here, you will be able to navigate through the air!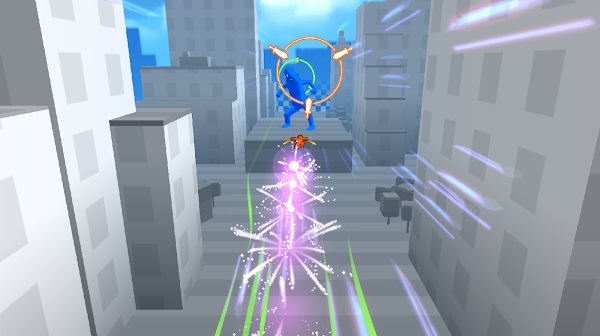 Like in the anime, you'll be free to use the complex gear that allows you to navigate through the air using ropes. Here, you just need to tap in the direction you want to go and then tap fast to slash the different parts of the giant. Like in the anime, you'll be able to enjoy the incredible and acrobatic fight sequences in the game. You will also be able to unlock many skins today such as spiderman, banana man, batman and many others.
Enjoy Plenty of Levels – There are plenty of giants that have been on the loose in the city. Today, you can enjoy a game where you can fight plenty of giants as a superhero with extraordinary capabilities. Here, you're able to use a complex maneuvering gear where you can go through the air and attach your ropes in buildings. You can move freely in the air while attacking the giants using your blades. Enjoy plenty of action scenes today where you're able to slash down the giants!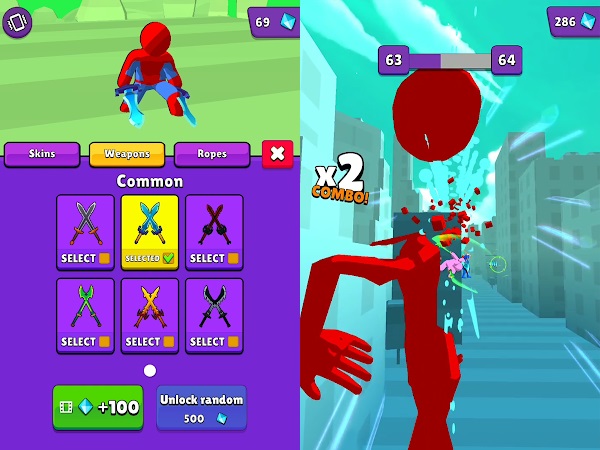 Upgrade Ropes, Blades and Skins – To make things even more interesting, you're free to unlock many types of ropes, blades and skins in this game. Here, you can unlock many skins such as the pink one, the spiderman, the batman, the banana man, the Impostor and many more. Then, you can also unlock many types of blades with different styles and colors. Also, there are different ropes today with different colors! Customize your character today so you can fully enjoy the game.
Easy Controls – In Attack on Giants, you only need to hold the screen and release to fly and then you can tap the screen repeatedly to slash down the giants. This is a fun game that lets you enjoy the realistic physics that makes it a challenging game.
3D Graphics and Realistic Physics – Enjoy going through countless buildings and swinging your blades against the giants!
Download Attack on Giants Mod APK – Latest version
When the world is attacked by giants, it's up to you to save the world! In Attack on Giants, you'll be able to attack and kill giants.