Download Assoluto Racing Mod APK Unlimited money Latest version for real-time drifting and racing challenges. It has lots of vehicles to unlock and offers different playing modes.
Information of Assoluto Racing
| | |
| --- | --- |
| Name | Assoluto Racing |
| Updated | |
| Compatible with | Android 7.0+ |
| Last version | 2.13.13 |
| Size | 1.41 Gb |
| Category | Racing |
| Developer | Infinity Vector Ltd |
| Price | Free |
| Google Play Link | |
| MOD | Unlimited money |
Assoluto Racing is an action-packed racing game offered by Infinity Vector Limited. It lets you experience the joy of driving in realistic environments. You will enjoy its authentic gaming physics and experience the real feel of driving.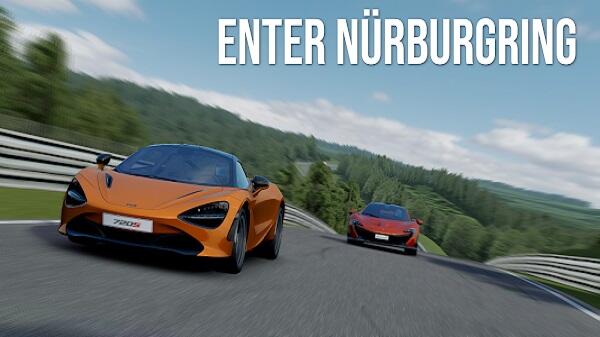 It has an extensive collection of officially licensed cars from the world's most popular manufacturers, including McLaren, Ferrari, Porsche, Lamborghini, Pagani, and more. You can also upgrade and customize your dream cars to make them even faster.
Overall, this game provides racing enthusiasts with a spiced-up driving experience. If you are looking for an adrenaline-pumping game, Assoluto Racing is a great option.
Adrenaline-Packed Real-Time Racing Game
This game will surely get your heart racing! It features exciting real-time races against live opponents from around the world.
Once you join the game, your first assignment will be to choose your dream car. You can change several of its elements to ensure it perfectly suits your racing style. You can also upgrade your car's parts to make it perform even better on the track.
After customizing your car, you can start competing in thrilling races. The game tests your driving skills to the limit as you go up against experienced and talented opponents. You must showcase your racing & drifting skills to come out on top.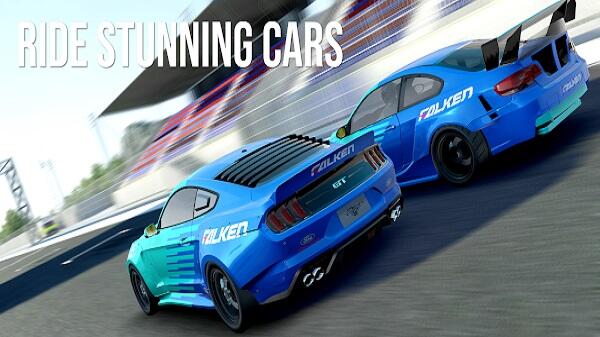 Once you complete missions, the game will reward you with in-game currency. You can use this currency to buy new cars or upgrade the ones you already have. Alternatively, you can unlock better cars using in-app purchases ($0.99 - $99.99 per item).
Deep Vehicle Customization/Optimization Options
This game gives you all the authority to change your car's elements to match your driving style. You can also upgrade its parts to ensure it perfectly fits your needs. There are different optimization options available in the game, including:
Adjust Gear Ratios. If you want to achieve the best possible acceleration, you must increase your car's gear ratios. This helps you achieve higher torque values, allowing your car to perform better on the track.
Reduce Vehicle's Weight. Reducing your car's weight will make it more agile on the track. This is especially useful for drifting missions.
Set Perfect Suspension. By setting the perfect suspension, you can reduce body roll and increase your car's grip on the road. This will help you achieve better results on the track.
Change Tires. The nature & size of your car's tires will have a big impact on its performance. For example, wider tires offer more grip but they also increase the car's unsprang weight. You must choose the right tires for the right occasion.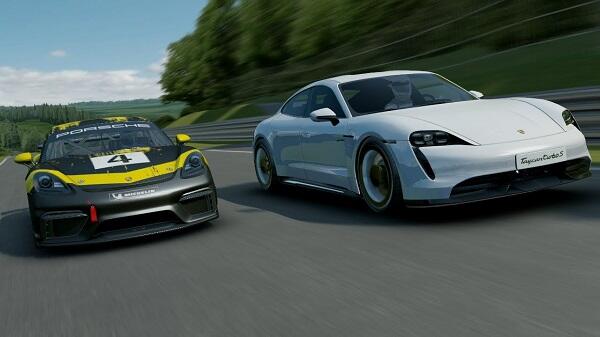 Change Camber Angle. The camber angle is responsible for the tire's contact patch with the ground. If you set a negative camber angle, your car will have more grip on the road. However, this also increases tire wear.
Install New Transmission & Exhaust System. This will help you increase your car's power and torque. Exhaust system upgrades also help you reduce your car's weight.
Besides these performance-related upgrades, you can also change your car's visual appearance. You can apply different types of vinyl & paint jobs to give it a unique look. You can also change its rims, headlights, and taillights.
Unlock New Cars
In the beginning, you will have only a few cars to choose from. However, your choices will gradually increase as you progress in the game. You can unlock new cars by completing missions and earning in-game currency.
You will access different brands, including Porsche, McLaren, Nissan, Toyota, BNW, Mitsubishi, and Ferrari. Some of the game's most popular cars include the Nissan GTR, Toyota 86, Mitsubishi Lancer Evolution, and Porsche 911.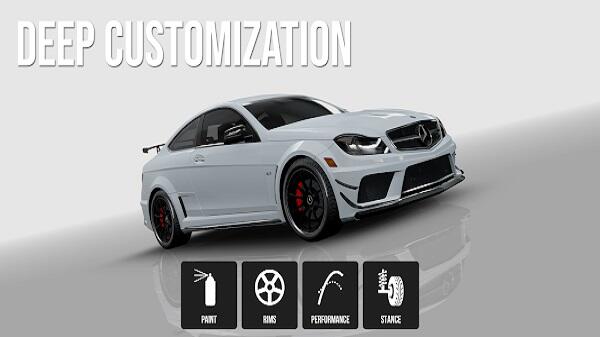 Even better, the game offers body kit tuners for some of the most popular cars. This means you can give your car a unique look that perfectly represents your racing style.
Lots of Licensed Tracks
The game also features licensed tracks from around the world, including:
Nürburgring Nordschleife (Germany)
Fuji Speedway
Tsukuba
JDM
You will also explore different environment types, including city tracks, off-road tracks, and mountain roads.
HD Graphics & Immersive Sound Systems
When playing this game, you will go on a tour of the world's most popular tracks. The game's HD graphics and realistic car models will make you feel like you're really on track. You will see beautiful landscapes and realistic lighting effects.
The game's sound system is unrivaled. You will hear the roaring of engines and the screeching of tires as you drift around corners. Additionally, the game features day/night cycles. You must be careful when driving at night, as the lack of visibility can lead to accidents.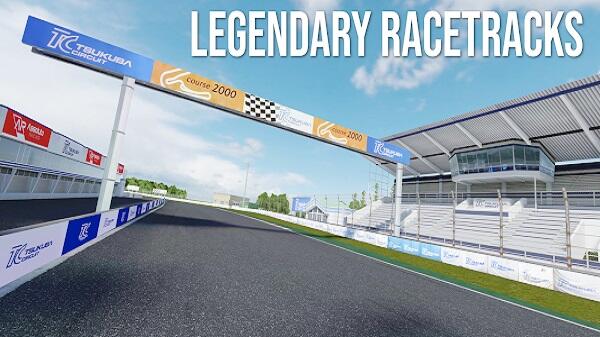 The game also features different weather conditions, including rain and snow. You must be careful when driving in these conditions, as they can impact your car's handling. Its dynamic camera system will give you the best possible view of the action. You can change the camera angle to get a better view of the track.
Assoluto Racing MOD APK Download
The Assoluto Racing MOD APK 2023 offers more than just the standard game. It also includes other unique features to revolutionize your gameplay. They include:
Assoluto Racing MOD APK Unlimited Money. This will give you an unlimited amount of in-game currency to spend on car upgrades and new cars. You will be able to unlock anything you want without grinding for hours.
Assoluto Racing MOD APK Menu Uncomplicated. The game's menu has been simplified to make it easier for you to navigate. You will be able to access all the features with just a few clicks. It has no ads or pop-ups to interrupt your gameplay.
All Vehicles Unlocked. The Assoluto Racing MOD APK for Android will unlock all the game's vehicles from the start. You will be able to choose any car you want and upgrade it to your heart's content.
Conclusion
If you love drifting and racing games, you will love Assoluto Racing. It is one of the best mobile racing games on the market. The game's realistic graphics and car models will make you feel like you're really on track. You can also mod your cars to give them a unique look.