This is a must-have game if you love playing battle strategy games. Download the Army of Heroes and use highly-trained mercenaries to overcome a mad dictator.
Information of Army of Heroes
| | |
| --- | --- |
| Name | Army of Heroes |
| Updated | |
| Compatible with | Android 4.0+ |
| Last version | 1.03.06 |
| Size | 46 MB |
| Category | Strategy |
| Developer | Plamee Tech (CY) Limited |
| Price | Free |
| MOD | Unlimited money |
If you played the legendary Jagged Alliance, here is a game that offers the same exciting gameplay. Here, you will immerse yourself in the world war where you have a small group of elite mercenaries who will fight to overthrow the dictator of a small tropical island. You will need to conquer all cities on this colorful island one by one. The gameplay is full of challenges that require the player to implement precise strategies to win at every game level. Note that there are countless hard missions. Luckily, the heroes and will become victorious, anyway.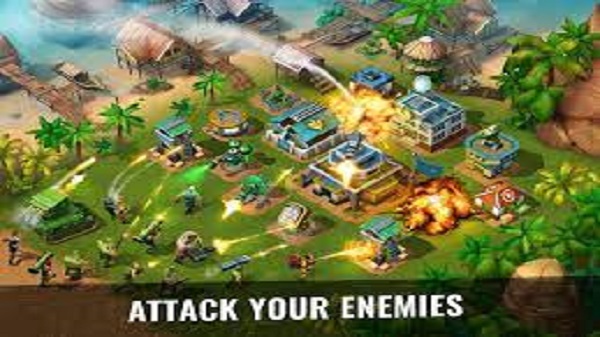 In the Army of Heroes, the player has to lead a band of soldiers against the cavalry of an evil dictator. The main objective of this gameplay is to build and manage an effective operations base. You need to train soldiers and use them to overcome enemy attacks. The strategies in the game include recruiting lots of heroes, building bases, and most of all, overcoming enemy troops. You will notice that the graphics herein are at par with the best games in the genre. Download this game now and enjoy military action!
Destroy All Enemy's Bases
Those who have played this game say that it offers a gameplay similar to that in the Clash of Clans and other huge military action titles. Here, you have to build tons of buildings that you will use as bases. You will set traps and barricades to avoid the enemy's attacks. What makes this game interesting is the fact that you can recruit heroes and train them to be strong enough to overcome enemies. At some point, you will need to strike and destroy enemy bases.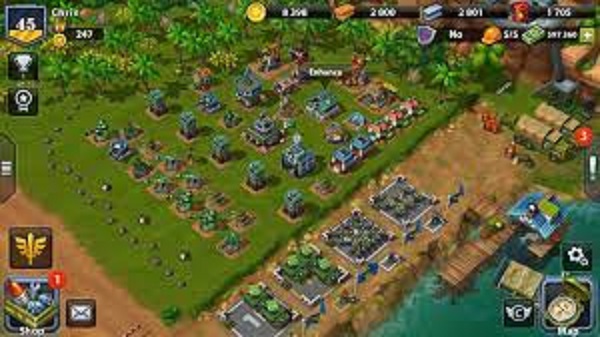 This game also has an online mode where you can play against other players from around the world. At the beginning of the game, you can watch a brief tutorial about playing the game effectively and building defensive structures. You will also know how to attack others in PVP mode as well as the Campaign mode. Once you are done with the tutorial, you can then create and train your own army of heroes to be much stronger than your enemy troops. Get this game on your device now and plunge yourself into a battle for supremacy!
Army of Heroes Features
Play against millions of gamers training superb mercenaries as well as building and developing bases. You will have great gameplay as you purpose to conquer and dominate all your enemies! Here are some of the greatest game features you will notice here.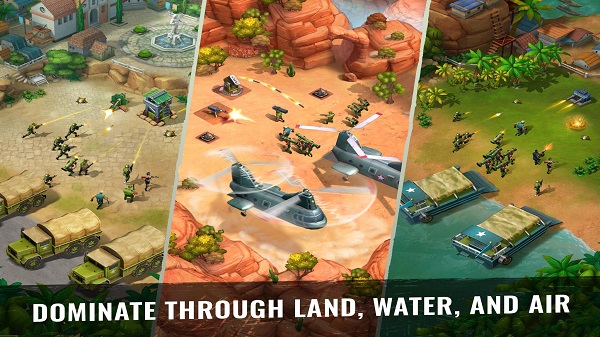 Thrilling Gameplay – the revolution has started that you need to have as many trained mercenaries as possible to follow your orders in going against your enemies. Immerse yourself find a war-ranging environment and play with your own army of heroes for free! You will be able to assemble your own military heroes, enhance their strengths, and then lead them into battle. Fortunately, you can use trucks, helicopters, and military boats, rapport your troops to and from enemy bases.
The storyline in this game involves freeing your island from a mad dictator that has taken all big cities hostage. Build your own bases in the jungle and ensure that you destroy all those that belong to your enemy. Ensure that you train your heroes to have unique combat and weapon handling skills. You don't have to play alone. Enter into friendly alliances with your friends and relatives and fight enemies. Get this game now and enjoy capturing enemy bases and collecting all their resources!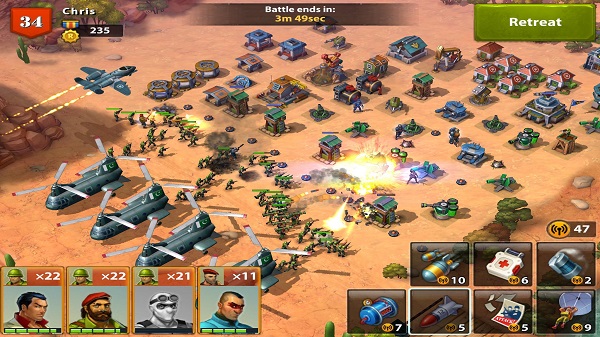 Military Combat Action – this epic combat strategy game offers a lifelike military combat experience. The mission of the game is to engage heroes who will be trained with military battling skills to defeat enemies conquer the entire island from a crazy dictator. Therefore, you will need to train all your soldiers with all viable military moves. Build a small military outpost in the jungle and develop it into an invincible citadel. Attack your enemy bases and burn their cities to ashes! Through the online mode, you can team up with your friends and battle millions of other players across the globe! Defend, fight, and destroy with military styles!
Stunning Graphics – overall, this game has spectacular graphics and that make the gameplay realistic. The game environment comes out vividly with original colors. In addition, the reflexes of the characters, visual effects from blasts, and the firing of guns are realistic. The game also offers hinting conversations with the general that are displayed on the interface.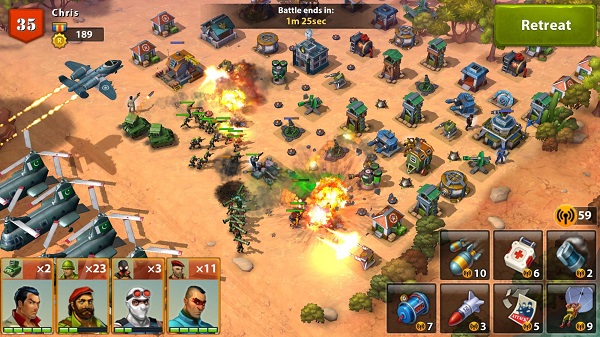 PVP Mode – this game offers you a chance to invite your friend and struggle to fulfill the objectives of this game together. That implies that you can play with friends and enjoy winning valuable gifts together. Remember to interact with other players and discuss different strategies through the chat feature.
Modern Weapons – enjoy using the most modern military-grade weapons in this game. Unlock and use machine guns, rocket launchers, the best sniper rifles, and more.
Download Army of Heroes Mod APK – Unlimited Money
Recruit the world's best daring mercenaries and conquer key city areas including airports, hospitals, oil towers, and scientific labs. earn unlimited money to unlock various war heroes and weapons.