Immerse yourself in the latest military strategy game that brings a new twist to action games! In Guns up Mobile Mod APK, you will form an army and win every battle!
Information of Guns Up Mobile
There is a call to all gamers who believe they can be commanders into this amazing gameplay and lead your team to victory. In the storyline of the Guns Up Mobile game, the world is at war and you should take up the challenge and be the hero who stops the war!
Created by NHN Corp, Guns Up Mobile will takes you into one of the latest games in the strategy genre. Here, you need to strengthen your defenses to protect your territory from enemy attacks. Besides, you should develop the main base and train troops. Then, there is a high likelihood that the victory will be yours.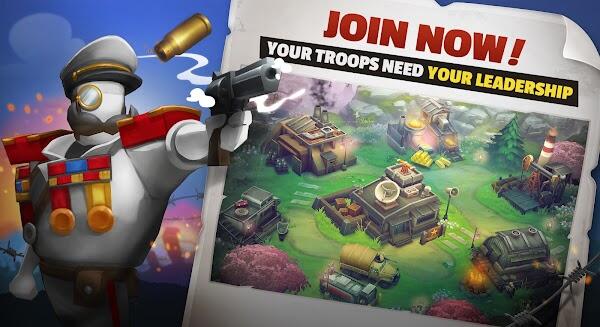 Count on reliable air and tank support when you go to destroy and capture enemy positions. Build advanced military buildings, upgrade combat soldiers and grenade throwers. You should also enclose the perimeter of your base using barbed wire and anti-tank hedgehogs. Lead your entire battalion to victory and win against enemies. Heed to the call of Guns Up Mobile for commanders today and enjoy thrilling military strategy gameplay.
Showcase Military Strategy Skills
Guns Up Mobile presents the best online PvP strategy gameplay that offers a diverse Tower Defense battles. Here, you will be able to form and grow an army, send your soldiers into battle, and help your soldiers overcome all enemies. Give them military orders and back them up with timely deployments of tanks and airstrikes.
Craft some traps that will make enemy commanders loiter in one place by being stuck in obstacles. Your machine gunners will take all the enemy units down easily. In case you get tired of playing the multiplayer mode, turn on single-player levels and boast with individual efforts to win every challenge.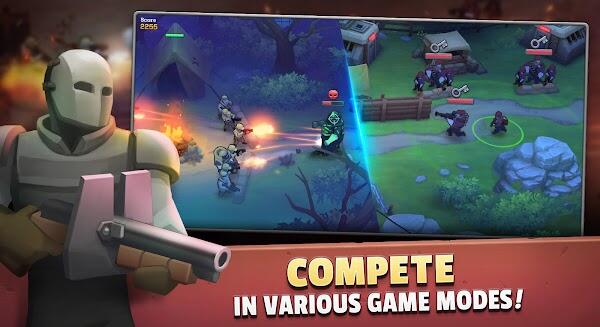 In other game levels, you will have to fight off crowds of zombies, escape from prison, as well as other dozens of challenging missions. With every successfully completed mission, you will earn unlimited money. Invite your friends to be part of your alliance or join existing guilds and prove to the enemy forces who is the best troop are!
Features of the Guns up Mobile Game
If you love fighting games with a military theme, then this is the perfect game for you. Play in an exciting game that comes with various features.
Fight in Your Own Style – the spoils of multiplayer battles are waiting for you! There are various series of wars that you will have to fight in this defense game. The best thing is that you will have a chance to bring your best soldiers. In addition, you will have the liberty of creating and implementing your own battle strategies and take over the battlefield.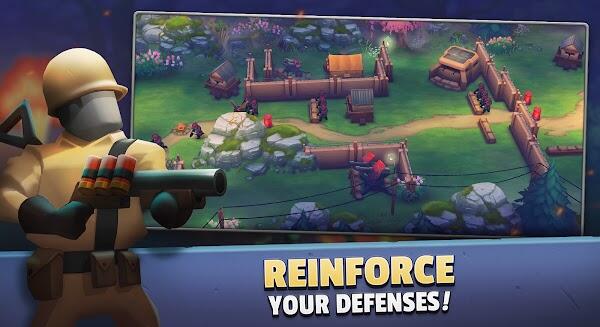 With Guns up Mobile being a military strategy game, the main plans solely depend on you and you will be the one commanding your troops. See your missions through as you make numerous military raids. When you are out there, be careful because there is a crafty enemy who is always ready to strike.
They will have their snipers strategically placed, mortars, anti-aircraft guns, and plenty of other defense systems in your way. Don't forget that all this action is for free in this awesome game!
PVP Mode – with this game mode, you can fight openly with real players from all over the world. Fight for glory, go to the top of the leaderboard, and defend your bases by defeating your opponents. In addition, you can form alliances and fight alongside
Form alliances and fight in Alliance Wars for huge loots and bragging rights on the leaderboards. In most of these battles, teamwork is encouraged by synchronizing strategies, unlocking new boosts, allocating resources, and distributing the spoils of war among team members. Every season of the Alliance War has new challenges and content for you and your loved ones to enjoy!
Take On Various Challenges – it won't be fair if we fail to mention that this game offers various challenges for the players. There is the PvP mode and if it isn't your thing, you can choose to take on the many single-player challenges. Fight against enemies, overcome Puzzle bases, break out of military Prisons, defend your army against Zombies, and much more. to make you successful, you need to unlock and upgrade commander skills, new members of your unit, weapons, and vehicles.
Grow Your Army – expand your duty roster by hiring new Soldier classes. Upgrade and customize your army to gather loots and win battles easily. With a skilled troop, you will effectively implement your strategy, keep your soldiers alive, and improve your power for future attacks and defenses. Be an army general and get ready for battle because you also raise your army. Now you can hire soldiers for the different cadres, weapons, and vehicles all for your side.
Build Your Base – for you to outwit the enemy troops, you should build, expand, and upgrade your base. In turn, you will have a fine-tuned defense against enemy troops and protect your most valuable resources. This game comes with an amazing replay feature where you can review your opponent's attacks and enhance your defense strategy based on your past failures. Use all the resources you've got to create the ultimate base defense.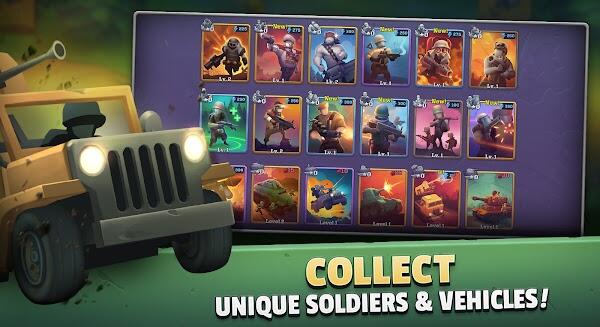 Stunning Graphics – Guns up Mobile comes with very smooth graphics that are highly detailed. The game also features a rotating three-dimensional view of the base. This enables the gamer to feel fully immersed within his or her own strategic tower defense.
Note that most of the game settings are located on the left-hand side of the main interface. The addition of an advanced heads-up display gives players detailed information at all times.
Download Guns Up Mobile Mod APK – Unlimited Money
With the Guns Up Mobile Mod APK, you will enjoy cool gameplay with military action. Complete raids, loot all resources, and earn unlimited money!