Do you love Angry Birds and Transformers? In Angry Birds Transformers Mod APK - Unlimited gems, you can enjoy a unique experience today! Blow up enemy pigs as transformers heroes.
Information of Angry Birds Transformers
| | |
| --- | --- |
| Name | Angry Birds Transformers |
| Updated | |
| Compatible with | Android 4.4+ |
| Last version | 2.25.0 |
| Size | 81.86 Mb |
| Category | Arcade |
| Developer | Rovio Entertainment Corporation |
| Price | Free |
| Google Play Link | |
| MOD | Unlimited gems |
Unlimited Money
Unlimited gems
We get a lot of precious stones for the first award
Note: If the game displays a weak internet connection, press the triangle arrow button
About Angry Birds Transformers
The Transformers and Angry Birds franchise are two successful franchises that are known worldwide today. Each of them has movies and game that you can enjoy today and they have millions of fans as well. But what if the two of them collide in one single game? In Angry Birds Transformers, you get a unique blend of modern and primitive battles in one huge game today. Suit up as your favorite bird/transformer and battle a lot of pigs right now.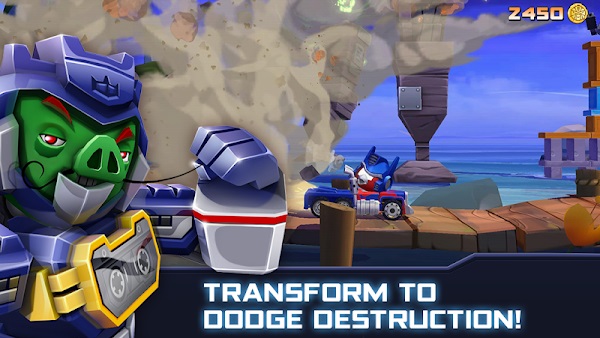 Here, you can go through many levels and enjoy destroying the pigs right now before they destroy you! Here, you can suit up as Bumblebee, Optimus Prime, and many more heroes. You can shoot lasers and transform into cars so you can avoid many obstacles and towers right now. Then, you can also upgrade and even play with friends today and enjoy a beautiful and unique experience. Don't miss the chance to enjoy two of the most successful franchise in one incredible game today!
An Epic Clash
At this point in time, we all know what Angry Birds are as they're one of the earliest successful franchises in mobile gaming. They now have millions of fans and a lot of games under their belt but they're gunning for more. On the other hand, the Transformers franchise has been around longer and they also have lots of movies, toys and even mobile games today. In the game Angry Birds Transformers, they've collided and they've created and incredible game today!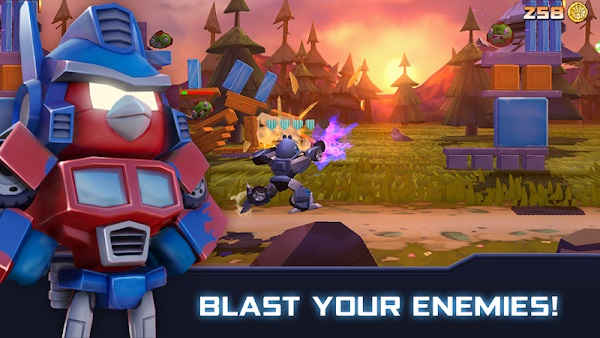 In this fun game, there are plenty of missions that you will do as you follow the story and there are plenty of battle scenes. Here, you can collect many characters which includes Optimus Prime and Bumblebee! Here, the birds have merged with the bots and they're now looking cooler than ever. With that, you can upgrade their parts to make them stronger as well as customize them! Here, you're free to add hats, change the paint, body parts and many more.
You can also collect many heroes as well as villains with unique powers and abilities. Shoot through enemies today and transform to dodge obstacles!
Angry Birds Transformers Features
Who would have though that Angry Birds go well with Transformers? In Angry Birds Transformers, you can enjoy both worlds in one game!
An Incredible Game – It's not a secret that Angry Birds is one of the best games to play today. The franchise is one of the pioneers and they've succeeded in creating the most addictive games today. The same is true with Transformers as they've created some of the best movies and games today. But when the two combines together, we get Angry Birds Transformers which is a fun game to play. In this game from Rovio Entertainment Corporation, you can enjoy a fun game right now.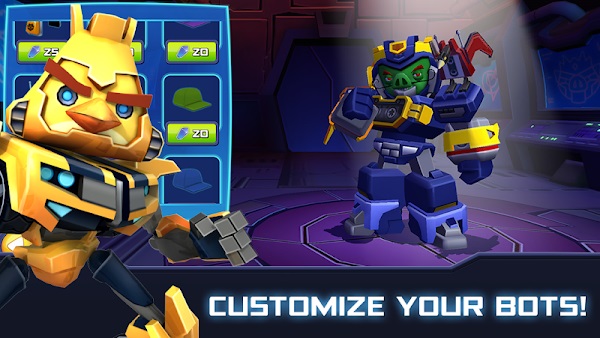 Instead of the usual primitive battles, you get an action-packed one in this game. The birds have fused with bots which gives them incredible shooting powers and various abilities today. You can unlock many characters from both franchises as well as villains that have unique skills as well. Enjoy awesome upgrades to get stronger and to unlock more abilities today. There is also the feature where you can transform into a vehicle to dodge incoming obstacles today.
Unlock Heroes and Villains – There are many unlockable heroes and villains in this fun game today. From Optimus Prime to Bumblebee – there are plenty of them that you can unlock right now. Each of them has unique capabilities and skills that you can upgrade as well. Battle plenty of pigs and get enough transformers coins to unlock new characters today. You can enjoy unlocking them as there are plenty.
Upgrade and Customize – Aside from that, there are endless upgrade you can do on each character to make them stronger. You can also customize them today to change their hats, color and many other body parts. Enjoy mixing and matching and creating a personalized bird bot that you can be proud of today. This is an aspect of the game where there are endless possibilities! Create your own unique bird bot today and annihilate enemies.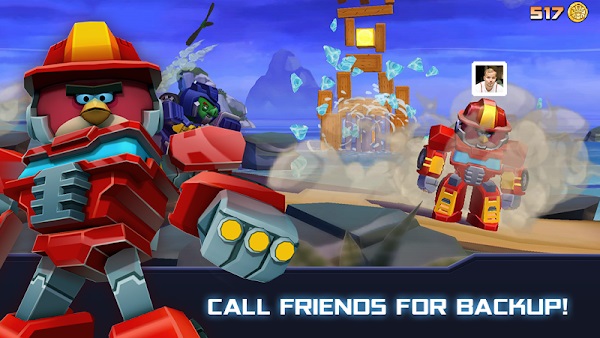 Complete Missions – There are many missions available in this game today that you can complete. In each of them, you'll face plenty of annoying pigs that will get in your way. Blast them with lasers and dodge the falling towers in your way by transforming into a car. There's a story here that you'll enjoy following as you complete the mission today.
Tag Team and Telepods – You can also borrow a friend's character to unleash more power against the enemies right now. There are plenty of rewards as well!
Download Angry Birds Transformers Mod APK – Unlimited gems
If you love Angry Birds and Transformers, then you should download Angry Birds Transformation today.