Download Zada Cash APK Mod latest version and get unique loan products with a repayment period of 91-120 days. It charges 0.067%/day interest, making it super affordable.
| | |
| --- | --- |
| Name | Zada Cash |
| Updated | |
| Compatible with | Android 5.0+ |
| Last version | 2.0.5 |
| Size | 11 MB |
| Category | Finance |
| Developer | CONVENIENCE CASH LENDING |
| Price | Free |
| MOD | No MOD |
Zada Cash APK is a loan app that helps you to get quick loans. It has a simple and easy-to-use interface designed to make the loan application & disbursement process quick and convenient.
The app offers a range of loan products with various terms and repayment periods. You will be allowed to evaluate & calculate your loan repayment based on your loan amount and term.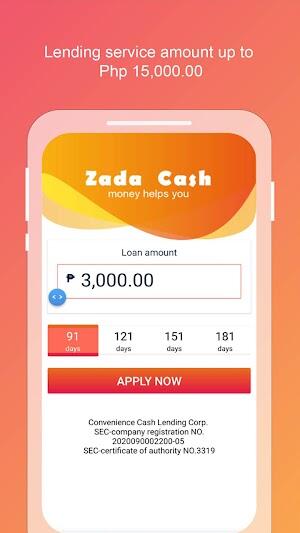 Besides, the application has an interest rate of 0.067%/day and a maximum APR of 24.12%. These affordable rates make Zada Cash APK one of the most reliable & hassle-free loan options for borrowers.
If you ever find yourself in a financial emergency, you can turn to Zada Cash APK for Android. It is non-exploitive and releases funds fast, ensuring that your financial needs are met timely and efficiently.
What is Zada Cash?
Zada Cash is a lending corporation registered in the Philippines. It is recognized by the SEC as a financial services provider that offers quick, easy, and affordable loans to borrowers.
The application was designed to support millions of Filipinos who need fast access to credit. As such, it offers flexible products with competitive interest rates and repayment periods.
The minimum repayment period is 91 days, while the maximum is 120 days. The duration is tailored to help you manage your finances and repay the loan without financial stress. This way, you become the boss of your finances.
Why Zada Cash APK Download?
Have you ever faced an unexpected expense or financial emergency and needed money fast? It can be frustrating to wait several days or weeks to get the funds you need. It's even worse when you're dealing with a financial emergency.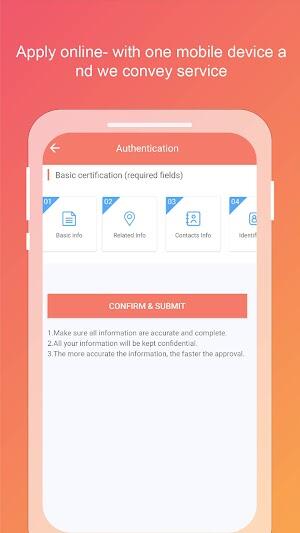 Fortunately, there is an easier, faster way to get the funds you need. With Zada Cash APK download, you can quickly access credit and get your emergency resolved in no time.
The application has fast approval times and easy loan processing, making it a convenient solution for anyone who needs emergency funds at short notice. As such, you will never again have to worry about unresolved financial emergencies.
How Zada Cash APK Works
To use Zada Cash APK, you need to download the application from your device's app store. Once installed, you can create an account by filling in the required information. The application is authenticated to ascertain your identity and confirm you are a legal resident of the Philippines.
Once all this information is verified, you can apply for a loan online. The application will review your information and determine whether or not you are eligible for a loan. If approved, the funds will be deposited into your account within a few minutes.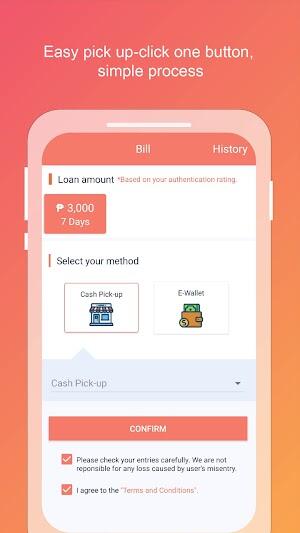 However, you must only include accurate information when applying for a loan. Otherwise, your application may be denied, and you will have to wait until the next time you apply before getting approved.
Besides, your bank account must be active and in good standing. This will ensure you withdraw your loan funds successfully and avoid complications with the application.
Other Exceptional Features of Zada Cash APK
No Paperwork. During the registration & loan application process, you will not be required to submit any paperwork. This makes the application quick and convenient and ensures you don't have to wait long for your funds.
No Collateral. Zada Cash APK does not require collateral or security when processing loans. This reduces the risk of having your loan denied and helps ensure that you get approved and receive your funds as quickly as possible.
24/7 Customer Support. If you have any questions or issues with your loan application, you can access customer support hassle-free. This helps ensure you get the help and guidance you need to successfully apply for a loan and use it to manage your finances effectively.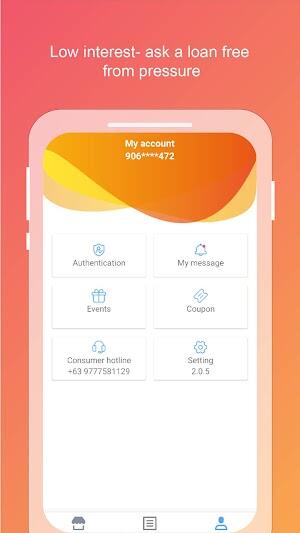 Affordable Interests. Zada Cash APK offers competitive interest rates, ensuring you get the most value for your loan. Whether you need to cover a small or large expense, you can rely on this fast and flexible financial solution to meet your needs.
Clutter-Free User Interface. The user interface is clean and streamlined, making it easy to find the information you need and complete your loan application quickly and easily. With Zada Cash APK, managing your finances has never been easier!
Straightforward Terms and Conditions. The application's terms and conditions are clear and concise, helping you understand your obligations as a borrower and maintain good credit over the long term. You must be a Filipino aged 18+ to use the app.
High-Security Guaranteed. Zada Cash APK uses secure and encrypted network connections to ensure that your personal information is always protected. This ensures that you can confidently use the application without concerns about your privacy or security.
You can download Zada Cash APK MOD to get rid of advertisements. This will guarantee a seamless and convenient user experience, allowing you to concentrate on managing your finances and getting your emergency resolved quickly.
Conclusion
If you are looking for a fast, convenient, and affordable way to deal with urgent financial needs, Zada Cash APK is the solution for you. With easy loan processing times and minimal paperwork required, it is ideal for anyone who needs quick access to funds at short notice. Download it and resolve your financial issues right away.