Make your Instagram account great with the Who Follows app. Know in real-time who follows or unfollows you. Mass unfollow others or boost your stories & posts!
Information of Who Follows Analytics Premium
| | |
| --- | --- |
| Name | Who Follows Analytics Premium |
| Updated | |
| Compatible with | Android 5.0+ |
| Last version | 1.0.7 |
| Size | 27.90 Mb |
| Category | Social |
| Developer | Who Followed |
| Price | Free |
| Google Play Link | |
| MOD | Premium unlocked |
About Who Follows Analytics Premium
Are you curious to know who is following you on Instagram? Do you want to know who just unfollowed you? If yes, then Who Follows Premium app is for you! This awesome application by Who Followed has seen over 1 million downloads on Google Play Store within a short period. That is a clear indication that this tool delivered the desired results. The main aim of this application is to allow Instagram users to see the stats of active followers, unfollows, and more.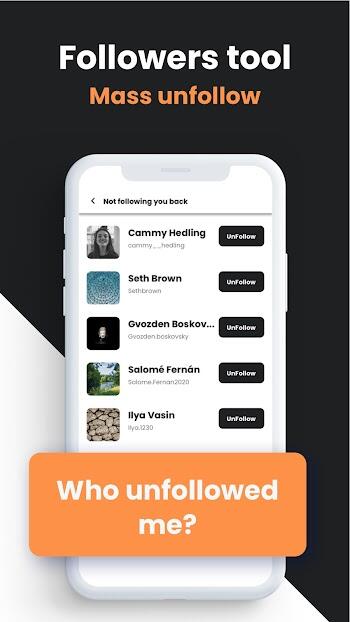 According to users, this is the fastest and accurate way of checking Instagram stats. Fanatics of Instagram can easily tell who followed or unfollowed them, detect blockers, know how many followers you have, rank best friends, and more. With a click of a button, you can organize your follower list and keep important data about them privy. Don't hesitate to download and install this app now to keep yourself updated with what is happening on Instagram!
Accurate Stats about Your Instagram
You should not wonder who viewed your profile without doing something to find out! With this app, you will be able to see your Instagram data and know who is following or unfollowing you in real-time. Using this amazing app, you will have all this data on your palm! Check everything that is going on on Instagram and get related data instantly. You can also check the comments and likes on your posts.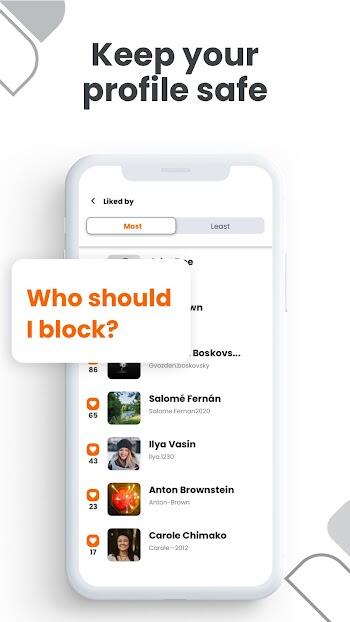 Without a doubt, Who Follows is an impressive follower analyzer app that allows the user to know all about their social media profiles. That includes views on the profile, stories, the number of flowers and unfollows, and much more! In addition, you will get various insights concerning your follower report, comments, and likes, plus other popularity metrics on Instagram. The Who Follows app has incredible answers to questions like 'who viewed my profile?', 'who unfollowed me?', as well as 'who is my best fan?
Who Follows Premium Features
Even though we freely use social media today, we often do not know who is following us or who has decided to unfollow us. If anything, we only notice numbers of followers either increasing or reducing. However, we now have a tool that can help us with this! That is the Who Follows Premium app. Here are some of the features that will make you want to try it!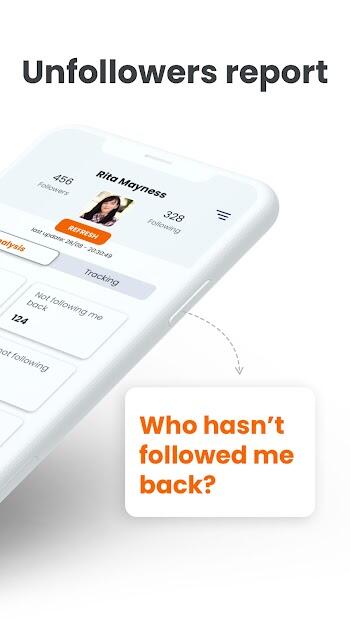 Powerful Profile Analyzer – the objective of this app is to give prompt account analysis on the social media accounts of a user, especially Instagram. You will get relevant data about such as the people who followed or unfollowed you on Instagram. On the other hand, you can also unfollow a huge chunk of followers with a click of a button if you so desire! Essentially, this app helps you to save energy and time while unfollowing a large number of people.
More significantly, you will see who unfollowed you, reflect on the cause, and come up with ways of making your followers stay put. For example, you may think about adjusting your content to retain followers. If you gain followers, you may also the kind of content they like most and continue creating and posting more of it. The app allows you to save descriptions and hashtags as templates since you may need them in future posts. Download this great tool now and analyze your account without breaking a sweat!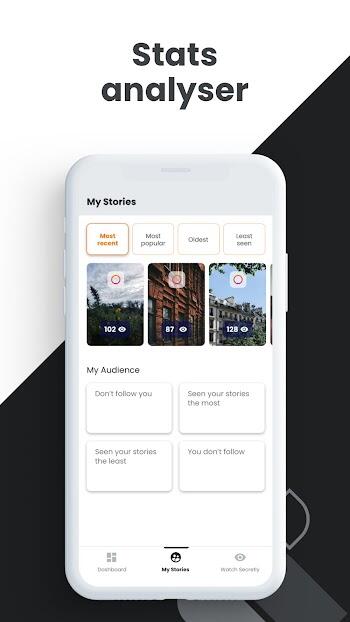 Track Your Profile – this tracker feature allows you to generate profile insights particularly about your popularity. In short, you will be able to learn how your posts do over a certain period and boost your profile! You will know who your active followers are, how many followers you have lost over time, and your best or popular posts. If you think you have a secret admire who is not ready to spill the beans out of the bag, you will easily catch them with this feature! Just get this app to track your profile and discover social media fans and know what they do on your account, stories, or posts.
Know Who Unfollowed You – this is the most vital feature in the Who Follows Premium app – who unfollowed you! With the info extracted by this feature from your Instagram, you can know who unfollowed you and get a chance to evaluate your content and plan in advance. As mentioned earlier, you will understand when people decided to follow or unfollow you. As a result, you may be the cause of their action, mostly being instigated by your content. If you had people unfollowing you, you can plan to post more convincing content and perhaps remove the controversial one.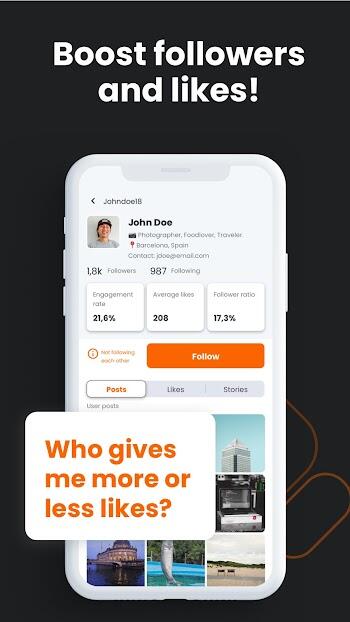 Mass Unfollow Others – on this app, this fascinating feature allows you to unfollow dozens of people at once! This way, you don't require to unfollow single accounts manually since that will take ages. just use the mass unfollow feature to unfollow as many people as possible with only one click of a button.
Influencer Profile Booster – with this app, you can make your stories, posts, likes, or comments grow. You can secretly watch stories to increase views as well as boost the posts, likes, and comments!
Who Follows Analytics Premium Mod APK Free Download – Unlimited Likes & Comments
With the Who Follows Analytics Premium Mod APK, you can get unlimited likes and comments on your stories and posts. Download the app now and enjoy the spectacular features it has to offer and make your Instagram account great!