Do you love Spiderman and dream of saving your hood from bad guys using spider webs? Download Web Master 3D and enjoy the thrilling action while saving the city!
Information of Web Master 3D
| | |
| --- | --- |
| Name | Web Master 3D |
| Updated | |
| Compatible with | Android 5.1+ |
| Last version | 106.2 |
| Size | 245.19 Mb |
| Category | Role playing |
| Developer | TapNation |
| Price | Free |
| Google Play Link | |
| MOD | Unlimited money |
Do you love Spiderman? Have you ever dreamt of having web-slinging devices similar to those of Spiderman, kick some bad guys and save the city from crime? Download Web Master 3D game for an explicit experience of saving the city with spiderman abilities!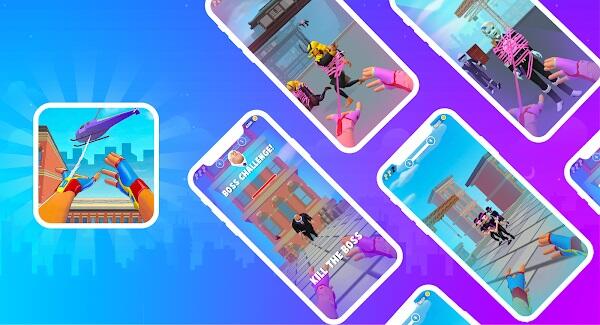 Web Master 3D by TapNation is a Role-Playing Game (RPG) that is easily compatible with any Android device. In this game, you will have spiderman powers that you will use to defeat enemies and criminals. The game is divided into various levels. To advance in levels, the gamer should win each level by shooting to maim or eliminate opponents with spider webs. The most exciting thing about the game is the movement of the character from one building to another, clinging on walls or cranes by just hanging with spider webs. Download the Web Master 3D game and enjoy all the action that is in this game!
Be the City hero‪!
As criminals invade the city, a hero is needed to emerge and protect citizens. The hero should always be at the scenes of crime as soon as possible and save innocent people from the criminals. The hero skillfully swings and flies across the city to face enemies and save the city with the help of web-slinging gloves! This is the setting of the Web Master 3D game. This action-packed arcade game involves saving the city from criminals by using spider webs.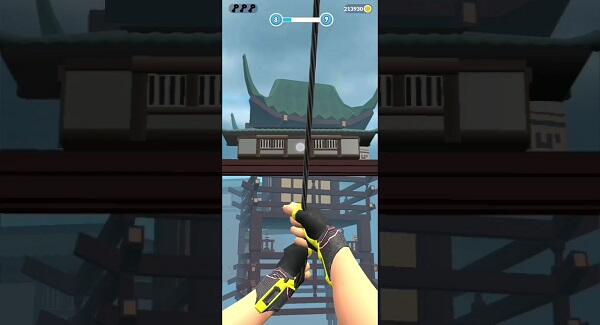 Notably, Web Master 3D is a first-person all-action game in which a gamer controls a hero capable of shooting cobwebs. The controls of the game are very simple. you just need to touch the screen to hurl webs towards enemies. What makes the game interesting is the ability of the character to hit enemies against the walls or make them collide with each other. You can also pick items and hit your enemies.
As you progress through the series of game levels, the number of enemies keeps on increasing. Luckily, you will not only use webs to defeat them. You will also have various objects like boxes to maim and eliminate them. Success in various levels will earn you a higher in-game currency which you can use to buy new skins for gloves.
Web Master 3D Features
Without a doubt, Web Master 3D offers the greatest stimulating action among many games in this genre. Notwithstanding, the game also offers the following cool features.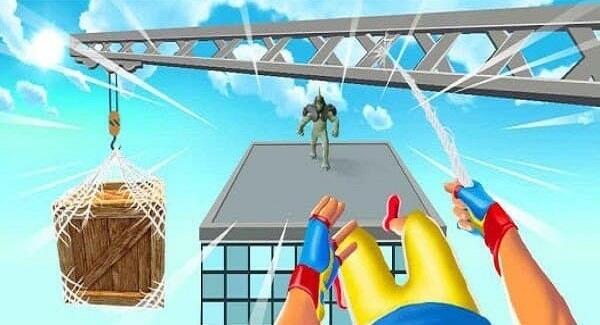 Stealth Action – the Web Master 3D is load with tons of breath-taking action. You will play a hero with spiderman superpowers that fling webs to incapacitate your enemies. Moreover, you will be sticking them to buildings or smashing objects on their heads. In other scenes, you will have to defeat criminal gang bosses and who huge and difficult to defeat. After eliminating all the enemies on sight, you have a helicopter to take you to the next level! Download Web Master 3D and enjoy this addictive and very dynamic action!
Thrilling Adventure – you have not been bitten by a spider, yet you can still throw webs to overcome your enemies. Besides, you can jump from one building to another using hanging webs. You will have to face different enemies including humongous bosses, monsters, samurai soldiers, and even city gangs with guns. What is more electrifying than the use of a chopper to carry you to another level of the game? Download Web Master 3D and enjoy the thrilling adventure of exploring and saving the city at light speed!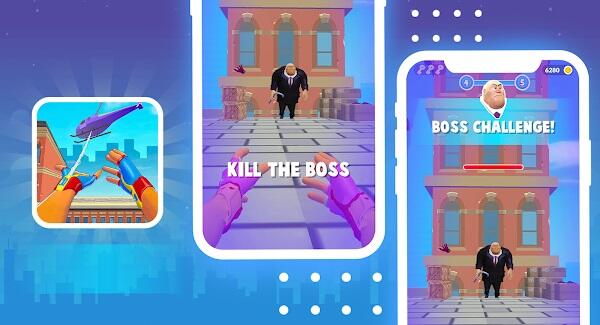 Intriguing 3D Graphics – the game has excellent 3D graphics that bring out the best interface and animated effects. This is a first-person action game that makes the player feel part of the game. During the various action scenes, the movement of the hero is also effective and without lags! Download Web Master 3D now and enjoy the graphics that come with this thriller action game.
Different Levels – the game offers a series of various levels with different difficulty levels. You can then become the strongest web superhero with the upgrade of the gloves. On various levels, you will fight different bad guys including Crocodile-man, Rhinoceros man, gang Bosses etc. you also be saving people hanging from a burning storey building, face samurai soldiers in a Japanese environment, hunt for city bad guys etc. Get away to another level by hanging onto a chopper!
Download Web Master 3D mod APK Now – Get Unlimited Gems, Gold, and Elixir
Get into the action that comes with Web Master 3D mod APK Now. Download Web Master 3D Mod APK Latest Version and win unlimited gems, Gold, and Elixir.