Are you spending most of your productive time on WhatsApp and want to have a change? Track your online time with the WaStat WhatsApp Tracker. Use your time wisely!
| | |
| --- | --- |
| Name | WaStat |
| Updated | |
| Compatible with | Android 5.0+ |
| Last version | 1.61 |
| Size | 21.85 Mb |
| Category | Tools |
| Developer | Peanut Butter Inc. |
| Price | Free |
| Google Play Link | |
| MOD | Premium unlocked |
Luckily, we have dozens of social media platforms that help us interact with friends and relatives at any time. These platforms come in handy especially when we are in different geographical locations and need to catch up real quick. However, we spend so much time online that we sometimes forfeit our daily routine. A majority of people are immersed in the diverse content that WhatsApp offers and can't help but to spend all their day with their eyes glued to their mobile device screens.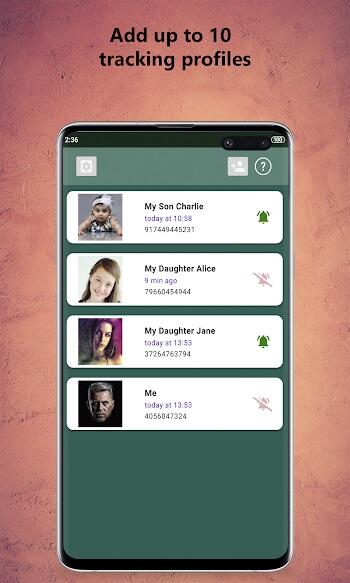 WhatsApp messaging app has changed our lives in a great way. However, we can trace and manage the number of hours that we spend on WhatsApp. You can track how you use this app throughout the month. In simple terms, we can control the time we use WhatsApp every day using the WaStat WhatsApp Tracker tool. This tool is developed by the Peanut Butter studio and is currently being used by millions of people all over the globe. If you don't want to spend too much time hooked to WhatsApp chats, download and install WaStat WhatsApp Tracker.
WaStat WhatsApp Tracker – Control WhatsApp Usage Time
Do you love using WhatsApp messenger but feel that you are using a lot of time on it? Are you missing engaging in routines that are more productive because you can't help but be on WhatsApp for many hours? If yes, you need to download the WaStat WhatsApp Tracker tool now. This tool comes in handy to help you monitor all your activities in WhatsApp and display them in a clock view. Moreover, you can also see statistics in charts for the last 30 days. Without a doubt, WaStat is the best usage-tracking assistant for WhatsApp last seen.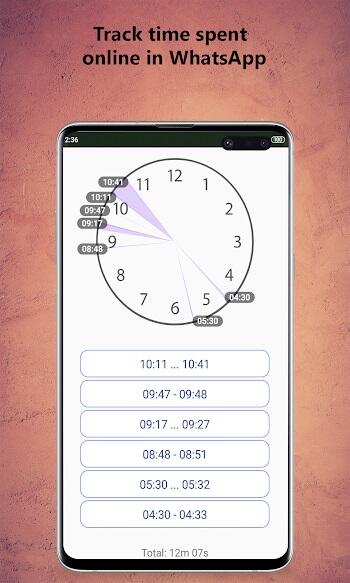 Apart from tracking yourself, the WaStat app offers users a simple mobile tool to trace usage times of up to 10 WhatsApp accounts. To use this feature, you only need to enter the user's phone number. What's interesting is that you don't have to be an account holder to use this App. This should not cause any alarm as an invasion of privacy! The tool is only limited to tracking the time a person is using WhatsApp.
WaStat WhatsApp Tracker Features
This time tracker app can monitor all of your activity on WhatsApp Messenger. The app features a tool that displays the tracking in a handy clock view. Here are some fascinating features of the app that really stand out.
Track Your Time on WhatsApp – with this app, you can check the periods you use most of your time on WhatsApp. As an extra feature, you can also check the time that other users are connected. You can check the usage statistics per hour or for the last 30 days. This tracking is essential if we want to reduce the time we are connected to this addictive application. This application is very helpful to parents if they suspect that their children are using WhatsApp excessively.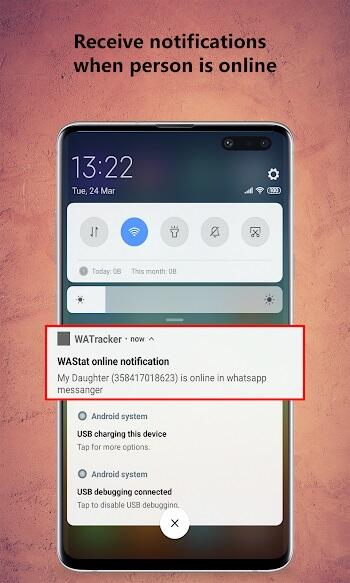 Receive Notifications – the WaStat WhatsApp Tracker features a tool that helps us receive notifications when the user we are monitoring comes online again. In addition, this notification tool will also show us the last hour of connection. This way, you can get those who are fond of ignoring your messages and lie about not being online.
Analyze Online Stats – get to know which days of the month you were online for a long period. You can then come up with a plan to avoid heavy usage of the application that may get you in trouble at home, school, or work!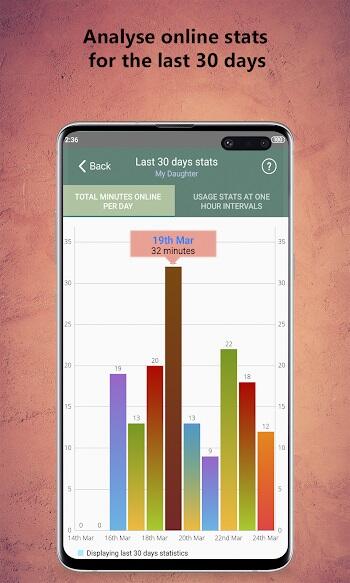 Android Compatibility - WhatsApp tracker app is compatible with devices that have an Android 5.1 rating. It can be downloaded and installed from Google Play Store for free. Notably, this app does not violate WhatsApp terms of usage and privacy policy. It does not facilitate cybercrime in any way. The latest, most optimized version is also compatible with android devices.
Monitor Up To 10 Profiles – track when up to 10 selected people get online. All you have to do is select their contacts and make a list of 10 profiles that you want to follow. This feature sends you notifications as soon as any person included in the list comes online.
Download Wastat Mod APK Latest Version – Free Subscription
With the Wastat Mod APK, you experience more real-time tracking of WhatsApp usage of your loved ones. Get the Wastat Mod APK Download Free and use premium tracking features without any subscription fee.