Build your own company that makes video games in the Video Game Tycoon. Download the Video Game Tycoon Mod APK - Unlimited money now, make sufficient money, and grow your business!
Information of Video Game Tycoon
| | |
| --- | --- |
| Name | Video Game Tycoon |
| Updated | |
| Compatible with | Android 4.4+ |
| Last version | 3.9 |
| Size | 98.64 Mb |
| Category | Strategy |
| Developer | Holy Cow Studio |
| Price | Free |
| Google Play Link | |
| MOD | Unlimited money |
Would you like to play a game where you create mobile games? Download the Video Game Tycoon by Holy Cow Studio! Here, you will play a strategy game that more than 1 million gamers world is playing. Video Game Tycoon is a spectacular idle clicker game where the player creates and runs a game studio company. The company's main role is to develop PC, consoles, mobile games, and more.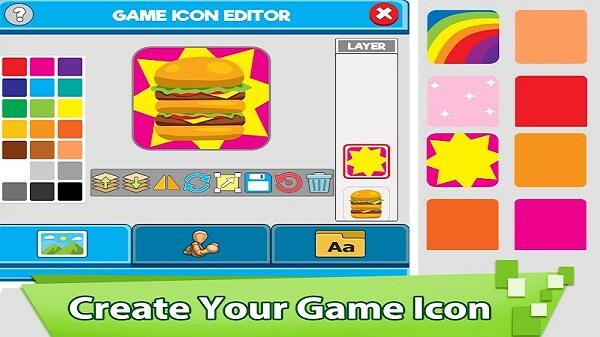 Your end objective is to grow your business and come out as a leading mobile game development company. Here, you will act as a freelance video game developer and start creating mobile video games. You will gradually expand your company by employing more workers and creating more games.
Tap the screen to create your own android video games now! If you think that is something you can do, get this game today! You will become a tycoon as you run your business empire.
Become a Tycoon Game Developer
More than 1 million gamers around the world are playing this idle clicker and tap game. This is an entertaining clicker where players start their own business that creates and publish their own video games. In the beginning, your Studio will start implementing small and light projects. Gradually, you will expand the business and become a bestseller of the game genre.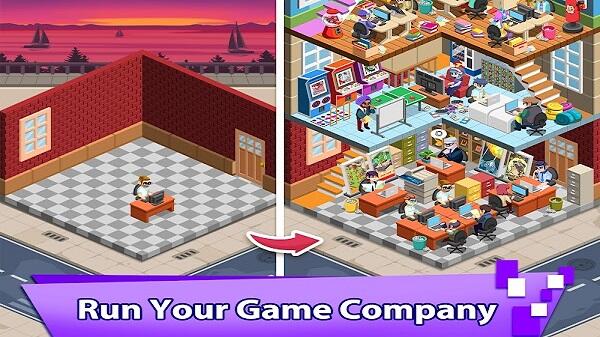 To grow your business, employ and manage people, control your office, customize developed games based on the responses of users. With this game, you can earn idle cash even while you are offline and utilize it to invest and grow your business.
Using the collected funds, the player will be able to purchase new equipment. Truly, this is an ideal game for everyone who desires to have a game where they start a business in the game development space. Click and make as many games as you can in this simulation cum strategy game.
Video Game Tycoon Highlights
This game comes with various features that make it stand out in its genre.
Run Your Own Video Game Company – become a video game creator, tap, and build a range of games. The more employees you hire and the equipment you acquire, the more games you are able to create. As a result, you earn more and more in-game money! Build your idle studio, tap, and grow! Plan to use the earned money in enhancing the investment.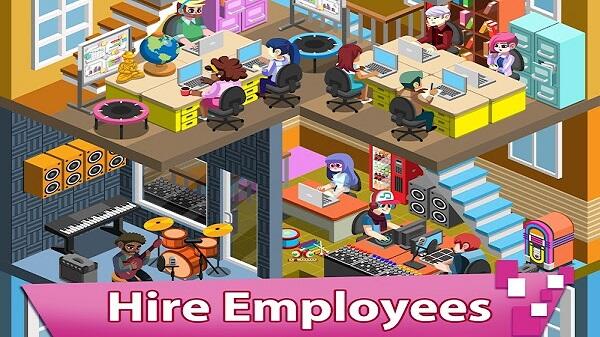 Automate your workflow to boost idle income. As you begin the game, you will need to give the company a name. Here, you play by tapping on the screen. Control other aspects of your business like hiring staff, buying equipment, customizing your office, and more. Become the market leader and shape up an empire in this interesting and addictive and engaging tycoon simulation idle game. Create your own empire from scratch.
Make Awesome Game Apps – before you create a game, you should select the platform that your game will be based on. That means you will be making games for PC, Consoles, Mobiles, and more! Create different amazing games, customize them by naming them, updating, and even launching them! Profit from every smart game you create to boost your cash flows. Ensure that you can create more and more games daily and become the best video game creator.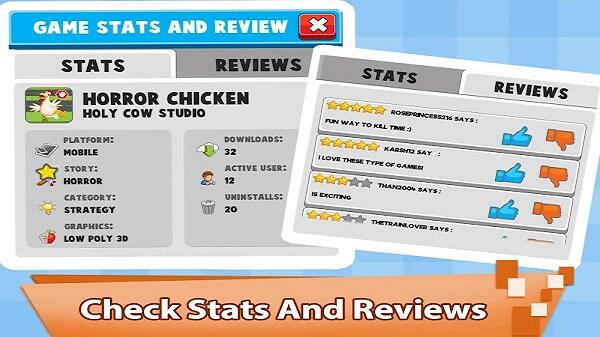 Hire Employees – hire and manage workers for your company to increase your income per click. Automate your tap workflow to raise your idle earning. Hire more employees, make more games, name them, and customize them! Here, each employee has a distinct clicker tycoon effect. Get a preview of the story or desires by reading cool and funny messages from them. Know what they are thinking or talking about.
Customize Your Office – use your money to unlock cool items or accessories as you level up courtesy of in-game cash bonuses that this game offers. You can acquire more office items or even re-arrange everything from office tables, Computer desks and all kinds of props. You can unlock more items in the game and easily customize your own office the way you want!
Game Analytics and Stats – the most fascinating thing is the ability of the game to display the statistics of the games you create. That includes the number of installs and uninstalls of your games. Follow the stats to know the challenges users are facing while using your apps. That can help you become a leading video game creator in the games industry.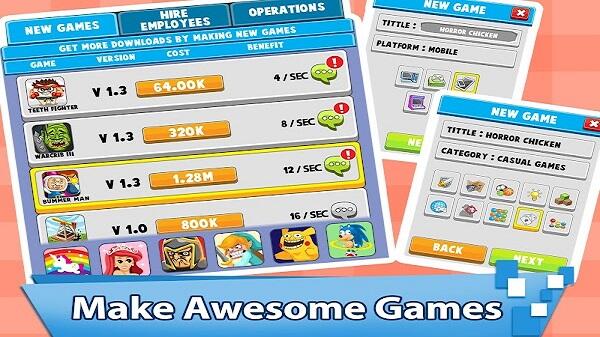 Unlimited Money – for every game level you complete successfully, you get unlimited money. In addition, you get money as you sell the created games throughout the game. Ensure you make good use of the earned money to invest and make better your business.
Multilingual support – in this game, you will be able to select your favorite language from English, Portuguese, and Japanese.
Download Video Game Tycoon Mod APK – Unlimited Money
With the Video Game Tycoon Idle Mod APK, you will enjoy gameplay where you can make lots of unlimited money by creating and selling android video games. Play by clicking only!