Do you want to create and manage your own school? Play University Empire Tycoon Mod APK - Unlimited money and gems and try to create your own school and expand it. Teach students now!
Information of University Empire Tycoon
| | |
| --- | --- |
| Name | University Empire Tycoon |
| Updated | |
| Compatible with | Android 5.0+ |
| Last version | 1.1.8.1 |
| Size | 181.78 Mb |
| Category | Simulation |
| Developer | Codigames |
| Price | Free |
| Google Play Link | |
| MOD | Unlimited money and gems |
Unlimited money (Even if you're not enough)
No ads
About University Empire Tycoon
Schools are a vital part of any society in the world as they are the primary means to get education. They are virtually in every city and town around the world as these institutions get students to enroll every year. If you've gone to school or are still a student, then you know how important education is. In University Empire Tycoon, you get to be the one calling the shots instead of being a student. Here, you get to manage your own educational institution.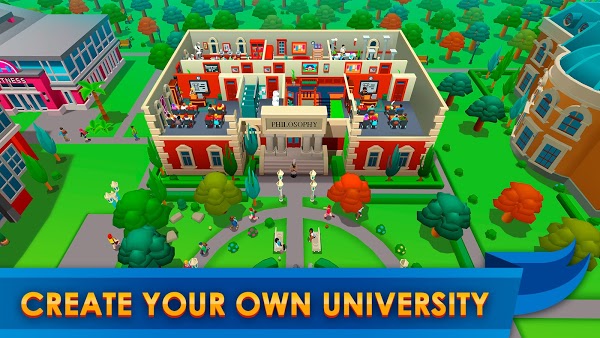 As the head, you'll need to make a lot of important decisions which will ultimately for the benefit of the employees, students and the school. To do this, you'll need to build classrooms, add new subjects, hire employees and expand your operations. You can also participate in competitions online to prove that your school is a premiere one.
Create Your Own University
Have you ever been to school? For most of us, this is a nonsensical question as we spend almost our daily lives in our school learning a lot of things. This is an integral part of our lives so that we can become professionals in our adulthood. But what if your dream is to create your own university? In University Empire Tycoon, you get to do just that as you're in charge of everything.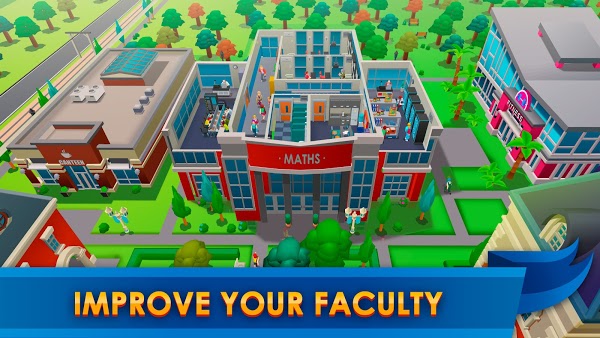 Here, you get to call the shots as the head which means you're responsible for growing the school and meeting the needs of all your students and employees. You'll then need to improve upon things such as creating more classrooms, adding more subjects, and improving your overall status and reputation. You don't want to solely focus on profits as you also need to address the needs of your students. You also need to hire the best employees so you can realize your goals faster.
To achieve this, you'll need to take note of building facilities such as sports areas, student clubs and many more. Enjoy becoming the head of the school now!
University Empire Tycoon Highlights
We've always dreamed of ruling the school one day back when we're still students. But in University Empire Tycoon, you get to do it for real!
Create Your School – As a student, we have a responsibility to study hard so we can get good grades. Eventually, we'll leave school to find jobs so that we can make a living. But if you've always wanted to try ruling your own school, you can now do so in University Empire Tycoon! Here, you're in charge of everything from hiring employees to expanding the operations of the school. Your ultimate goal is to get idle profits as well as increase the school's reputation.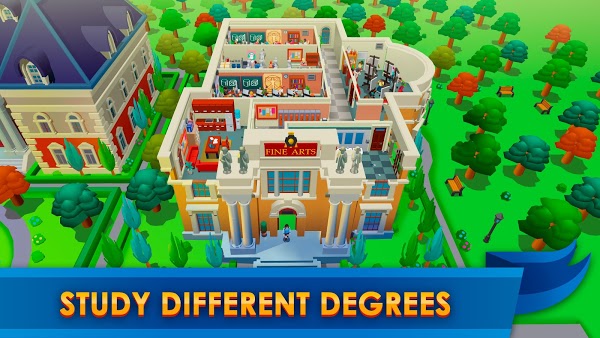 If you achieve this, there are more students that will enroll and better employees will want to work in your school. But before that, you need to do a lot of things such as erecting classrooms, and facilities. You can introduce a new sports ground, more buildings and faculty lounges. But you need to take note that all of these costs' money so you're also the sole accountant of the school!
Create Facilities – One of the primary things you need to do is to erect facilities. This includes classrooms, faculty lounges, student clubs, leisure zones and many more. You can further install better basketball hoops, modern blackboards and many more. You can upgrade a lot of facilities in the school which will directly and indirectly contribute to your school's success. But you also need to decide wisely on what to invest in as your resources are limited.
Hire People – One of your primary concerns are to hire competent employees. Like your school, teachers and employees also have their own salary rates and reputations. This will affect who you can hire as you can't afford those with higher reputations at first. However, the better the employees, the more income you can generate in the long run. So, it's up to you to budget and allocate your expenses wisely.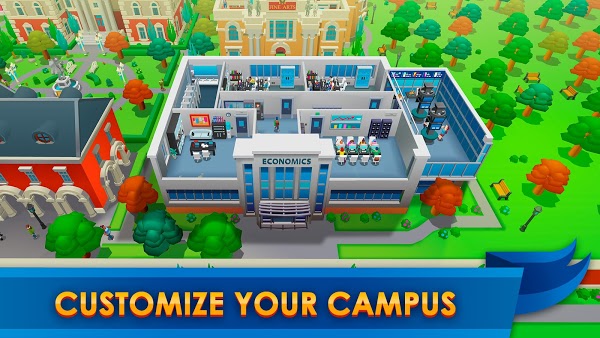 Expand your operations – Another thing you'll enjoy doing is expanding your operations. This means adding new educational programs such as law, medical college, literature, physics, chemistry, math, engineering, and more. Each one of these requires their own buildings and facilities. You can then hire competent teachers to teach these subjects to your talented students! Try to add all of these subjects to your school!
Enjoy competitions – You will also enjoy the ability to compete with other universities online. Join contests and prove your worth to rise up in the rankings.
Download University Empire Tycoon Mod APK – Unlimited Money And Gems
Want to have your own university today? Enjoy managing your school in University Empire Tycoon with unlimited money.