Download the SYOK tv apk no ads app now and quench all your entertainment needs. Access a range of entertaining content from radio stations, podcasts, articles, and more!
| | |
| --- | --- |
| Name | Syok TV |
| Updated | |
| Compatible with | Android 6.0+ |
| Last version | 8.20.0 |
| Size | 61.85 Mb |
| Category | Music & Audio |
| Developer | Astro Radio Sdn Bhd |
| Price | Free |
| Google Play Link | |
| MOD | Premium Unlocked |
Play SYOK TV is the ultimate entertainment application for everyone interested in watching a vast collection of magnificent content. This wonderful app by Astro Radio Sdn Bhd is a perfect player for IPTV, VOD, EPG, Video Series, and Catch-up TV right from your Android TV, Android Stick, Android Tablet, or smartphone.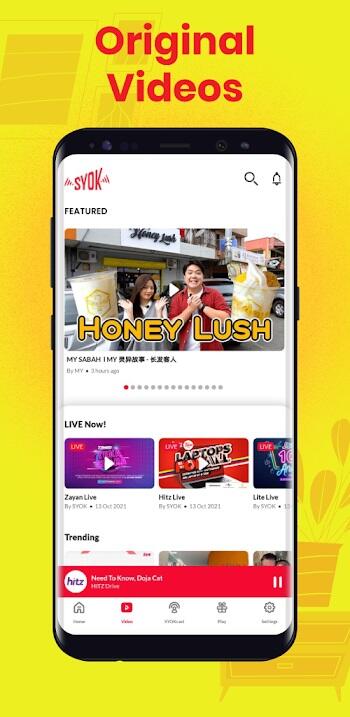 With this app, you can listen to radio stations, music, and podcasts at SYOK. The video live stream feature from SYOK APK will allow you to stream your favorite videos, anywhere, at any time. The best part is that the app is hassle-free. Listen to over 60 online radio stations for your uninterrupted enjoyment. Download this app today and join millions of users enjoying this app today.
An App for the Ultimate Entertainment
As Astro Radio celebrates 25 years of being in operation, they have revitalized the SYOK App. The company has continually powered ahead in its transformation journey. From 1 November 2021, Malaysians can listen to over 60 online radio stations offering a vast variety of music and updates. The app also features a Chinese news channel 'YOU-NEIRONG' that provides users with the latest news and updates on current affairs.
The SYOK app users can stream their favorite music genres and many categories in different languages including ballads, acoustic music, classics, dance music, K-pop, workout music, hip-hop. There is also a huge collection of favorites from the 70s, 80s, and 90s, rock, Cintan, Jiwang, Nasyid, Arabic, Irama Malaysia, Bollywood songs, Dangdut, and more. The most outstanding thing about this app is that users can also chat with one another using the live chat feature.
SYOK App Features
Here are the features that make this incredible stand out as a flawless source of entertainment.
Wake Up To Your Favorite Radio Station – SYOK App users can enjoy many exciting new and upgraded features radio station. Now, users can listen to over 60 new online radio stations! Get the app now and enjoy more music from the many multi-lingual radio stations in this app!
Astro Radio's brands on-air and on TV stations including ERA, HITZ, MY, SINAR, RAAGA, GEGAR, MELODY, ZAYAN, MIX, GOXUAN, LITE, and more are available. This makes Astro Radio's SYOK app the first in Malaysia app to launch the most number of online radio stations on one app simultaneously.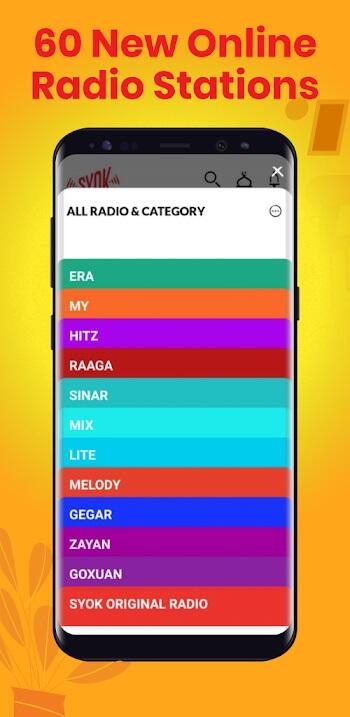 High-Quality Audio Streaming – with this app, you can now stream your favorite content from the best radio stations from this side of the world. From the easy-to-use app interface, you only need to scroll down to see the available station selection.
This special online radio and music app offers a simple way for users to stream their favorite Malaysian radio and chart shows in numerous music genres such as pop, rock, classic, Kpop, Blues, Rnb, Hiphop, Jpop, Jazz, Raggae, Rap, Techno, Disco, Edm and more.
Play Podcasts and Videos – install this app on your android device and discover new and original Malaysian podcasts! With this app, you are guaranteed the best podcast content. Tune in because we are about to spill some tea!
Malaysians and other users from South Asia can continue streaming trending podcasts in different languages available on SYOK. Popular podcasts such as Pei Diary with Lingkesvaran, Confession Bilik Gelap, Moon's Parenting Tips, TechniPod, and more are available. Enjoy original videos too. The videos cover collection topics and genres. Open this app now and grab some popcorn coz you will not want to miss this!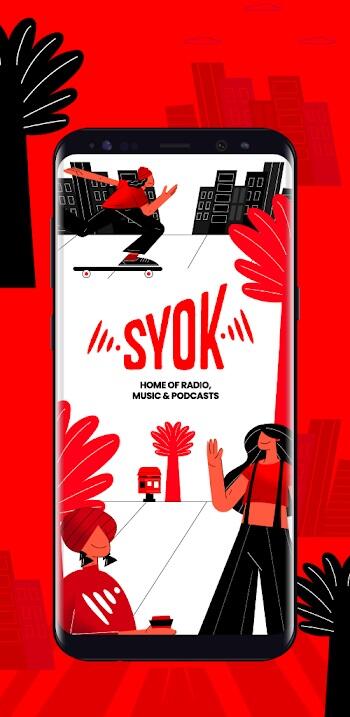 Read Interesting Articles – with the articles highlighted in this app, you will always be in the know! Read the latest events, news, and updates through our articles. Malaysians can also take part in contests for an opportunity to take home exciting prizes such as the SYOK 101 contest available on the app. This is an exclusive chance for SYOK users to win real cash prizes.
There are also many other types of prizes and give-away in form of event tickets. You can get tickets to attend concerts, events, and even watch the coolest movies, and in Malaysia. What are you waiting for?
Explore SYOK Originals – enjoy access to SYOK Original Videos and podcasts tailored especially for Malaysians. Explore relevant and interesting stories like SYOK Food Taster, Everyday Malaysians, SYOK Busybody, and more.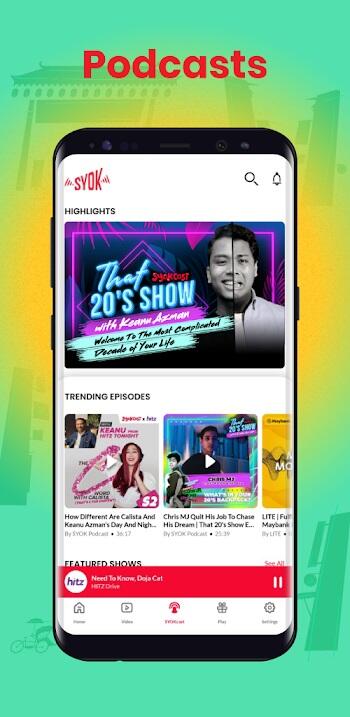 Subtitles – the app offers a range of content in different languages. Users of this incredible app can select the native south Asian languages that you can select from the app settings. Listen to your favorite content in a language you can easily understand.
Live Chat With Other SYOK Users – as the icing on the cake, the SYOK app offers more to radio stations and podcasts. You can chat live with other SYOK users.
Download SYOK TV APK Latest Version – Premium Unlocked
With the SYOK TV APK, users will enjoy premium content. Download the SYOK TV APK latest version and enjoy what the app has to offer.