Download Squid.io MOD APK - Unlimited money - latest version and enjoy adventurous gaming characterized by friendly graphics and exhilarating episodes. It has unique awards for winners.
All skins are open
Unlimited money
No ads
You can get free stuff without seeing ads
Squid.io is a survival game inspired by the "Squid Game" movie. Its gameplay involves overcoming sophisticated challenges to win a handsome reward at the end.
The game has distinct rules that must be followed by every competitor, failure to which they will be eliminated without any reward. As such, you should be careful to stick to all rules as you advance your gameplay.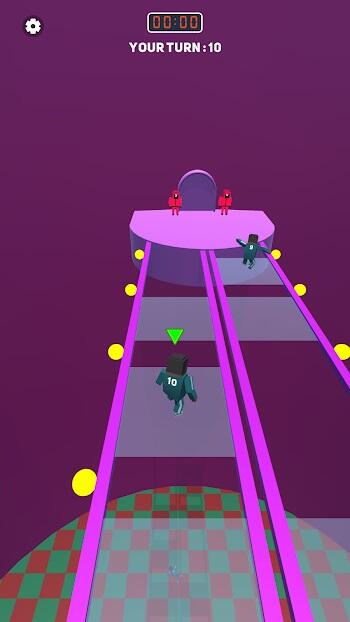 Additionally, the game has tug of war challenges that allow teams to compete for awards. Just like individual challenges, all team members must follow all the rules to avoid elimination.
If this sounds like a game you long for, then you should download squid.io for android. This smartphone version allows you to enjoy the game anywhere!
Exciting Gameplay
Squid.io has straightforward gameplay. When you start the game, your player will be pointed with a green arrow. Your role will be to move this player fast enough to outshine your competitors.
To move your player, you will only be required to press on the screen or drag using a mouse. Only stop pressing when the light turns red. If a doll (positioned at the front) turns its head towards the field play and notice that you're moving when the light is red, you will be killed and eliminated from the gameplay.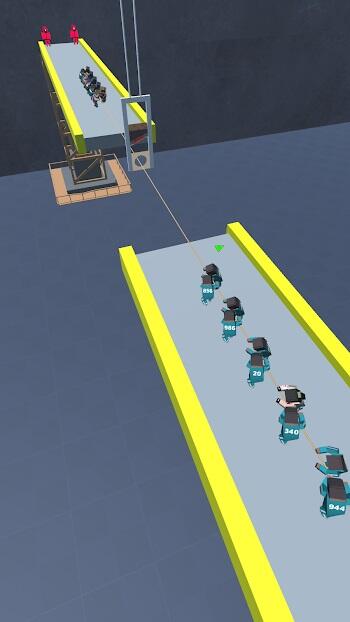 As you move, you will have the chance to collect points and diamonds. The tricky part is balancing between collecting the points and following the rules – it will not be a walk in the park!
On the screen, you will have the following:
The number of participants. This number is usually shown at the upper extreme corner of your game field. At the start, it will show the total number of competitors. However, this number will reduce as participants are eliminated along the way.
Time Count. The time count shows at the upper center section of your screen. You will be required to race to the finish within this time limit. When you start moving, the clock will start ticking and it is your speed that will enable you to finish in time!
Your Current Position. If you want to know how you're fairing in the competition, you will just look up on the screen. Your current position is shown in white. Your goal will be to be among the top five finishers.
Game Level. At the top of your screen, you will have a bar that indicates your level of play. It will be painted white to show you how close you are to the next level.
The game is highly engaging and requires immense concentration. As such, you should play it when you have minimal distractions, lest you get killed for moving when the light is red.
Features of Squid.io
Many Levels with Varying Difficulty. Squid.io offers many unique challenges that will keep you longing for the next level. Each level comes with obstacles and unique rules that make it more sophisticated and fun-filled. The more you unlock new levels, the more you'll be immersed in the game.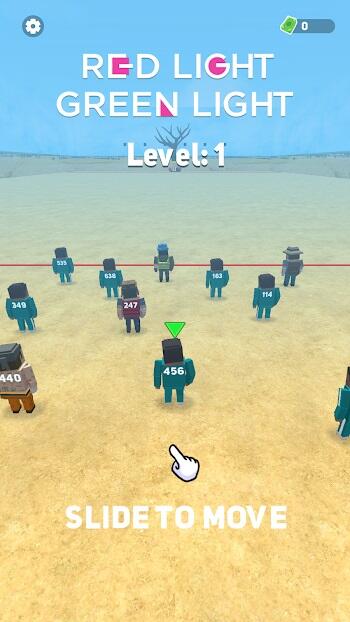 Vivid Graphics. This game uses a simple design. It integrates unique graphics that feature a doll and fellow competitors. Racing towards the finish line will be all fun as you watch your competitors killed and your ranking rise.
Many Unlock Available. Squid.io offers many unlocks that help spice the game. As you accumulate points, you will be able to access unique features such as fast game characters, shields, and many other benefits. If you unlock a shield, for example, you will be able to protect yourself from an attack which can help you escape penalties from minor gaming errors.
Realistic Sounds. This game comes with a tune that is entertaining but not distractive. The tune plays to the end of the game, making it more fun to play.
Squid.io Challenges/ Gaming Tasks
Carve the Candies Challenge. This challenge requires you to remove the outer areas of candy without breaking them. The difficulty for each candy is different. If you break it, you will get eliminated.
Red Light Green Light Trademark. This is the most important feature of Squid.io. You must ensure that your player runs when the light is green and stops when it turns red.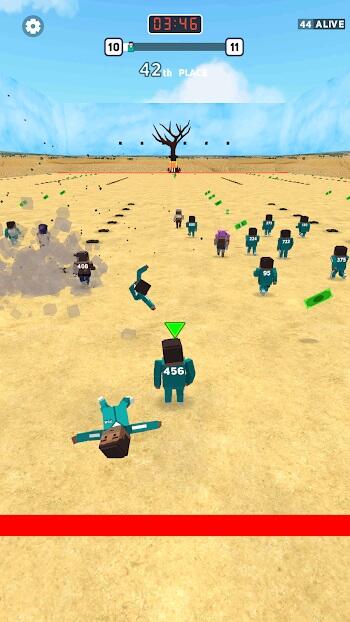 Walk the Glass Bridge. This challenge requires that a player jumps on a pane of glass. This level is tricky and relies heavily on luck. You can either fall or succeed to become one of the survivors.
Tug of War. This is a teamwork strategy that requires each player in a team to tap non-stop on the screen to pull hard. The team that taps longer and faster will be the winner.
Last Challenge. This level requires the player to fight each other in fun-filled sessions. The last five winners get an in-game currency that can help them shop for skins, outfits, and other unique features.
Download Squid.io MOD APK - Unlimited money, Unlocked all
Download Squid.io MOD APK unlimited money to enjoy all features from the beginning of the game. It will be more fun to play without limitations as you explore the improved gaming levels and more exciting challenges. Here are a few features of the MOD version.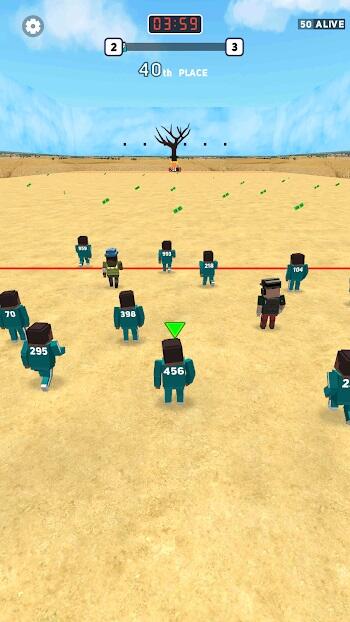 Squid.io MOD APK Unlocked All. This version unlocks all the unique features that would otherwise require a lot of currency to access.
Squid.io MOD APK unlimited Money. The game offers unlimited currency to allow you to buy everything you need to enjoy the game.
No Ads. With the modded version, you will play the game without ads. This feature guarantees optimum concentration.
Conclusion
If you love survival games, then you should download Squid.io APK latest version. It comes with exhilarating challenges that offer an excellent pastime activity. Additionally, the game has a multiplayer function that makes it even more exciting as you struggle to outshine your competitors.