Download Spongebob Game Frenzy APK Mod Latest version and access 50+ games inspired by Spongebob moments. It boasts hilarious adventures that light up your day!
Information of Spongebob Game Frenzy
| | |
| --- | --- |
| Name | Spongebob Game Frenzy |
| Updated | |
| Compatible with | Android 4.1+ |
| Last version | 1.0 |
| Size | 18 MB |
| Category | Casual |
| Developer | Nickelodeon |
| Price | $2.99 |
| Google Play Link | |
| MOD | No MOD |
About Spongebob Game Frenzy
Spongebob Game Frenzy is an Android app offered by Nickelodeon. It offers casual gameplay perfect for relaxing and unwinding.
You will undertake all your escapades alongside your friendly ally SpongeBob Squarepants. It has a simple user interface that is not demanding. This way, you will have all the time to explore the different game features at your own pace.
What is more, Spongebob Game Frenzy requires a minimum of Android 4.1 version to run smoothly on your device. With this app, you can access a library of SpongeBob-inspired games without experiencing any hitches.
Why Spongebob Game Frenzy APK Download?
Ever heard of Bikini Bottom? Well, this term must ring a bell if you are a fan of SpongeBob Squarepants. This is because this is the place where all the action in the cartoon show takes place.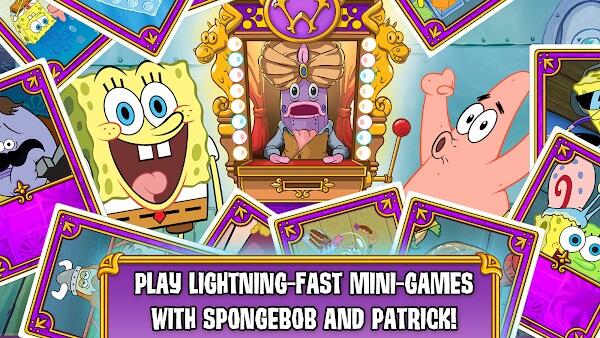 In Spongebob Game Frenzy APK for Android, you will have a chance to revisit Bikini Bottom and live through some of the moments that made the show an international hit. You get to play as SpongeBob or one of his friends and engage in different activities.
It features lots of minigames with super authentic graphics. It takes you on a trip down memory lane as you get to relive some of the sponge-tastic moments.
Even better, this game is easy to control! You will tap, tilt, shake, draw, drag, and scrub your way to success. More importantly, this application is safe for use by people of all ages.
An Immersive Gameplay
This application features two main characters namely SpongeBob and Patrick. It starts after they come across a fortune-telling machine that predicts their future.
The machine developed by Mr. Krabs is called the Great Wumbozi. The two characters are unable to resist the urge to know what the future holds for them. They pop in a couple of quarters and wait for the machine to work its magic.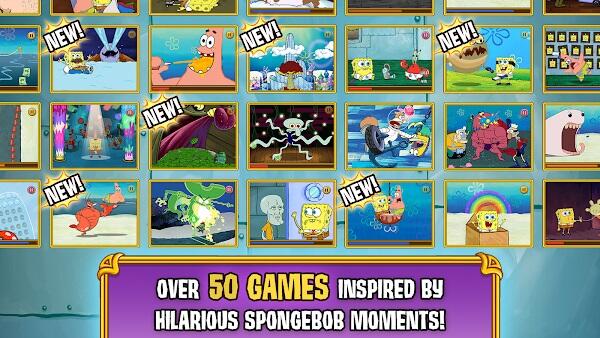 As it turns out, the Great Wumbozi can only generate predictions after you have completed some tasks. SpongeBob and Patrick must now go on an epic journey to make their dreams come true.
That's how their frantic adventure starts! They must go through a series of challenges to get to the next level. The further you go, the more complex the tasks become. Will they circumvent the challenges that the Great Wumbozi throws at them? Play the game to help them!
The many mini-games will keep you glued to your screen for hours on end. They are not only super fun but also rewarding. You will get a sense of accomplishment each time you complete a task.
Outstanding Features of Spongebob Game Frenzy APK 2023
Highly Progressive Gameplay. When you start the game, the mini-games will be simple & uncomplicated. However, this changes quickly as you move to the next level. The tasks become more intricate & require split-second decisions.
A Perfect Combination of Characters. In Spongebob Game Frenzy, you will find all your favorite SpongeBob characters. They include Patrick, Sandy, Mr. Krabs, and Squidward. You will also encounter new friends along the way!
Exciting New Challenges. At each level, you will have to complete different tasks to progress. These challenges are not the same every time you play. They keep the game fresh & exciting. You will never get bored!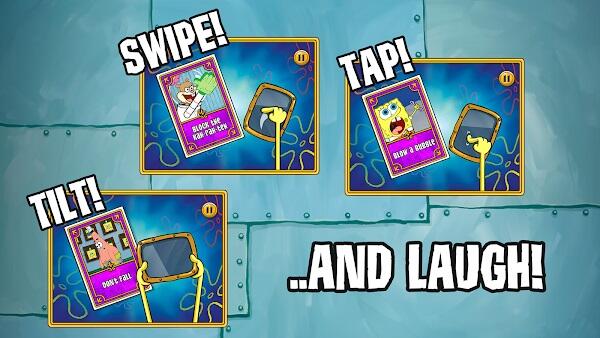 Fantastic User Interface. The controls are very user-friendly, and the interface is straightforward. Even better, the graphics are top-notch! You will feel like you are in Bikini Bottom while playing the game.
Unlock More Mini-Games. As you progress, you will have access to more SpongeBob-themed mini-games. They include Bubble Blowing, Jellyfishing, and Sandy's Tree Dome. Each of these games is unique & super fun to play!
Collect Fortune Cards
Every time you unlock a game, it adds a card to your collection. These cards have different SpongeBob characters & fun facts about them. You can use them to learn more about the show & its cast of lovable characters!
Additionally, these cards help increase the game's difficulty and speed. Consequently, the higher you go, the more intense the gameplay becomes! Are you up for the challenge?
Download Spongebob Game Frenzy APK today & start your adventure! Help SpongeBob & Patrick make their dreams come true. Enjoy hours of fun & excitement with this one-of-a-kind game!
Create a Unique Playlist
One of the best things about Spongebob Game Frenzy is that you can create your game playlist. It allows you to customize your gaming experience & play the mini-games that you enjoy the most.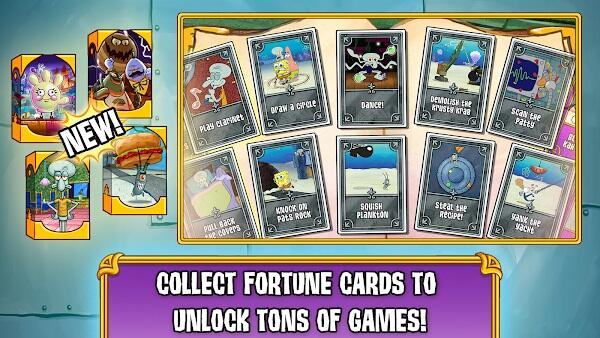 To create a playlist, simply go to the main menu and select 'My Games.' Then, choose the mini-games that you want to include in your playlist. You can also add or remove games at any time.
You can then invite friends and family to play your custom playlist! It's a great way to share the game with others and have a blast together.
Keep unlocking All-Star Cards
As you play Spongebob Game Frenzy, you will collect All-Star cards. There are lots of cards, and each one has a unique character. To unlock them all, you must complete specific tasks
Some of the things that you need to do to unlock the All-Star cards include playing mini-games, collecting coins, and reaching certain levels. The cards are a great way to keep track of your progress in the game.
SpongeBob Game Frenzy APK MOD
The original version of SpongeBob Game Frenzy has in-app purchases ($0.99). As such, you need to pay real money to progress in the game.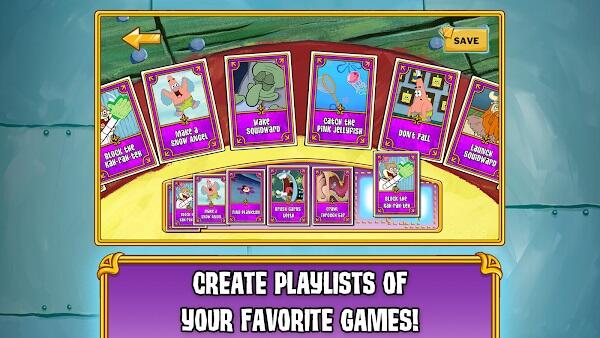 However, you can download the SpongeBob Game Frenzy APK OBB MOD version. With this version, you will have access to all the features of the game without spending a dime!
You can use the modded APK to get unlimited coins, unlocked levels, and all-star cards. It is the perfect way to enjoy the game without restrictions.
Conclusion
Spongebob Game Frenzy recreates the experience of the show & allows fans to play their favorite SpongeBob characters. It is an excellent game for all ages & provides hours of fun.
With the APK MOD version, you can enjoy the game without spending any money. It is a great way to progress in the game and unlock all the features. Download Spongebob Game Frenzy APK today!