Do you want to achieve Hollywood-like effects on your videos? Download Smooth Action Cam now and achieve the smoothest slow-motion effect on your clips now!
Information of Smooth Action Cam
| | |
| --- | --- |
| Name | Smooth Action Cam |
| Updated | |
| Compatible with | Android 4.3+ |
| Last version | 1.6.7 |
| Size | 151.97 Mb |
| Category | Video players & editors |
| Developer | Daniel Korgel |
| Price | Free |
| Google Play Link | |
| MOD | No Watermark |
We've seen a lot of movies and shows where time suddenly flows so slow as the bullet grazes the protagonist. Or when there's a mind-bending sequence of events that the camera suddenly stops at the actor doing something in slow motion. If you love these effects, then you can use them too on your clips! Download Smooth Action Cam so you can apply slow motion to your videos.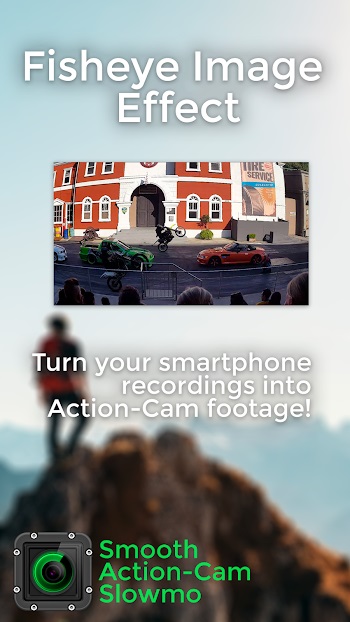 In this app, you are able to create a slow-motion video in different formats. The app supports 30, 60, 120, 240 and more FPS videos! This means that you can create stunning effects using your phone now. But ideally, this app works well with videos shot on GoPro, Sony Actioncam or the likes. Here, you can edit, cut and trim and do a lot of other things.
Smooth Slow-Motion
Nothing beats a slow-motion effect when trying to convey something emotional or action-packed. This effect is so simple yet one of the most-used ones in movies and shows worldwide. It's perfect for just about any variety of movie there is such as action, drama, mystery, and many more. If you want to achieve the same effects, you just need to download Smooth Action Cam.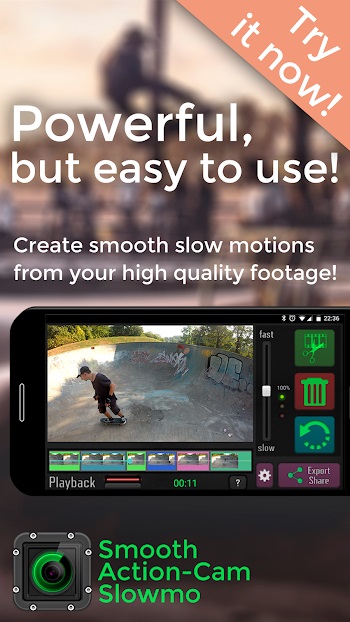 Yes, you don't need any expensive cameras or software just to be able to replicate what you see in movies or shows nowadays. This app from Daniel Korgel is capable of ultra-smooth slow-motion effects that you can easily do. You can slow down parts of the video or the whole clip – it's your choice. Or, you can also calculate additional video frames for smoother results. Aside from that, you can add a slow-motion sound effect to seal the deal. Aside from that, you can also add a fisheye image effect for sports videos and export clips in high definition. There are so many options for you to choose from to achieve your desired effect.
Features of Smooth Action Cam
Are you tired of boring or not-ultra smooth slow-motion videos? Now, you have the option to download Smooth Action Cam! Here are the things you can do…
Works with any clips – If you are creating videos to preserve memories or for YouTube, you may have experimented with a lot of effects before. But you'll find out quickly that you can't achieve the same ultra slow-motion effect that you see in Hollywood movies. This is of course unless you have a very expensive camera or application in your hands. But if you have Smooth Action Cam, you can achieve the same level of that in mere minutes! This app simply focuses on the slow-motion effect but it has other features you can use as well. It works well with every type of clip you have whether you have 30 or 240 or more FPS videos. You can also edit any videos in any settings.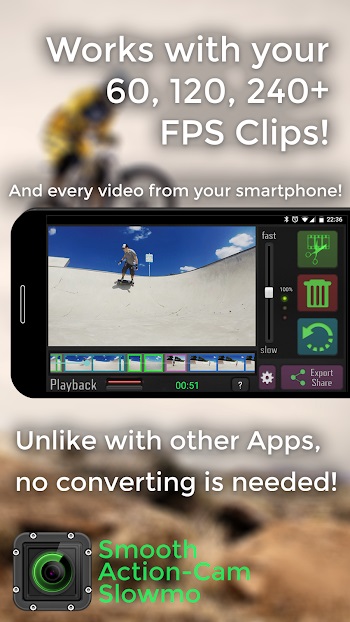 Speed up or down – One of the main features of Smooth Action Cam is the ability to slow up or down any clip. Here, you are able to speed up any clip or even make it a time lapse. Or, you can slow down the clip like you see on popular shows and movies. To do that, you just simply select a part of the clip or the whole one where you'll add the slow-motion effect. Then, you'll select how slow or how fast you want it to be using the effects bar and the slider. You'll be able to see how slow it is as the percentage is present. But if you want to achieve the slowest possible video, you can calculate new frames using motion interpolation or frame blending. If you select the former, you'll be able to export the video in the highest quality possible but in the expense of slower rendering. But if you select the latter, you can export your video faster.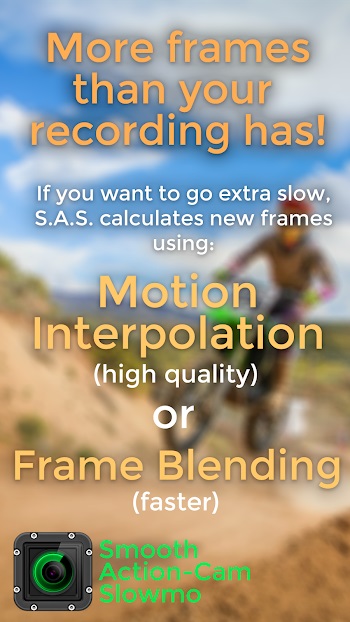 Add sound effects – If you want to make it more realistic, you can add some slow-motion sound effects to your clip. You can download a woosh sound effect that go well to your clip. Easily apply it in the app by just uploading it and adding it in another layer. Aside from that, you can also add background sounds or anything you like.
Other effects – Aside from slow-motion effects, there's also a fisheye effect you can use here. This is especially effective when you use it on action or sports clips. This gives the viewer a more action-packed view of the scene.
Export in high-quality - Smooth Action Cam allows you to export the videos in the highest quality possible!
Download Smooth Action Cam Mod APK – Without watermark
Want to get a super slow-motion effect on your videos? Download and use Smooth Action Cam to easily achieve it.