Download ProCCD Mod APK Premium unlocked Latest version and add a classic effect to your videos & photos. It has advanced retro presets, intuitive editing tools, and easy controls.
| | |
| --- | --- |
| Name | ProCCD |
| Updated | |
| Compatible with | Android 5.0+ |
| Last version | 2.4.2 |
| Size | 101.39 Mb |
| Category | Photography |
| Developer | cerdillac |
| Price | Free |
| Google Play Link | |
| MOD | Premium unlocked |
ProCCD APK is an analog-digital camera app that allows you to relive your childhood memories with classic photos and videos. It adds an authentic film effect to your shots, making them look like they're from the past.
The app is also easy to use, with a user-friendly interface and super responsive editing tools. It features a bunch of editing features that let you customize your photos & videos to perfection.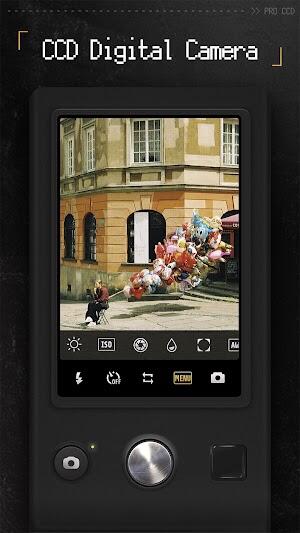 The app also features adjustable frame rates, high-quality export, and a variety of other cool features. This way, you can be sure that your photos & videos will look perfect no matter what.
Highly Authentic Shots
This app has an in-built camera and video recorder that makes it easy to capture analog-like shots. It reproduces the classic appearance of CCD digital cameras, ensuring you capture high-quality photos before transforming them with the app's editing features.
It also has an advanced filter system that can be used to add a variety of effects to your photos & videos. These filters are based on real-world film stocks, giving you genuine results. You can also use the app to create beautiful double-exposure shots.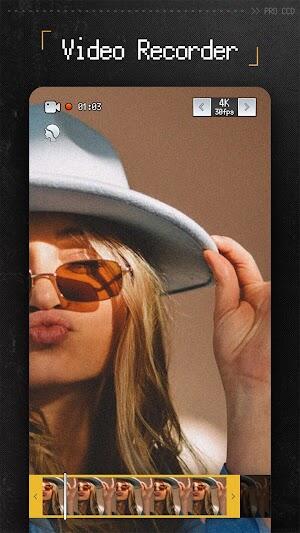 If you want to edit an existing video/photo, you can use the import feature. This allows you to bring in any video or photo from your gallery and add the classic film effect to it. This flexibility makes the app perfect for both amateur and professional photographers.
Add Aesthetic Effects
When you hear of retro/classic photography, the first thing that comes to mind is black and white shots. However, ProCCD goes beyond that, providing you with a wide range of options to choose from.
You can edit your photos & videos in both color and black & white. Additionally, you can also add a variety of other effects, such as vignetting, light leaks, and scratches. Besides, this app has the following aesthetic camera types to help you achieve the best results
This camera gives your shots a dreamy, ethereal look. It is slightly greenish on dark background.
This gives a lofi quality & rich colors to your videos & photos.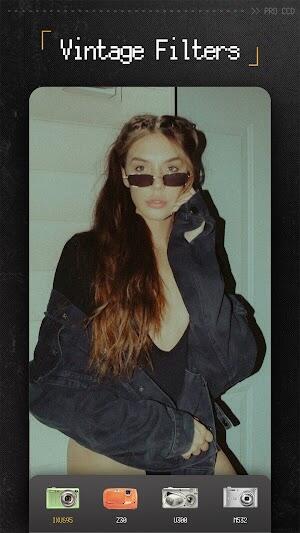 The effect is bluish on dark background and gives a really cinematic look. It gives it a melancholy feel, with outstanding scenes of seawater & sky.
This camera gives your shots low color saturation with a slight fading effect. It is ideal for outdoor shooting (on sunny days) and portraits.
DCR & Dazz Cams. If you're a foodie, you have something to look forward to. When these cameras are introduced, the colors of your food shots will be significantly enhanced. Not to mention, it will add a beautiful vignetting effect.
When choosing a camera, ensure you consider the genre, level of expertise, and type of photo/video you want to achieve. Ensure you adjust the settings to get your desired results before taking the shot.
Professional Features Integrated into the App
This application is optimized to let you capture high-grade photos & videos. It also has excellent editing features, which is a huge advantage for professionals. They include: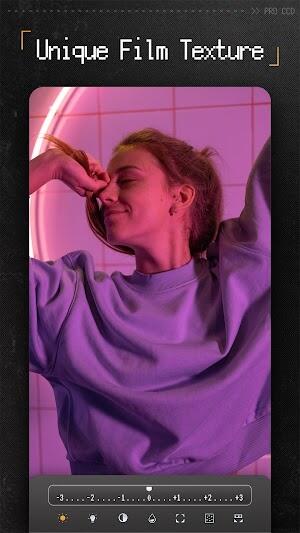 Real-Time Video Recording Effects. This application allows you to add Lomography old roll filters and Inst SQC. These effects ensure your videos look like they were taken with a high-end camera worth Hollywood standard.
100% Adjustable Camera Parameters. This camera app provides you with the ability to change vital parameters, such as white balance, focus, frame rate, and much more. You can also use the zoom feature and set the video resolution.
Advanced Settings for Experienced Users. The camcorder app is equipped with a lot of settings that are vital for achieving excellent results. They include video bitrate, screenshot interval, color correction matrix, and sound normalization.
Classic Timestamp. This is a unique feature that allows you to add a timestamp to your videos & photos. The timestamp is in classic font styles, which gives your work a timeless look.
Collage Layouts & Templates. With this app, you can create beautiful collages using a variety of layouts & templates. The process is simple & straightforward, and you can even add text to your collages. It is the ultimate way to showcase your vintage work.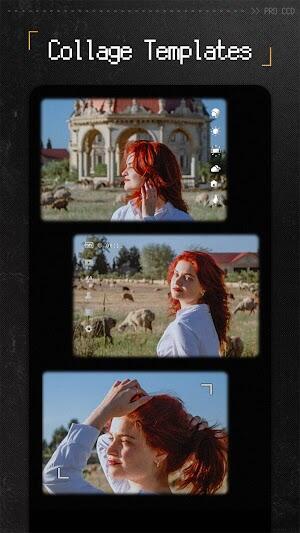 Lots of Filters. This application provides you with a wide range of filters to choose from. They include black & white, sepia, and color filters. Ensure you experiment with the filters to find the perfect one for your photo/video.
Batch Imports. You can import videos and pics from your gallery in batches. This saves you a lot of time, which you can use to edit or apply filters to your work.
Crop Your Videos. This app also allows you to crop your videos to achieve the desired results. It is an excellent way to get rid of unwanted objects & people in the background. You can achieve ratios, such as 1:1, 4:3, 3:2, & 16:9.
Export in Ultra HD Quality. Once you're done editing your videos & photos, you can export them in Ultra HD quality. This ensures you retain the original quality of your work.
Unlock ProCCD APK Premium
While you can access most of the features in the free version, certain features are locked. To unlock them, you need to purchase the premium version of the app. The good news is that it is very affordable, and you can even get a discount when you buy in bulk.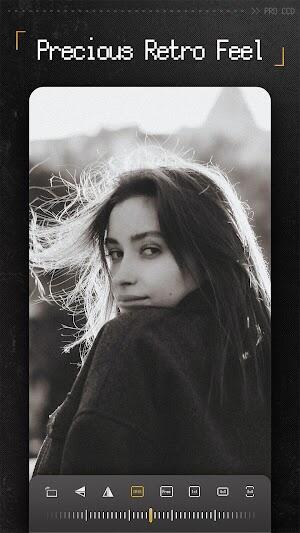 The in-app purchases ($0.99 – $12.99 per item) will help you unlock the following features:
Remove Watermark. The watermark is a branded element that is added to your work when you use the free version. It can be annoying, especially if you're a professional. With the premium version, you can remove it with ease.
Ads Removal. When using the free version, you'll have to deal with pop-up ads. They can be intrusive, and they'll interrupt your workflows. With the premium version, you can get rid of them completely.
All Filters & Effects. In the free version, you only have access to a handful of filters & effects. The premium version provides you with all the filters & effects, allowing you to achieve the desired results.
Priority Support. When you encounter any problems while using the app, you can contact the support team, and they'll help you resolve the issue as soon as possible.
ProCCD MOD APK Download
If you use the ProCCD MOD APK Premium Unlocked, you can enjoy all the features of the app without making any purchases. You can also remove the watermark & ads with ease.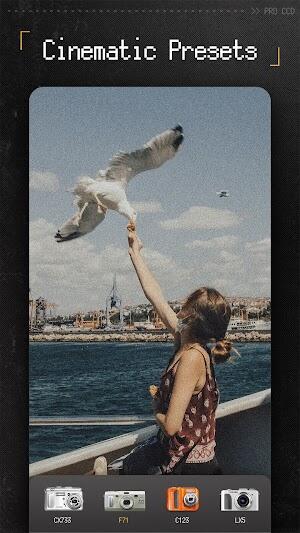 Even better, the ProCCD MOD APK for Android is 100% free of charge. This way, you can save a lot of money without compromising on quality.
Conclusion
The ProCCD app is one of the best camcorder apps on the market. It is packed with features that are vital for anyone who wants to take their photography & videography skills to the next level.
With the ProCCD MOD APK 2023, you can get the most out of the app without spending a dime. You can also remove the watermark & ads with ease.