Download Outline VPN APK Mod Latest version and access the internet privately and securely. It has a friendly user interface and guarantees 100% anonymity.
Information of Outline VPN
| | |
| --- | --- |
| Name | Outline VPN |
| Updated | |
| Compatible with | Android 5.1+ |
| Last version | 1.12.1 |
| Size | 13.60 Mb |
| Category | Tools |
| Developer | Jigsaw Operations LLC |
| Price | Free |
| Google Play Link | |
| MOD | No MOD |
Outline VPN is a free & open-source tool for creating and managing VPN servers. It was developed by JigSaw and released under the Apache 2.0 license.
The tool helps users to easily create and manage their VPN servers. It is designed to be simple and easy to use. Outline VPN is available for all major platforms, including Windows, Mac, Linux, and Android.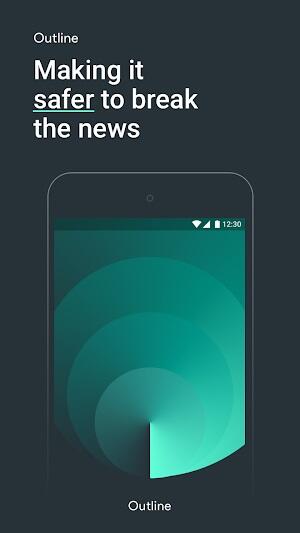 The Android version is lightweight and designed to work on Android 5.1 and above. It has a facile user interface, ensuring even beginners can easily set up and manage their VPN servers.
Why Use Outline VPN APK?
The internet is abuzz with numerous threats to security and privacy. With the ever-growing surveillance by governments and corporations, it has become essential to use a VPN service to protect your online identity and activities.
A VPN encrypts your internet traffic and routes it through a server in another location, masking your real IP address and location. This makes it difficult for anyone to track your online activities.
Unlike other VPN services, Outline VPN allows you to set up a unique VPN server for all your devices. You can also share the server with a few of your friends, ensuring that everyone has a secure and private connection to the internet.
This direct control of your servers makes it hard for anyone to detect your traffic. This way, your IP address cannot be blocked, regardless of the country you are in.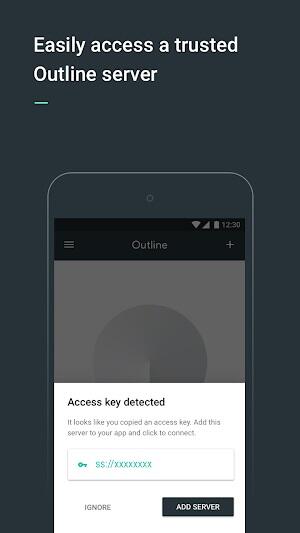 Apart from security and privacy, Outline VPN also helps you bypass geo-restrictions and access websites that are normally unavailable in your country. This is perfect for accessing content that is censored in your country or region.
How to Use Outline VPN APK?
Outline VPN is easy to use and does not require any technical knowledge. However, you must be meticulous in setting up the VPN server. Here's how:
To use this VPN, you will need to download and install the Outline Manager. You will then create an account and access the trusted cloud providers. You will then choose one that suits your needs.
However, these cloud providers are premium (usually $5/month) and require you to provide payment information. Some popular ones include Google Cloud, Digital Ocean, and AWS.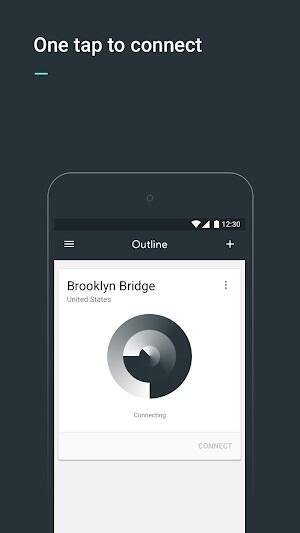 Afterward, you will choose your server's location and create a VPN. You can route your traffic through different locations, including Germany, Singapore, and the United States.
Once you have set up your server, you will need to generate an access key. This is essential as it will be used to connect to your server. You can also send invites to your friends so they can connect to your server.
Your access key will be unique to your account. As such, when you share access, your friends will be using your account. So, it is crucial to trust the people you are sharing your server with.
Additionally, you can limit the data bandwidth and time your friends can use. This is a sure way of preventing abuse and misuse of your server.
Install the Outline Client Application
After you have set up your server and generated an access key, you will download and install the Outline Client application on your Android device.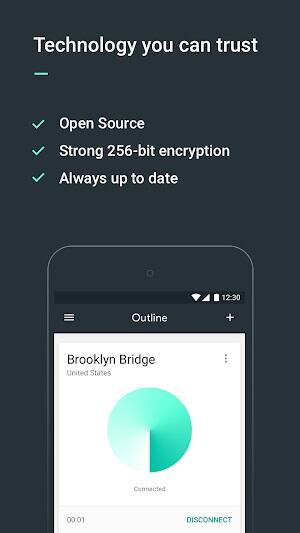 Once installed, you will open the app and input your access key. The app will then connect you to your server. This applies even when you have received the access key from another user.
Benefits of Using Outline VPN Download
Powered by Shadowsocks Protocol. This is a lightweight and secure protocol known for its speed and reliability. As such, you can be certain that this VPN will not slow down your connection.
Easy to Set Up and Use. Regardless of your technical know-how, you will not have a problem setting up or using this VPN. The user interface is designed to be intuitive and easy to use.
Create a Personal Server. This is possibly the most significant advantage of using Outline VPN. With this service, you can create a server that is only used by you and your friends. This way, you will have more control over who uses your server.
Affordable Pricing. The monthly subscription for Outline VPN is quite affordable, especially when compared to other premium VPN services. All you need is a subscription to a cloud provider, and you're good to go.
No Logging Policy. Outline VPN has a strict no-logging policy, ensuring that your data and activities are not monitored or stored. This way, you can be sure that your privacy is protected at all times.
Strong Encryption. This VPN uses state-of-the-art encryption to protect your data. It uses the IETF ChaCha20 stream cipher (256-bit key). Besides, all the traffic is authenticated using the IETF Poly1305 authenticator.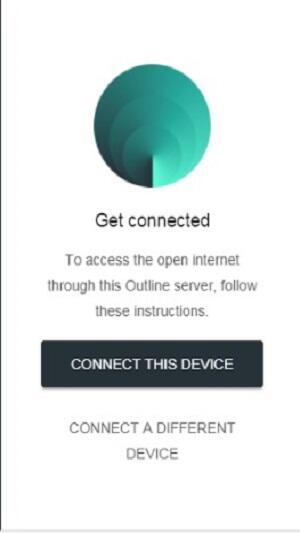 Cross-Platform Support. Apart from Android, Outline VPN is also available on other platforms, including Windows, macOS, and Linux.
Open Source. Outline VPN is an open-source project. As such, it is constantly being improved by developers from all over the world. You can also contribute to its code on GitHub.
Additionally, you can download the Outline VPN APK MOD version to get all these benefits without charge. This way, you can enjoy the topmost security and privacy without spending a dime.
Conclusion
Outline VPN is a reliable and affordable VPN service that offers excellent security and privacy. It is also easy to set up and use, making it ideal for everyone. Even better, you can create a personal server, ensuring that only people you trust have access.
Besides, the app is available for different devices and platforms. You can use it with Android, Windows, macOS, and Linux. This makes it one of the most versatile VPNs in the market.
With all these features, it is not surprising that Outline VPN is becoming quite popular. So, if you are looking for a reliable and affordable VPN service, this is one to consider.