Download Little Big City 2 Mod APK Unlimited diamonds and money Latest version and build a lively metropolis from scratch. It tests your creativity, persistence, and decision-making skills.
Information of Little Big City 2
| | |
| --- | --- |
| Name | Little Big City 2 |
| Updated | |
| Compatible with | Android 4.1+ |
| Last version | 9.4.1 |
| Size | 30M |
| Category | Casual |
| Developer | Gameloft SE |
| Price | Free |
| Google Play Link | |
| MOD | Unlimited diamonds, money |
Little Big City is a building simulation game offered by Gameloft SE. You start with a desolate tropical island that is lacking in development. Your job is to turn it into a bustling metropolis with all the necessary amenities for the citizens.
You should be cautious though since you must balance the city's ecology and economy. The game challenges your brain to think like a real city planner.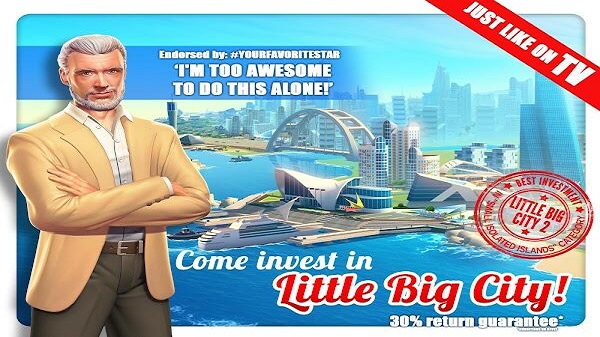 Every element of your city must be well-designed as you must consider the traffic, pollution, and other problems facing any city. This will not be a breeze since you will be working with limited resources.
Download the game and test how well you can manage your resources to build a city that will stand the test of time. It is only 30MB, lightweight enough to run on almost any Android device.
Highly Challenging Gameplay
In this game, you join the Mayor to design and build the best possible city. You will have to carefully consider every element to create a well-functioning metropolis. Unfortunately, your gameplay will not be as straightforward as you want it to be.
You will face quirky and corrupt officials that will test your patience. You must not let them get in the way of your progress. If you do, you will run out of money to complete essential projects.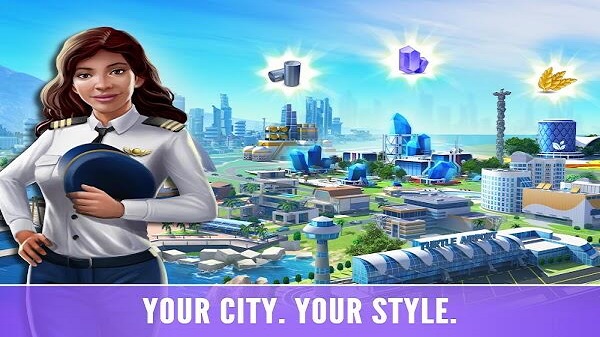 You will also need to find the right balance between building and environmental conservation. You do not want your city to be a concrete jungle with no greenery. If you fail to create recreation facilities, you will have an unhappy citizenry that will rebel against you.
Select an Expansion Style
This game allows you to choose between three expansion styles, including:
In this style, you will focus on building factories to produce goods. This approach will help you earn a lot of money but will also lead to higher pollution levels.
As such, you must be strategic in your factory placements. You do not want to sacrifice the health of your citizens for money.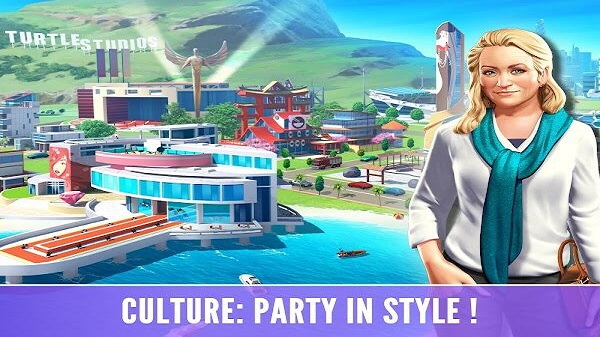 Alternatively, you must develop eco-friendly factories to reduce pollution. This will require more effort and money but will be worth it in the long run.
This style focuses on developing your island as a tourist destination. You must build world-famous landmarks and other attractions to draw visitors from all over the world.
Of course, you must also provide excellent facilities and services to keep them happy. This style is more challenging as you must find the right balance between making money and maintaining a good reputation.
Nonetheless, it can be very rewarding as you will get to see your city filled with tourists. They will also leave behind a lot of money that you can use to further develop your island.
This style focuses on environmental conservation. You must find ways to reduce pollution and protect the natural resources of your island.
This will require more effort and money but will be worth it in the long run. Your citizens will also be happier as they will live in a clean and green city.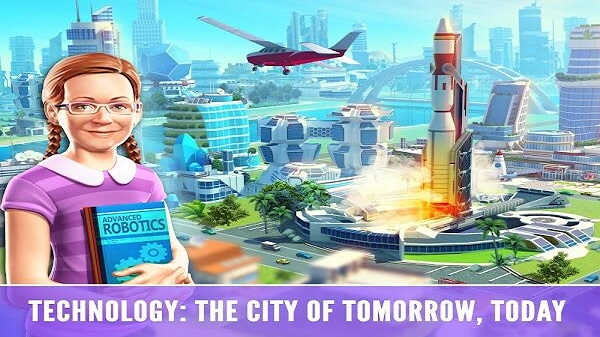 You must invoke technology to find eco-friendly solutions to the problems of your city. This will make your city more efficient and sustainable in the long run.
Survey & Research
One of the most critical aspects of city planning is survey and research. You must know what your citizens need and want. Otherwise, you will not be able to provide them with the necessary facilities and services.
You can visit your friends in other cities to get ideas. This will also help you benchmark your progress and see where you need to improve.
You must also keep up with the latest trends in city planning. This will help you find new and innovative ways to improve your city. Your buildings must also be up-to-date with the latest technologies to make them more efficient.
Other Exception Features of Little Big City 2 APK
This sequel also has other features that make it even more addictive, such as: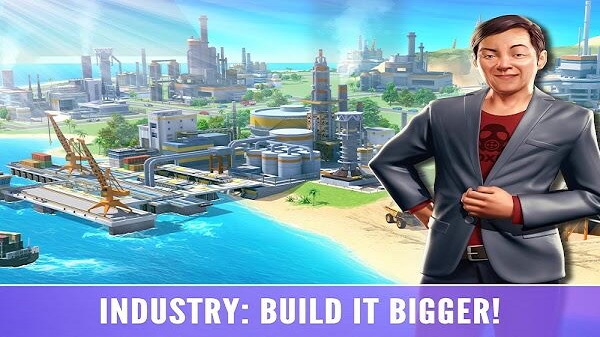 Unlock New Buildings and Landmarks. This game is about progress and development. As such, you must continually look for ways to improve your city. You can do this by unlocking new buildings and landmarks. Each of these will have a unique effect on your city.
Take Advice. This game tasks you with helping the Mayor accomplish his goals. You will have a team of advisors to offer advice on improving your city. You must listen to their suggestions and consider them. This way, you can make the best decisions for your city.
Complete Missions. There are also missions that you must complete to progress in the game. These will test your skills as a city planner. You must be able to complete them to move on to the next level.
Daily News Reports. You will get updates on your achievements, progress, and goals through daily news reports. This will help you track your progress and see where you need to improve.
3D Graphics & Realistic Sound Systems
This game has A+++ 3D graphics that let out the beauty of the cities you create. The buildings, greeneries, and landmarks look realistic. You will have a hard time believing that they are not real.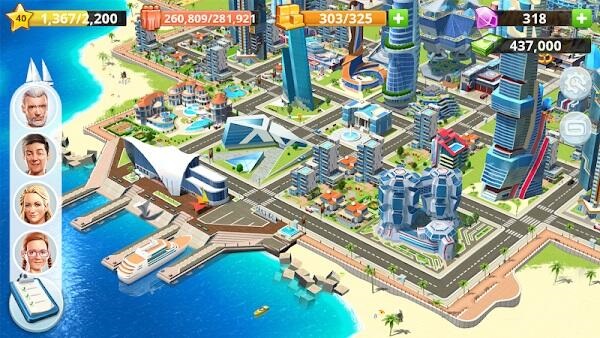 Even better, the sound effects are super captivating. You will feel like you are in your city when you hear the hustle and bustle of the crowd. This realism makes the game worthwhile.
Little Big City 2 MOD APK Download
If you want access to all features without spending a dime, download Little Big City 2 MOD APK 2023. This MOD has been edited to offer these extraordinary features:
Little Big City 2 MOD APK Unlimited Diamonds and Money. This game has all that you need to progress quickly. You can use the diamonds and money to buy the best buildings and landmarks for your city.
Little Big City 2 MOD APK Unlimited Everything. This game has no limits. You can build the city of your dreams without worrying about money or resources.
Little Big City 2 MOD APK Offline Gameplay. If you want to play this game offline, this MOD is for you. You can enjoy all the features of the game without an internet connection.
Conclusion
If building games are your forte, then Little Big City 2 APK is a must-have. This sequel takes the game's best features and makes it even better. With its addicting gameplay and super realistic graphics, this game will keep you engaged for hours.