Download Idle Supernatural School Mod APK Unlimited money and gems Latest version and train superheroes with unique skills & abilities. It tests your research, management, and business skills.
Information of Idle Supernatural School
| | |
| --- | --- |
| Name | Idle Supernatural School |
| Updated | |
| Compatible with | Android 5.1+ |
| Last version | 2.1.7 |
| Size | 125.59 Mb |
| Category | Simulation |
| Developer | Longames |
| Price | Free |
| Google Play Link | |
| MOD | Unlimited money and gems |
About Idle Supernatural School
Idle Supernatural School APK 2023 is a mystic-themed game offered by Longames. It puts you in charge of a supernatural school to create a powerful team of superheroes. You'll be responsible for researching & developing new abilities, ensuring the team's success.
The game features a detailed base map where you can build & upgrade different structures within your school. Some critical structures include research labs, training centers, and dormitories. You can progressively unlock characters to join your team.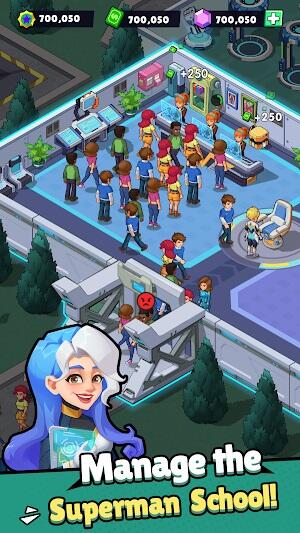 Besides, the game integrates a combat system where you can test your team's strength against a range of enemies. You'll need to develop strategies, use abilities, and coordinate attacks to emerge victorious.
When they defeat monsters & other strange creatures, you gain Power Stones. These are precious stones that allow you to unlock more powerful abilities, including gene tin, superpower collection, and gym equipment.
Overall, this game lets you experience supernatural powers first-hand. You'll take pride in unleashing never seen powers and making your team victorious. Download it and start making an invincible team to challenge the evil forces.
Idle Supernatural School APK - Background Story
This game stems from the ever-rising danger surrounding humanity. As the world becomes increasingly chaotic, brave individuals have decided to stand up and fight against evil forces.
However, they need supernatural powers to stand a chance against darkness. Thus, a supernatural school is created with the sole purpose of training superheroes & equipping them with unique powers.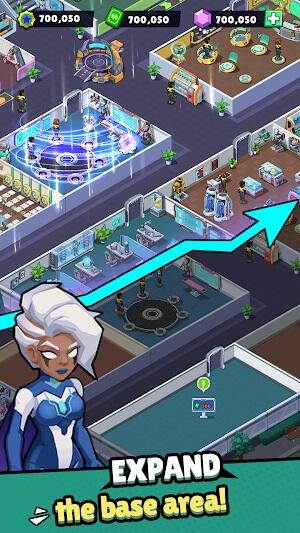 You're put in charge of this school, and your mission is to ensure that all students receive adequate training and are armed with enough power to battle evil forces. The world will be counting on you, and you should do everything in your power not to disappoint.
How to Play Idle Supernatural School APK?
As its name suggests, this game has an idle element to it. This means you can leave it running and let your team train itself. For optimal performance, you'll need to intervene from time to time.
On the base map, you can construct structures ideal for training your superheroes. It's up to you to decide what kind of structure you want to build & upgrade.
Characters are unlocked as you progress in the game. You start with a group of students with no powers, and it's your job to help them unlock their unique superpowers. Here's how they will go about it:
Registration. Potential students will walk into your front office desk/receptionist. You'll need to sign them up for classes and register their data into your system.
Training. This is the core of the game. It consists of developing character abilities & equipping them with unique powers. You can do this in different ways, from genetic modifications to intense training sessions.
Combat Mode. After your team is adequately trained, you can test their strength in combat mode.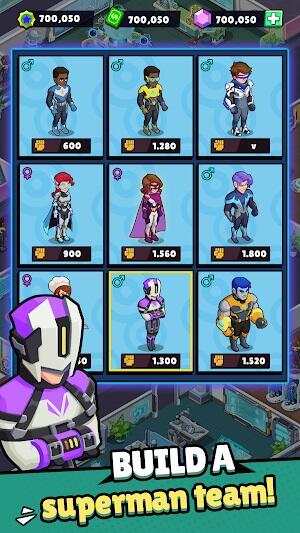 Your end goal is to create a highly diversified & powerful team of superheroes and use their combined powers to defeat evil forces. Each faction should have distinct abilities & weaknesses, ensuring they complement each other and create an unrivaled synergy.
What are the Unique Features of Idle Supernatural School APK?
Turn Mortals into Superheroes. When candidates walk into your school, they have no power. It's your job to help them unlock their supernatural abilities and make them into full-fledged superheroes. The journey will be long, but the reward will be worthwhile.
Achieve In-Game Goals. This game comes with various goals & objectives, including fighting mutant monsters and completing school assignments. Once you complete a task, you'll be rewarded with Power Stones to upgrade your characters.
Earn Build Points. Construction points enable you to construct buildings & other structures in the game. The more powerful your structures are, the better your school will be equipped to produce superheroes. Each chapter requires different build points to complete its missions. For example, the first chapter/ Mirkwood Map requires a maximum of 2500 BP.
Numerous Maps/Chapters. This game comes with exciting chapters, including Mirkwood Map (2500BP), Peaceful Map/ Wilderness Section, Frozen Mausoleum (5000BP), The Silent Polar (7500BP), and Space Station (10,000 BP). You notice that the build points requirement increases as you progress in the game, making it more challenging.
Access Management. If you need to access the school's management home screen, click on the book/pencil icon. You can then select the building you want to manage and make any changes, such as pricing, staff, training & upgrades.
Numerous In-Game Activities. When you're not actively training your heroes, you can engage in other activities such as dining at the cafeteria, unwinding at the school's lounge, or helping out in the garden.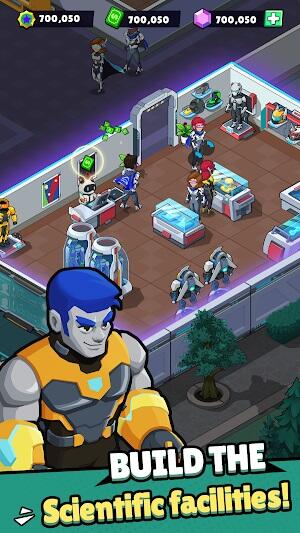 Graphics & Sound Effects. You'll marvel at the beautiful 3D graphics used in this game. Every scene is well illustrated, and the sound effects are top-notch, immersing you deeper into the fantasy world.
No Internet Required. Even when offline, you can still play this game. This makes it ideal for people who have slow or no access to the internet. Its idle element further enhances the offline gaming experience.
Simple Controls. The controls are very intuitive and facile. You can control all your characters with a few simple clicks, allowing you to focus on the game instead of struggling with the mechanics.
System Requirements & Additional Information
This game is 114MB in size and requires at least Android 5.1 or higher to run smoothly. It is optimized for both tablets & smartphones, giving you an unrivaled experience regardless of your screen size.
Additionally, this game features in-app purchases ($0.99 - $49.99 per item) to unlock different content & progress faster in the game. These purchases are optional and do not affect gameplay.
Overall, the game will provide an unrivaled experience for all gamers. Put your superhero training to the test and create powerful teams with Idle Supernatural School!
How to Play Idle Supernatural School APK like a Pro?
Gather Power Stones. Before your characters can unlock their supernatural ability, they must first collect power stones. To get them, complete missions and side quests. You can also purchase them with in-game coins.
Upgrade Your Heroes. Once your team has collected enough power stones, it's time to upgrade their abilities. Upgrade each character's stats and skills for maximum efficiency. This will enable them to progress faster in the game.
Choose Your Team Carefully. Put together a team with different powers to maximize your chances of success. Each hero has his/her strengths & weaknesses, and you should choose your team carefully!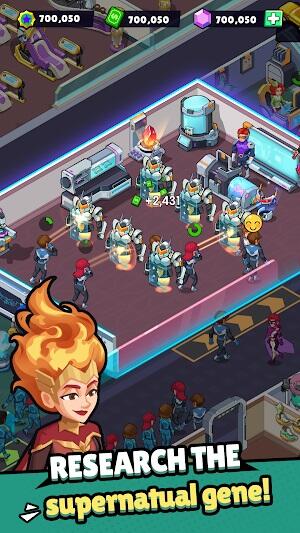 Manage Your Resources. Ensure you manage your resources wisely. You must balance the construction points and power stones to progress in the game efficiently.
Idle Supernatural School MOD APK Download
The Idle Supernatural School MOD APK 2023 version is what you need to unlock all the in-game features hassle-free. Here's why you should get it:
Idle Supernatural School MOD APK Unlimited Money and Gems. This modification is patched to offer unlimited resources, allowing you to buy whatever you want without spending real money.
Unlock All Heroes. With the Idle Supernatural School MOD APK for Android, you can unlock all the heroes, enabling you to constitute the perfect team from the onset. It's an ideal way to jumpstart your gameplay.
No Ads. The MOD does away with all the ads that would otherwise interrupt your gaming experience. Enjoy uninterrupted play for as long as you want!
Conclusion
Idle Supernatural School is a unique game that tests your management and strategy skills. It challenges you to establish a powerful team of superheroes and train them to become the best in the fantasy world.
It has gorgeous visuals and sound effects, ensuring you get maximum entertainment. You can download the game for free and purchase in-app items to enhance your gaming experience.
Alternatively, you can install the Idle Supernatural School MOD APK 2023 version to unlock all features instantly. This way, you can progress faster and enjoy a more varied experience.