Download Food Fighter Clicker Mod APK Unlimited money, gems Latest version for a lively eating mukbang. You will have different types of foods and lots of unique abilities.
Information of Food Fighter Clicker
| | |
| --- | --- |
| Name | Food Fighter Clicker |
| Updated | |
| Compatible with | Android 4.4+ |
| Last version | 1.15.0 |
| Size | 173.19 Mb |
| Category | Simulation |
| Developer | fffungame |
| Price | Free |
| Google Play Link | |
| MOD | Unlimited money, gems |
Unlimited diamonds
Unlimited money: buy with diamonds
About Food Fighter Clicker
Food Fighter Clicker APK is the latest Mukbang food fighter game by Newry. Mukbang is a live broadcast where the host eats a lot of food while talking to the audience.
Mukbang has become popular recently, with many people tuning in to watch their favorite hosts eat large quantities of food. Some Mukbang stars have even become celebrities in their own right.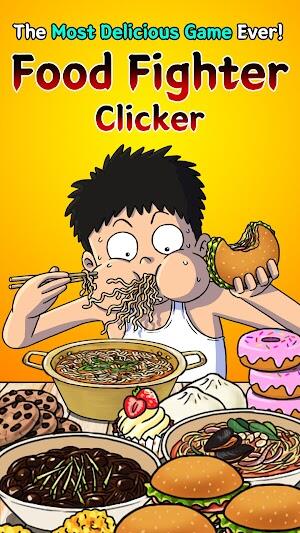 Food Fighter Clicker is a game that lets you experience what it's like to be a Mukbang star. You'll start by choosing your food and abilities, then it's time to start eating!
The gameplay is simple - just tap on the screen to make your character eat. The more you eat, the more points you'll earn. You can use your points to buy new food and abilities, or upgrade the ones you have.
Download Food Fighter Clicker MOD APK now and start your own Mukbang show! It requires Android 4.4+ devices to function optimally.
An Exciting Gameplay
This game will make you laugh and have a great time. Its simplicity allows you to focus on the primary objective, which is to stuff your mouth with as much food as possible.
Your goal will be to eat as much food as you can and get the highest score. While that sounds easy enough, the game will get harder as you progress. You'll have to contend with various challenges that'll restrict your eating abilities.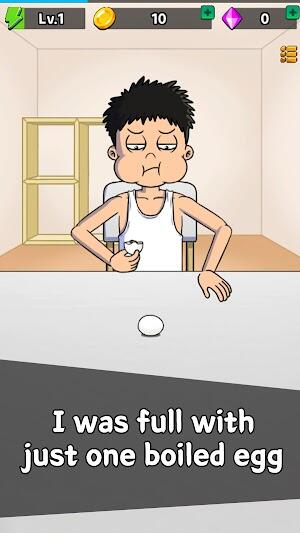 Fortunately, the game has in-app purchases ($0.99 - $89.99 per item) to help you circumvent these obstacles. Unlocking unique abilities will allow you to keep eating and racking up points.
There are also different types of food to eat, each with its effect. Eating a lot of the same food will cause your character to become full, but you can keep going by eating different kinds of food.
If you are full, you can always rush to the bathroom and take a dump. This will help you make room for more food and continue your Mukbang show!
Keep Enhancing Your Abilities
This game is about eating as much food as possible, but you'll need more than just a big appetite to succeed. You must progressively upgrade your abilities to eat more food and get higher scores. There are four different abilities that you can upgrade: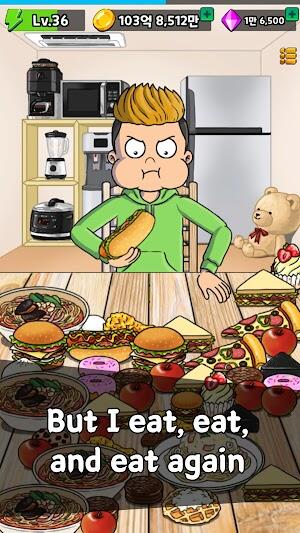 Eating Speed. This will determine how fast your character can eat. Always upgrade this first to keep up with the food that's coming your way. The more speed you have, the more food you can stuff into your mouth.
Stomach Size. This is a critical factor in any Mukbang show. A large stomach will allow you to eat more before becoming full. You'll need a lot of food to get high scores, so ensure to upgrade this ability as much as possible.
Chewing Power. This will determine how quickly you can chew your food. The faster you can chew, the more food you can eat in a short period. This is especially important when multiple food items are coming your way.
Mouth Size. The size of your mouth will determine how much food you can stuff in at once. Having a large mouth will help you eat more food and get higher scores. Always ensure that your mouth is as big as possible to outsmart your competition.
Tap Tap to Be the Fastest!
This game's controls are facile - all you need to do is tap on the screen. The faster you tap, the more food your character will eat. This makes for a very fast-paced and exciting gameplay experience.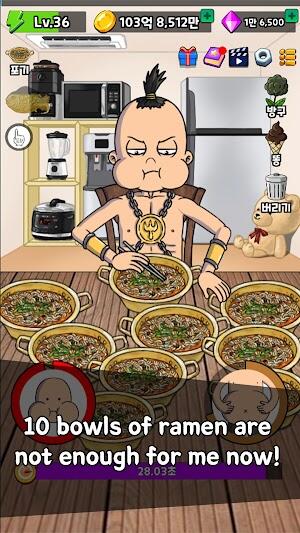 You'll need to be quick to keep up with the food, especially when multiple items are coming your way. The challenge lies in knowing when to tap and how fast to do it.
You must also keep an eye on your character's health. Visiting a bathroom is always an option whenever you're full, but ensure not to waste too much while at it.
Outstanding Features of Food Fighter Clicker APK
Unlock Different Food Types. What makes this game more fun is the variety of food you can stuff your face with. Whether you want eggs, ramen, or pizza, this game has it all! Eating each food item will also have different effects on your character.
Become the Ultimate Food Fighter. The game's ultimate goal is to be the best food fighter in the world. To do this, you must beat other players' scores and become the top-ranked player on the leaderboard.
Earn as Much as Possible. This game is all about making money - the more you eat, the more money you'll earn. It is the ultimate clicker game with an eating theme! Keep eating simple & complex meals to accumulate treasures and resources.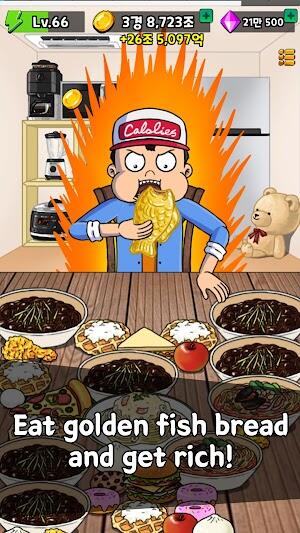 Unlock Diverse Items. This game allows you to unlock unique items, including chairs, dining tables, and furniture. You can also get hair and costumes to customize your character! This way, you can show off your personality while chowing down on some delicious food.
Simple Graphics for an Easy Experience. The game's graphics are kept to a minimum, allowing for a smooth and easy gameplay experience. The focus is on the food, and you won't be distracted by unnecessary visuals.
Eat Goldfish to Become Rich! Eating goldfish is one of the best ways to make money in this game. They give a lot of money, and they're also very delicious. Make sure to eat as many goldfish as possible to become rich quick!
Food Fighter Clicker MOD APK Download
If you want 100% enjoyment while playing this game, download the Food Fighter Clicker MOD APK 2023. Here are its outstanding features: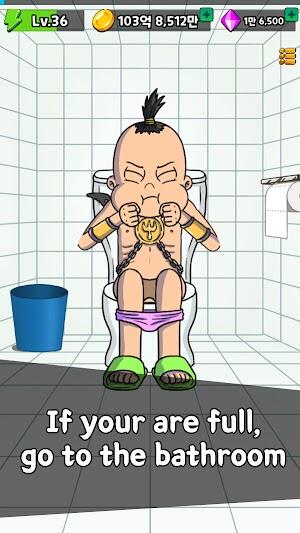 Food Fighter Clicker MOD APK Unlimited Money and Gems. Unlike the original version, you will have unlimited resources to spend on the game. You can use these resources to upgrade your abilities and buy different food items.
No More Ads! This Food Fighter Clicker MOD APK for Android provides an uninterrupted gameplay experience by getting rid of all the annoying ads. You can now focus on stuffing your face without any distractions.
Conclusion
Food Fighter Clicker is the perfect game for those who love food and clicker games. It's easy to play but difficult to master, making it the perfect time-waster. With its simple graphics and focus on gameplay, this game is sure to keep you entertained for hours.