Download FNAF AR MOD APK unlimited Faz coins and confront horrifying animatronics. It boasts lots of challenges that incorporate 3D graphics and bone-chilling sounds.
| | |
| --- | --- |
| Name | Fnaf Ar |
| Updated | |
| Compatible with | Android 7.0+ |
| Last version | 16.1.0 |
| Size | 185.16 Mb |
| Category | Strategy |
| Developer | Illumix Inc. |
| Price | Free |
| Google Play Link | |
| MOD | All unlocked |
FNAF AR is one of the newest installments of the Five Nights at Freddy's (FNAF) series by Illumix Inc. The strategy game comes with well-thought-out challenges set in relatively terrifying places.
Just like other installments of FNAF, your obligation will be to evade ruthless animatronics. However, this version incorporates some malfunctioning animatronics, thus making the gameplay a little bit more complex. You must be creative and agile to complete your missions and earn rewards.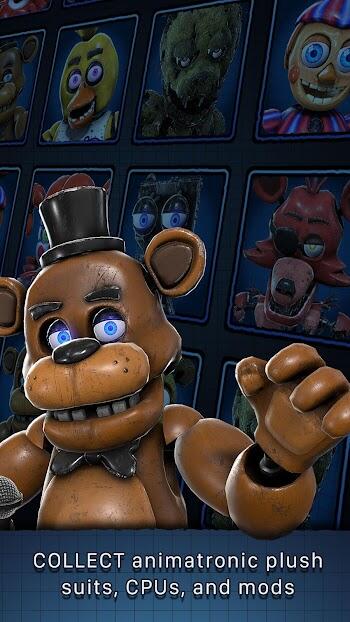 If you are ready for an enhanced FNAF gameplay, then FNAF AR will not disappoint. Download the latest version today and maneuver through all the difficulties as you find your way out of the quagmire.
FNAF AR Storyline
What starts as a noble course will turn out ugly for you. It all begins when Fazbear Entertainment develops a new in-game product called Fazbear Funtime Service. It allows in-app subscribers to ask for their favorite animatronics on-demand.
On this day, you ask for Freddy's animatronics to entertain you. Contrary to your expectations, the animatronic starts malfunctioning and launches attacks against you.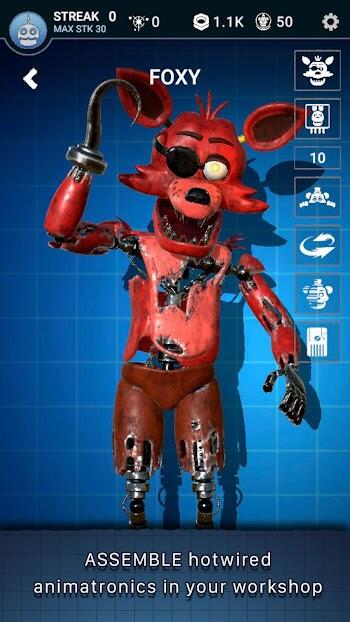 When this happens, you'll be obliged to invoke your creativity and devise ways to defeat them. Are you ready for this frightening task? Download the Five Nights at Freddy's AR: Special Delivery and find it for yourself!
How to Play FNAF AR
This game is a bit different from other FNAF games in that the animatronics will visit your home using unrivaled technology. You are required to keep an eye on the animatronics using your smartphone's camera.
However, some sophisticated animatronics will still be powerful to gain access to your home. When they access your house, you should use your device's flashlight to wade them off.
Defeating them will earn you critical resources that will help you access some tools that you can use to better the gameplay. For instance, you can unlock endoskeletons for better safety, use speakers to distract the animatronics, and even upgrade Freddy to improve your chances of survival.
What Makes FNAF AR Unique?
As compared to other installments of this series, this game includes many unique challenges that make the gameplay more exciting. Illumix Inc. has given users various difficulty levels, thus catering to different types of gamers.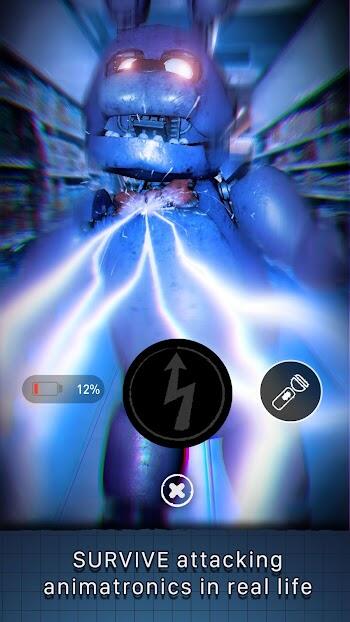 You can choose the challenge level that you are most comfortable with and start exploring animatronics in an augmented reality environment. You must be creative and use your device wisely to overcome these challenges. Here are other outstanding features that make the app stand out from the rest:
Augmented Reality. This is one of the most revolutionary features of FNAF AR. It superimposes computer-generated images on your view, giving you a real-world view of animatronics. You'll get a composite view that will make you believe that Freddy's animatronic is right there with you!
Realistic Audio-Visual Attacks. The audio-visual features of this game are top-notch, giving you a near-real gaming experience. The animatronics will appear more horrifying than ever, thanks to the combination of sounds, graphics, and animations.
Dynamic Animations. The developers have done an excellent job in animating the characters. You'll get to see them move in different ways, thus making the game more exciting.
Endoskeleton Mode. This mode allows you to use an endoskeleton as your protector. You can also use it to hide from animatronics.
Real-Time Gameplay Features
This game lets you experience the environment as if everything is happening right now. The animatronics will make their moves based on your location and time of play.
This means that no two games will ever be similar, thus giving you exceptional gameplay every time! As such, you should be ready to explore multiple locations and use several devices during gameplay.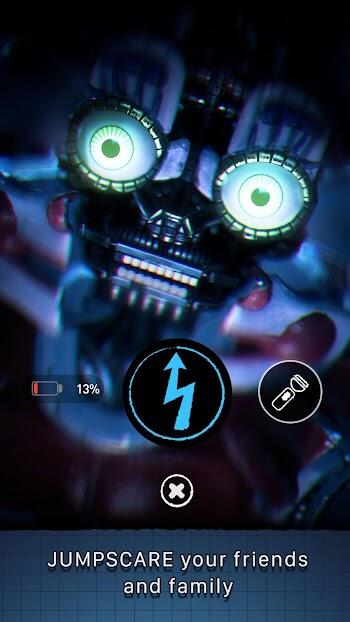 The game offers the following real-time features:
Power Control. You can enable or disable power controls at any time, giving you full control. This feature adds to the realism because animatronics will know whether their targets are well-protected or not!
Location-Based Audio. This feature ensures that audio will change depending on your location in the game. For instance, you'll hear different sounds when hiding under a desk as compared to when you are out in the open.
Team-Based Gameplay. You can send animatronics to your friends. Ensure that you get the highest score on the scoreboard.
Additionally, you can deploy your animatronics. To achieve this, you should collect CPUs, Plushsuits, and remnants. Combine them to make hotwired animatronics!
Download FNAF AR Special Delivery MOD APK Unlimited Money
If you want to have more control of the game, you can download the FNAF AR MOD APK unlocked everything. This version has the following exceptional features: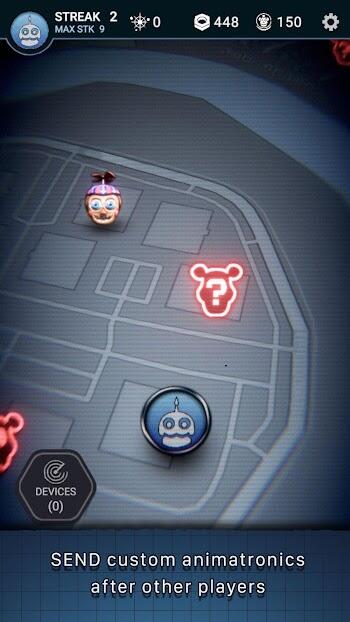 FNAF AR MOD APK Unlimited Money. You'll have all the Faz coins you need to unlock all content.
No Ads. FNAF AR MOD download ensures that you will not be bothered by any ads during gameplay.
FNAF AR MOD APK All Unlocked. You will use the premium features of the game without restrictions.
FNAD AR MOD APK All Animatronics Unlocked. You'll have access to all the animatronics in the game, thus making it easier to defeat your opponents. Additionally, the FNAF AR MOD APK all characters unlocked version ensures that you have access to any character you desire, right from the beginning of the gameplay.
Easy Controls. FNAF AR MOD Menu APK options are straightforward. As such, you can easily navigate and control the game.
Conclusion
FNAF AR mod apk unlimited money is an outstanding game that you should try. The developers have put in a lot of effort to make it one of the best augmented-reality games out there. It offers excellent gameplay features, as well as stunning graphics that will leave you wanting more.
Additionally, its sound features are notable. You'll get to hear animatronics coming towards you and preparing to attack. As such, you should be ready for the scare! Be sure to try it out and enjoy the game to the fullest!