Are you excited about farming? If yes, download Farming Simulator 20 Mod APK Unlimited money Latest version to take care of your crops and livestock. It's fun and immersive!
Information of Farming Simulator 20
| | |
| --- | --- |
| Name | Farming Simulator 20 |
| Updated | |
| Compatible with | Android 7.0+ |
| Last version | 0.0.0.86 - Google |
| Size | 721.21 Mb |
| Category | Simulation |
| Developer | GIANTS Software |
| Price | $6.99 |
| Google Play Link | |
| MOD | Unlimited money |
About Farming Simulator 20
Farming Simulator 20 APK is a 3D simulation game offered by GIANTS Software. It puts you in the shoes of a farmer, giving you the chance to experience all the challenges (and rewards) that come with the job.
The game is set in a picturesque countryside environment, and you'll get to drive a variety of vehicles as you go about your work. You'll also have to manage your resources carefully, as you try to make a profit from your farm.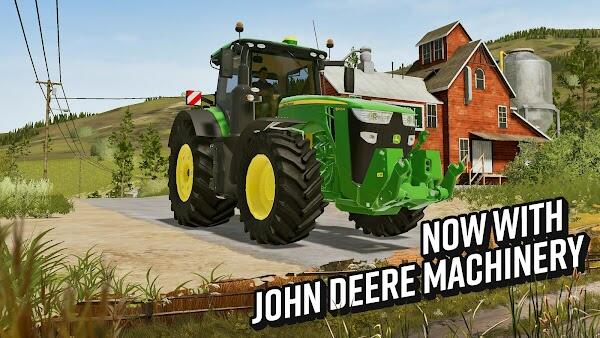 Overall, the game simulates all the farming tasks very realistically. You will plant, harvest, and sell crops, as well as take care of your livestock. There is a lot of freedom in how you want to play the game. You can even buy new land to expand your farm.
Brain-Challenging Gameplay
Farming Simulator 20 MOD APK will definitely give your brain a workout. The game is quite challenging, and you'll need to think carefully about all your actions. Every decision you make will impact your farm, so you need to be strategic to succeed.
You start with a small amount of money and a few hectares of land. This will test your frugality and ability to make the most out of limited resources. As you progress, you will slowly be able to expand your farm and buy new equipment.
There are also many different types of crops that you can grow. You should choose wisely based on market demand and the season. If you miscalculate, you might end up with unsold crops that rot in the field.
Livestock & Crop Management
In this game, you will juggle between taking care of your crops and livestock. Both are essential to the success of your farm, and you must find a balance between them.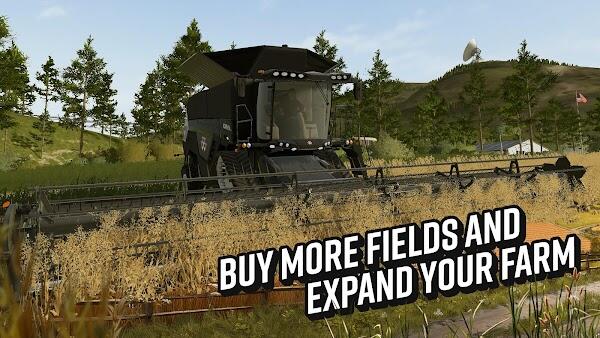 For example, you must farm fodder to keep your livestock healthy. This is a tedious but necessary task, as you must ensure your animals have enough to eat. If not, they will get sick and eventually die.
Due to the high demands of both, you might need to hire some workers to help you out. Ensure you get the best talents by offering them good pay and perks. This way, they will be more motivated to work hard on your farm.
High-Grade Farm Machinery
To make your farming life easier, you can buy various machines to help with the tasks. There is a wide range of vehicles and equipment available, from small tractors to large combines.
These will make your work more efficient, but they come at a cost. You need to factor in the price of the machinery, as well as maintenance and fuel costs. Choose wisely based on your needs and budget.
These machineries are from top brands such as John Deere, Case IH, New Holland, Challenger, Fendt, Massey Ferguson, Valtra, Krone, and Deutz-Fahr. These real-life brands add to the authenticity and immersion of the game.
Earn Money
This game wouldn't make sense if there wasn't a way to earn money. Thankfully, there are many ways to do so in Farming Simulator 20.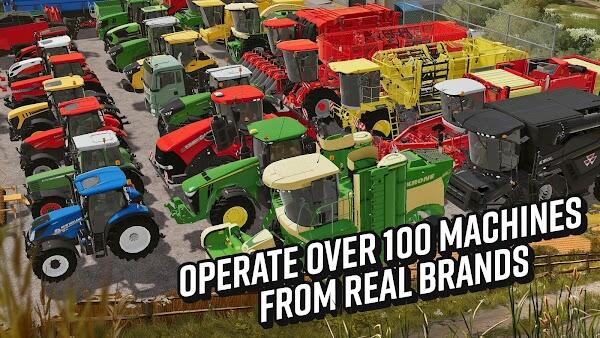 The most obvious way is to sell your crops and livestock. You will trade with the villagers or sell your produce at the markets. The prices fluctuate depending on supply and demand, so you must pay attention to market trends.
You will have all types of vehicles to transport your goods. Ensure you get the products to the buyers quickly, as freshness is important. This is the only way to earn trust and keep your customers happy.
Unique Features of Farming Simulator 20 APK
Different Types of Livestock. This game features many types of animals, such as cows, sheep, and pigs. You can even buy horses to help you travel around the map. Choose the right mix of animals to make the most profit.
A Large Map. The game map is huge, and it is filled with different types of terrain. There are farmlands, mountains, rivers, and more. Explore all the nooks and crannies to find the best spots for your farm. This way, you can make the most of your land.
Real-Life Brands. Many brands that you see in real life are featured in this game. From tractors to machinery, you will find them all here. Every minute detail has been accounted for to give you the most realistic experience.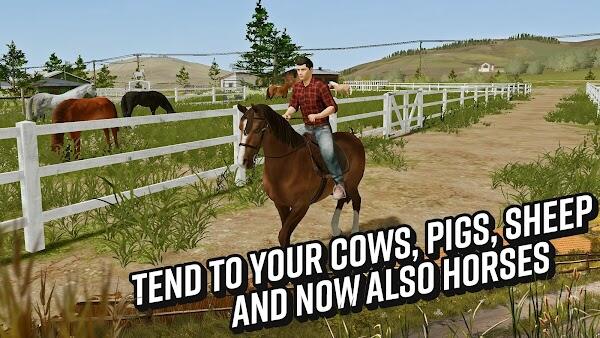 A Challenging Gameplay. The gameplay is very challenging, and you need to be strategic in your decisions. One wrong move can ruin your whole farm. You must be calculative and always think ahead.
Lots of Crops to Choose From. In this game, you can grow many types of crops. This includes wheat, corn, sunflower, canola, potatoes, sugar beet, cotton, and soybeans. Each crop has different requirements, so you need to be careful in your decisions.
Sell Your Produce. You can sell milk, wool, eggs, and meat to make an extra income. Always do your due diligence and research the prices before you sell. This way, you can get the best deals on your products.
100+ Vehicles. This game contains a huge fleet of over 100 vehicles and tools, faithfully recreated from over 40 of the biggest names in the industry. They offer a broad selection of vehicles and equipment for all your farming needs, including harvesters, tractors, plows, and seeders.
Incredible Cockpit Views. This game contains incredibly detailed cockpit views for all the vehicles. You can even enter the cab of some of the vehicles to get a first-person view of the action. All the controls are accurately reproduced, so you can feel like you're driving the machinery.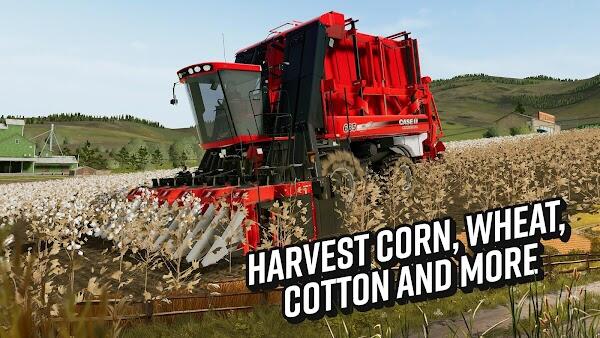 Realistic Weather Conditions. The game features realistic weather conditions that can affect your farm. The conditions include bright sunshine, heavy rains, and even snow. You must be prepared for all eventualities and have the right equipment for the job.
3D Graphics & Realistic Sound Systems
This game is set in North America, and it simulates the continent's environment realistically. The landscapes are beautiful, and the buildings look like they're straight out of a postcard.
The sound effects are just as realistic as the visuals. You can hear the crunching of leaves as you drive over them, and the gentle lapping of waves against the shore. All these sounds come together to create an immersive experience.
Farming Simulator 20 MOD APK Download for Android
The Farming Simulator 20 MOD APK OBB download opens up a world of possibilities for the player. It offers 100% gameplay freedom with these features: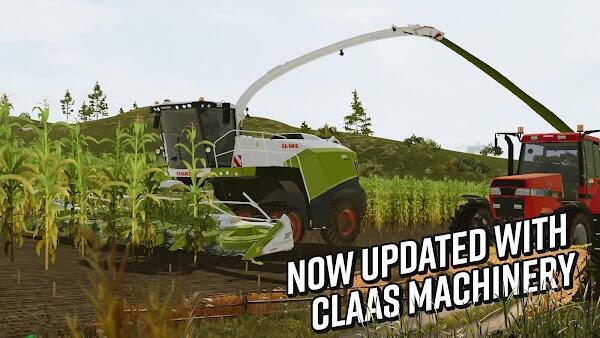 Farming Simulator 20 MOD APK Unlimited Money. This game is all about making money, and with this mod, you will have an infinite amount of it. You can buy anything you want to make your gameplay better.
Farming Simulator 20 MOD APK Free Shopping. Whether you want tractors, plows, or seeders, you can get them all for free. This mod removes the need for in-game currency, so you can get whatever you want.
No Ads. If you don't want disruptions as you try to build your farm, this mod is for you. It removes all the ads from the game, leaving you to focus on what's important.
Conclusion
Farming Simulator 20 APK is an excellent game that offers a realistic farming experience. It has beautiful graphics, accurate sound effects, and challenging gameplay. Download the game to transport yourself to the world of farming.