Become of the top Djs in the world with the best DJ app for Android. Download EDJing Mix Pro Mod APK Latest Version free for Android now and mix a ton of different songs and music together into a full playlist.
Information of edjing Mix
Pro Unlocked (The account is currently free but the function is unlocked)
Note: Do not log in with facebook. Use account with your email
Do you aspire to become a great DJ? Maybe you're already one, but you want more tools under your arsenal. Well, here is one way to continue making your music mixes on the go! You can download EDJing for Android and take your mixes wherever you want and work on the move!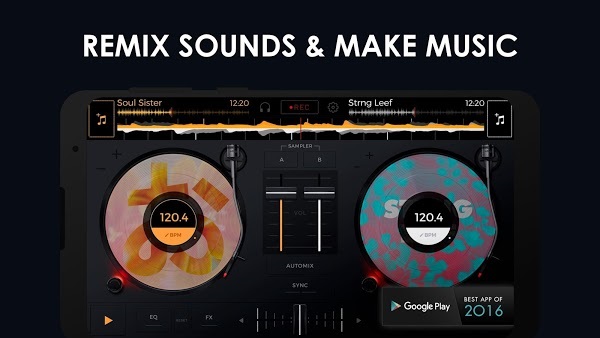 This is a super-accessible music mixing and DJing application used to accomplish all of your needs. Take your next project with you. Leave the turntables at home. FL Studio on PC? Why would you need to take your entire laptop with you? Just use your Android mobile device to accomplish all of the same things!
What Can EDJing Do?
To begin, you'd want to know what is included in the EDJing App for Android. Well, if you're already a professional DJ, you'll be happy to hear that everything necessary to take your work to mobile is available here! You'll be able to: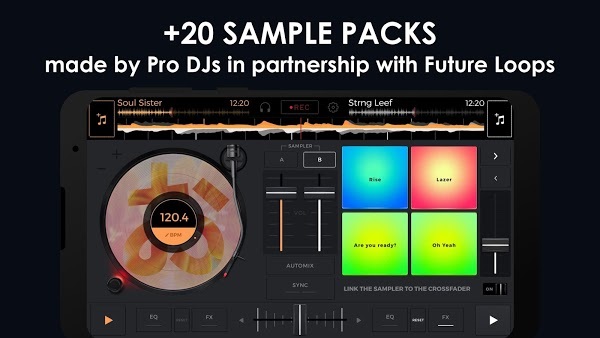 Access your entire music library to create all of your mixes from scratch.
Use other third-party apps, such as Soundcloud and Deezer to get even more content for your music mixing needs.
Use tons of different samples and FX features to add onto your music. These include various beat drops, basses, sirens, kicks, and snares.
And, you'll even be able to access sample packs from other top DJ's. These guys from all around have given you the opportunity to sample their work and create the finest mixes in the world!
Access Pro DJ Tools
Rejoice! All of your preferred tools for DJ'ing are present here! Utilize all of the following: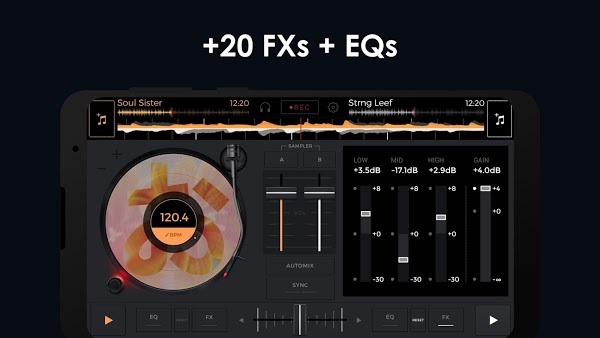 Three band EQ and Gain
Audio FX
Manual BPM adjustments
HD recordings in real-time
Up to 8 different Hot Cues may be set up at one time.
Automated FX in accordance to BPM.
Continuous syncing between all tracks, songs, and music.
How to Use EDJing Mix
Are you ready to get started DJing? If so, then here is a quick and easy guide to learn how to use EDJing Mix on your Android mobile device. The process is amazingly simple to understand. And if you already have experience with DJing, then this would be a walk in the park for you.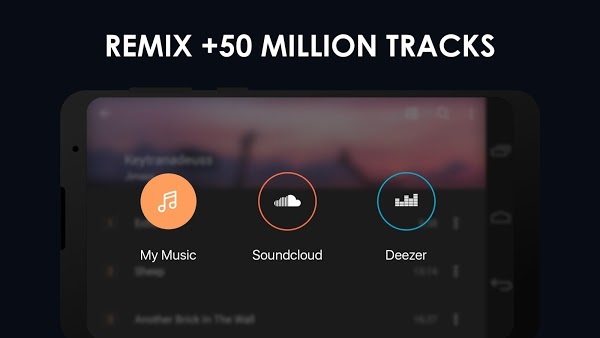 Let's begin…
The first thing you want to do is have your music files ready. You can add up to two different cuts at the same time. Either create your own music cuts, or upload them directly from your phone.
There are a few different options that you have in order to control the overall balance of your songs. This will determine how you transition from one song to the next, apply multiple beats on a single track, or have your songs overlapping.
EQ (Equalizer): Now, you have the option to optimize the Equalizer of your music for both songs. If you are unfamiliar with what this means, we can explain that as well. The Equalizer is a hardware on DJ software that will allow you to change and mold the sound of your track. This can be achieved by adjusting the Gain, or volume of the sound at specific points. In this particular instance, you will have four different options. You with have the Low point, the High point, Med, and the main volume labeled as "Gain".
You can go ahead and play around with all of these different EQ points to determine the best sounds. Make sure to mesh these together between both of your songs to make a smooth and seamless transition.
FX (Audio Effects): Here is the interesting part. Using different FX gives you those different DJ effects that everyone loves hearing at parties and clubs. You know, the Riser Effects that raise the tension in the room. Followed by the iconic Bass Drops, that bring down the entire house with crazy-wicked sounds.
Additionally, you can find many other cool FX in this section. These would include loops, adding instruments, and anything else you could ever think of from a DJ. From this point, it's up to you to experiment and find out what sounds and effects are suitable for you. It's time to let your skills as a DJ shine!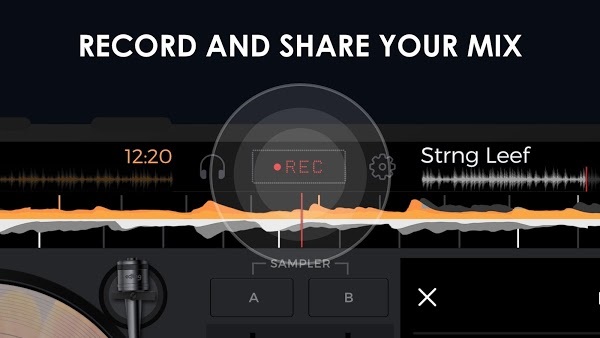 Finally, once everything is finished, it's time for you to have your worked saved and stored. Once you stop your music, the mix is automatically saved onto the EDJing App. However, you can also manually save your music into specific places.
After your mix is finished and saved, you're ready to begin sharing it to the world. Add the mix onto a playlist, create multiple mixes and you're ready for your first gig! You're already on your way to becoming the best DJ in the world!
Download EDJing Mix Mod APK - Pro unlocked
Of course, there is a premium version of this already pro DJ app. However, if you want to avoid having to pay any fees for premium access, then go ahead and grab a Mod APK file. With the EDJing Mix APK download, you'll be able to utilize 100% of the application, pro features included. And the best part of this is you won't need to pay a single penny out of your pocket.
Gain infinite access to the best DJ app for Android that is currently available. Begin or continue your DJing career and even take your work mobile. Location is never a problem, when it comes to creating your music mixes. Just download the EDJing Mix Pro APK all unlocked file from our site now.