Can you make heavy vehicles jump hundreds of meters above the ground? If you doubt whether that can happen, download and play Construction Ramp Jumping Mod APK now!
Information of Construction Ramp Jumping
| | |
| --- | --- |
| Name | Construction Ramp Jumping |
| Updated | |
| Compatible with | Android 5.0+ |
| Last version | 0.11.0 |
| Size | 111.69 Mb |
| Category | Racing |
| Developer | BoomBit Games |
| Price | Free |
| Google Play Link | |
| MOD | Unlimited money |
About Construction Ramp Jumping
Do you think you can jump using heavy vehicles and make a record with the longest jump? BoomBit Games has the game you should play now and test your wits. Construction Ramp Jumping is a racing game that presents mind-blowing gameplay where the player will use various construction and heavy vehicles to attempt the longest jump from a ramp. Currently, over 1 million gamers around the world are playing this game, a guarantee that this game is amazing!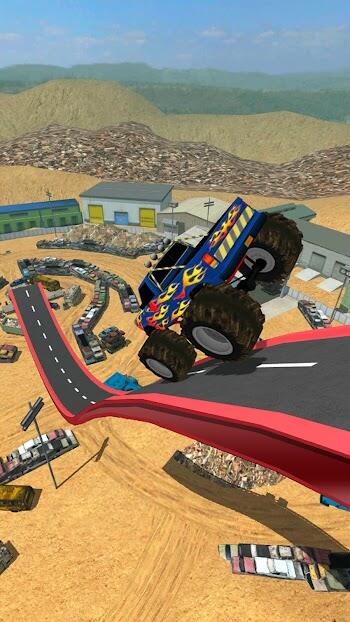 Jump and perform stunts like front and backflips with heavy construction vehicles like Road rollers, fire engines, huge trucks, and more. No matter how absurd the idea is, you can certainly do it in this fascinating Android game. Thanks to the lighter gameplay that comes with the best FPS graphics, you watch every action as it happens. Moreover, the developer ensured to include interesting gameplay where gamers practice performing a pretty decent to throw with construction vehicles down a ramp. Get the game now and attempt to send all heavy vehicles flying, and make the longest jump as far as possible.
Let All Heavy Vehicles Fly
The main goal in the Construction Ramp Jumping is to take off vehicles from the top of a sloppy ramp and let them fly off the ramp. Make them travel for as many meters as possible. This simple 'tap to play' game only requires you to touch the screen to propel them down the ramp. You should continuously improve the performance of your vehicles so that jumping for a long distance becomes easy. Earn unlimited money with every jump you make. Here, you will interact with huge vehicles like excavators, road rollers, trucks with trailers, and more.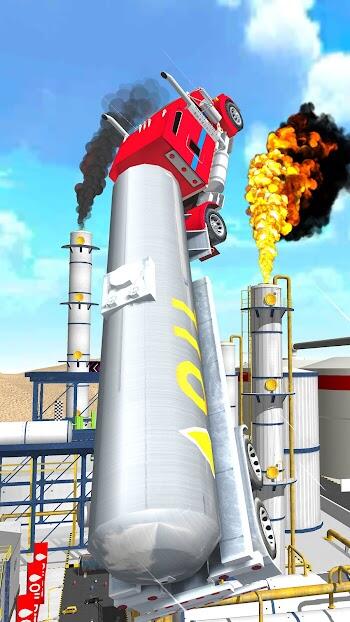 Note that every technical improvement implemented in the vehicles means more distance traveled. In turn, that will help you discover the most important incentive of the game. They include new levels with spectacular sceneries as well as more unlimited money. The game does not have demanding mechanics and comes with perfect quality that brings out the best of the gaming environment. To make the game spicy, the developer included a realistic aerial view of the surroundings as you fly up above the ground.
Construction Ramp Jumping Highlights
This interesting game comes with various features that make it stand out in its genre. Here is a highlight of some of the features.
A Great Gameplay – Construction Ramp Jumping is a lively arcade game in which you have to perform crazy stunts using a variety of construction vehicles. Use a special ramp to accelerate to unprecedented speeds and make jumps to the most impressive distance! However, the game is not easy. You will have to play one level several times where you will keep on making improvements and upgrades on your vehicle to achieve a long jump!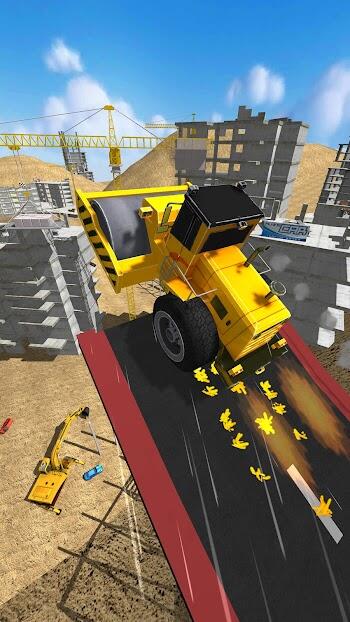 The longer the distance covered the more bonus points and money you will earn. It is good if you invest the accumulated funds in enhancing the performance and speed of your vehicle. That will help you get to the finish line faster and easier. As you progress in the game, you will discover new locations like megapolis, construction sites, islands, and more. Gradually upgrade your vehicles, improve your jumping skills and overcome new peak records!
Different Types of Vehicles – you will immerse yourself in quite an unbelievable show where you will attempt to put over 12 tons in the air. You don't have to think so hard about the game. In this game, will have to make the heaviest construction vehicles make the longest air bound to jump. You will have a range of heavy vehicles like road rollers, trucks with trailers, fire engines, excavators, and more. Besides, there are lots of amazing locations where very heavy vehicles are waiting for you to destroy them!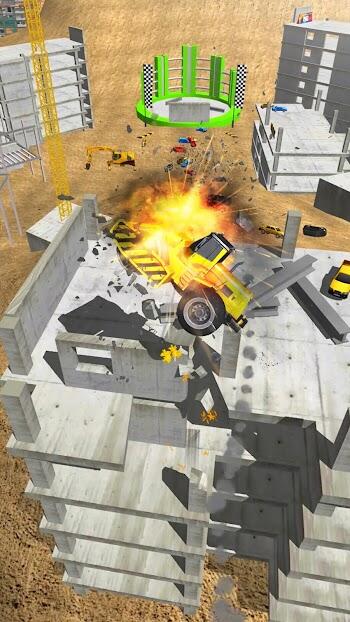 Simple Controls – this game offers simple tap-to-play controls. At each level, you just need to tap the screen to launch the vehicle down the ramp. The forward movement and acceleration are automatic. You only need to have performed various improvements to the vehicle to be able to make long jumps. Overcome a given distance by reaching the finish line to complete every level and move to the next location. Enjoy free flights and ensure you make impressive distances to the finish line.
Unlimited Rewards & Gold Coins – every jump will attract more rewards in form of bonus points and unlimited gold coins. With these rewards, you can shop for various in-game items and enhancements, upgrade engines, and unlock more vehicles and do more things. The longer the jump, the more coins you will earn. Get bonus coins from the destruction you cause and by watching ad videos.
Settings Menu – in the stings menu, you can change various settings of the games including sound, quality, vibrations, etc. You can also change the language in the gameplay here. The privacy policy and the terms of service of the game are also found here.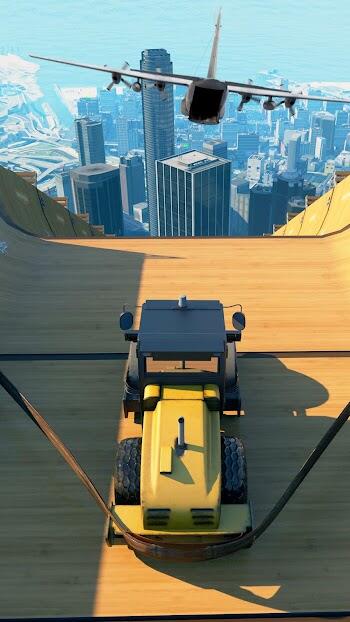 Realistic Destruction Physics – enjoy seeing the realistic and colorful location in the game. Watch a captivating aerial view of the game environment, the realistic barrel roll, jumps, and more. You will also enjoy a smooth downhill start of your vehicle and aim to make the longest jump.
Download Construction Ramp Jumping Mod APK – Unlimited Money
Download and install the Construction Ramp Jumping Mod APK and enjoy electrifying gameplay where you must make heavy cars fly and earn unlimited money with the longest jumps.